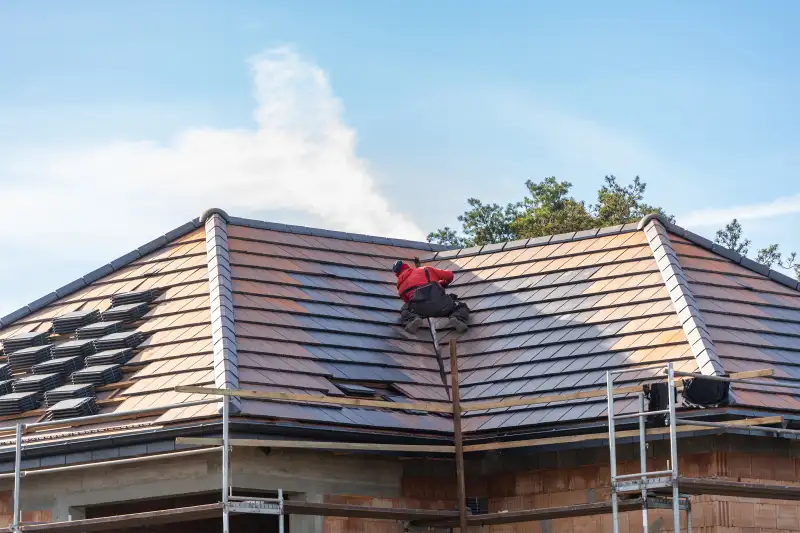 At some point, every homeowner will deal with roof replacement costs. Whether it's a few missing shingles or a major leak, roofing problems can quickly become a headache. While most roofing repairs are relatively inexpensive, a full roof replacement is a major investment. Keep reading to learn more about how much a typical roof replacement costs.
Roof replacement cost factors
Several factors will affect your roof replacement costs. Most of these factors are beyond your control, but it's essential to be aware of them. These key factors include:
Labor and permits
The national average labor cost for roof replacement ranges between $1.50 and $3.00 per square foot. The cost of labor will depend on roof accessibility, pitch and style. In most cases, labor takes up the largest percentage of the total roof replacement costs.
If your home is in a state that requires a permit for roof replacement, that's an additional cost to factor in. You'll need to pay for an inspection and ensure that your new roof meets local safety code standards. If you're lucky, your roofing company may do the legwork for you and include the permit fee in their roofing quote.
Material cost
The cost of the materials you choose for your roof will affect your overall roof replacement expenses. Asphalt shingles are the most common type of roofing material and usually fall on the lower end of the price spectrum.
More premium materials like slate or copper can significantly increase your total costs. Shingle roof replacement costs will range between $8,000 and $12,000, while a copper roof can cost up to $50,000.
Roof pitch and shingle type
A roof's pitch is the measure of how steep it is. A low-pitched roof is easier and less expensive to replace than a steep one. A steeply pitched roof will cost more to replace because workers require additional safety considerations to navigate the roof, such as scaffolding.
The roof pitch also determines which structures the contractors need to install underneath the shingles, and these structures can add to the total installation cost.
The type of shingles you choose will also affect roofing costs. Asphalt shingles are the most popular and affordable option. They're easy to install due to their lightweight nature, so they will cost you less. Other types of shingles, like wood shakes, aluminum, metal and cedar shingles, are all more expensive.
Factors that can add to labor costs
A few conditions can complicate roofing projects and drive up the cost of labor. Be sure to keep the following in mind when budgeting for your roof replacement:
Environmental conditions
Working in extreme heat or cold can be dangerous for roofers and will likely add to the cost of your roofing project. If the roofers have to take extra safety precautions or use special equipment to protect themselves from the elements, the labor costs will rise.
Extent of damage
Roofs that are severely damaged will most likely require intensive work. Rotting timber underneath the shingles or irreparable water damage to the structural beams due to leaks are some examples of severe damage.
Removing the timber or the underlying structure makes the work more challenging and dangerous. In such cases, professional roofers are likely to increase their prices because of the project's longer timeline and the need for more safety equipment.
Full vs. partial roof removal
If only a portion of your roof needs to be replaced, roofers only need to remove the damaged shingles and put in new ones. This is a less invasive roofing project that is likely to cost you less upfront.
But a full-roof replacement may be necessary if your roof is severely damaged or at the end of its lifespan. In this case, the roofers need to remove the old shingles and roof materials before installing the new roof. This project will take more time and effort, so expect to pay more for labor costs.
In some cases, partial roof removal and replacements may have higher costs per square feet than an entire roof replacement project. This happens because general costs such as debris removal and permits remain the same whether it's a partial or complete roof replacement.
However, partial replacement is still a good option if you need to save on overall costs and your roof still has some life left in it.
Roof costs by type
You may have asked yourself "How much does a new roof cost?" when your roof is at the end of its lifespan. You'll pay different prices depending on the roofing materials you choose. Here's a breakdown of common roof types and their average costs.
Asphalt shingle roof
Asphalt is the most affordable roof type, which explains why it's a popular choice for most homeowners. For a 2,000-square-foot home, roof shingle replacement costs will range between $5,840 and $12,649. The major benefit of this type of roofing is that it is easy to install and is also durable, lasting for up to 30 years.
Galvanized or stainless steel
Consider galvanized or stainless steel if you're looking for a roofing option that's both durable and low-maintenance. This roofing type is resistant to fire, pests, and rot, making it an excellent choice for homes in areas prone to these conditions. A galvanized metal roof will cost you between $5,300 and $14,700.
A stainless steel roof will cost you between $8,000 and $24,000 for an average home measuring 2,000 square feet. While the cost seems high, it's worth the investment as these roofs can last over 50 years with proper maintenance.
Slate and stone tiles
Slate roofing material will give your home a luxurious look while providing lasting protection. This roofing type is composed of natural stone, making it a durable and eco-friendly option. However, slate roof tiles are one of the most expensive roofing materials, costing between $32,000 and $50,000 for an average-sized home.
If you still want the look of a slate roof but your budget is low, you can opt for synthetic slate material, which costs as low as $12,000.
Stone and clay tiles are also luxurious roofing options for your home. The national average cost of stone tiles is $24,000. Tiles will last longer since they're sturdy and easy to repair. However, if your existing roof has a weak structure, you'll need to budget for more architectural support before installing a stone or clay tile roof.
Copper roofing
Copper roofing is a great choice if you want a beautiful roof that will last for many years with little to no maintenance. Its longevity and beauty aren't the only things that make copper roofing a great choice.
The roofing's style versatility goes well with different architectural designs, so they'll suit either a modern or traditional home. But all these benefits come at a cost. The average price of copper roofing ranges between $42,240 and $72,270 for a standard home.
The average cost to replace roofing vs. repair
The national average roof replacement cost is $8,000, with a typical replacement ranging between $5,000 to $10,000. On the other hand, the average cost of repairing a roof ranges between $150 for minor repairs and $3,500 for major repairs. While repairing is cheaper, it's not always the best option.
Roof repairs are sometimes just a temporary solution, and the roof will eventually need to be replaced anyway. In these cases, if you have the money, it's best to bite the bullet and get a new roof. It may cost more upfront, but it will save you money in the long run.
But how do you know if a roof replacement is the best option? Here are a few things that will indicate that it's time to replace your roof:
Your roof has reached its lifespan: Different roofing materials have different lifespans. For instance, while metal roofs can last 40 to 80 years, wood shakes have a lifespan between 25 and 30 years. If your roof has reached the end of its lifespan, it's time to consider getting a new one.
You've had multiple roof repairs: If you've had to repair your roof various times, it's probably time to replace it. This is especially true if the repairs are for major issues like structural damage.
Your roof is leaking: A roof that leaks is a sure sign that it needs replacement. Ignoring a leaky roof will only lead to more water damage, which can affect not only your ceiling but the rest of the house as well.
Your energy bills are high: If you've noticed your energy bills going up, it could be because your roof is no longer efficient. Replacing your roof with a more energy-efficient option will help you save money in the long run.
Your neighbors have new roofs: Homes in a given neighborhood are usually built around the same time. If you've noticed that most of your neighbors have new roofs, it's probably time for you to get a new roof too.
Your roof shows signs of rotting: If the structure supporting the shingles starts to rot, you might notice the wood bending. If you have a flat roof, a noticeable curve means you should call a roofing company immediately. Delays could cause your roof to collapse.
When you think it's time to replace your roof, you should involve a reliable roofing contractor. They will help you in estimating roof replacement costs. You can also use a roof replacement cost calculator to estimate the project's total cost.
The calculator considers your preferred roofing materials, the number of stories, steepness and the complexity of your roof. While it's not always accurate, it eliminates the confusion of figuring out roof replacement costs.
What if you need a roof replacement but can't afford it? In this case, your insurance company might be able to help. Your homeowner's insurance could cover your roof replacement costs if the damage results from certain weather events such as hail and wind.
However, your insurer can reduce your roof replacement insurance coverage if investigations find that you have neglected your roof, making it more vulnerable to damage. So if you want your costs to be covered by insurance, ensure you take good care of your roof.
Common reasons for roof repair
Sometimes, a roof repair will suffice and save you the roof replacement cost. The following are common roof problems that your roofing contractor can repair.
Damage to the flashing
The flashing is the metal strip sealing the gaps around chimneys, vent pipes and other protrusions. Over time, the flashing can loosen or corrode, allowing water to seep in and cause damage. A roofing company can replace the flashing and seal the gaps to prevent further damage.
Worn or curling shingles
Typically, shingles should lie flat on your roof. But over time, they can become worn or cracked and start to curl at the edges due to exposure to the sun and elements. This makes them more vulnerable to wind damage and leaks. A roofing contractor can inspect the damaged shingles and replace them.
Pooling water
You might notice water pooling in certain areas if you have a flat roof. This is a sign that the roof isn't draining properly and needs to be fixed. Your roof is likely to have pooling water if the structure supporting it is broken, leading to uneven areas on the roof.
The roofing material may have deteriorated, or the roof may not have enough slope. A roofing contractor can correct these problems and prevent worsening issues like mold growth or damage to your roofing structure due to excess water weight.
It may be time to consider a new roof
A roof is a significant investment, so you'll want to ensure it's in good condition. Of course, no matter how well you care for your roof, you will eventually need to replace it. Now that you know how much a roof replacement may cost, you can start planning for the project.
Watch out for the signs that indicate it's time to get a new roof and involve a reliable roofing contractor. A professional will help you determine the right course of action and the estimated costs. A new roof will protect your home from the elements and improve its curb appeal, so don't hesitate to get one when the time comes.