Roseanne Barr's Racist Tweet Just Cost Her Millions of Dollars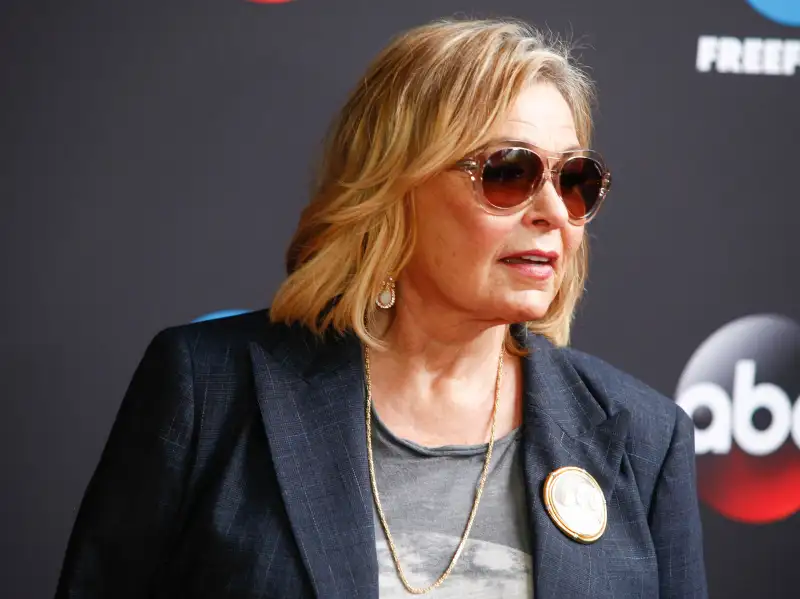 Andy Kropa—Invision/AP/REX/Shutterstock
With a single tweet, Roseanne Barr prompted ABC to cancel the reboot of her show Roseanne — and likely lost herself more than $3 million.
Barr's reported $80 million net worth will take a hit as a result of Tuesday's controversy, which started when she posted an incendiary tweet about Valerie Jarrett, an adviser to Barack Obama. The 65-year-old actress — who has a reputation for being outspoken online about her support of President Donald Trump — wrote in a now-deleted tweet if "muslim brotherhood & planet of the apes had a baby=vj,". She later apologized for the racist tweet.
But Barr's apology wasn't enough. On Tuesday afternoon, ABC announced it was canceling Roseanne and slammed Barr's "abhorrent" tweets. "Roseanne's Twitter statement is abhorrent, repugnant and inconsistent with our values, and we have decided to cancel her show," ABC President Channing Dungey said.
Her talent agency, ICM Partners, also announced it would no longer represent her.
While it is unclear exactly what her contract with ABC stipulates, it's likely that Barr could lose millions for her tweets. Variety reported in 2017 that Barr was making an estimated $250,000 per episode of Roseanne. There were nine episodes in Season 10, and 13 episodes were ordered for Season 11, according to Deadline.
Here's what we know about Barr's net worth:
How Roseanne's Net Worth Stacks Up to Her Co-Stars'
Barr wasn't the only Roseanne actor pulling in $250,000 an episode during the successful revival — Variety reported that John Goodman, who plays Dan Conner, also made $250,000 an episode. But according to Celebrity Net Worth, Goodman's net worth comes in lower than Barr's, at a reported $65 million. Johnny Galecki, The Big Bang Theory actor who played David Healy on Roseanne, is worth a reported $50 million.
Roseanne, which was originally on for nine seasons between 1988 and 1997, was immensely popular in its return earlier this year. More than 18 million people watched the premiere, leading ABC to pick up another season (and Fox to order a revival of Tim Allen's sitcom Last Man Standing).
In any case, the fictional Roseanne never shied away from talking about money, as it was a central theme throughout the series. Dan and Roseanne were blue collar workers who often struggled to make ends meet.
In a now-deleted Tuesday night message, Barr acknowledged her tweet had serious consequences for the cast and crew of the show.
"Don't feel sorry for me, guys!!" she wrote. "I just want to apologize to the hundreds of people, and wonderful writers (all liberal) and talented actors who lost their jobs on my show due to my stupid tweet."
Roseanne's Politics Are No Secret
Barr loves Trump, her character loves Trump, and Trump loves her. In fact, Barr told the New York Times in March it was her idea to make Roseanne-the-character a Trump supporter, saying, "I just wanted to have that dialogue about families torn apart by the election and their political differences of opinion and how we handle it."
The mother of five has often taken her pro-Trump stance to Twitter, where the Washington Post notes that she's tweeted conspiracy theories about Pizzagate and the 2016 death of Democratic National Committee staffer Seth Rich. Earlier this week, she attacked Chelsea Clinton and retweeted a message from former National Security Advisor Michael Flynn's son. Meanwhile, Donald Trump Jr. retweeted Barr's tirade against investor George Soros.
Barr, who is twice-divorced, lives in Hawaii and is dating musician Johnny Argent, has said she's "not a Trump apologist" but a "radical." (She also ran for president in 2012 with the Green Party and the Peace and Freedom Party.) But Roseanne-the-show and Roseanne-the-person are favorites of the billionaire president. Trump even called Barr after the revival's premiere to congratulate her on the ratings, according to the Times.
As news of the Jarrett tweet and cancellation spread Tuesday, Barr tweeted that she was "now leaving Twitter." When is anyone's guess. She's been tweeting for the last 24 hours.
This story has been updated to include more of Barr's Tuesday tweets.