$15 Flights to Europe—and 7 More Ways the Least Trustworthy Airline Has Misled Travelers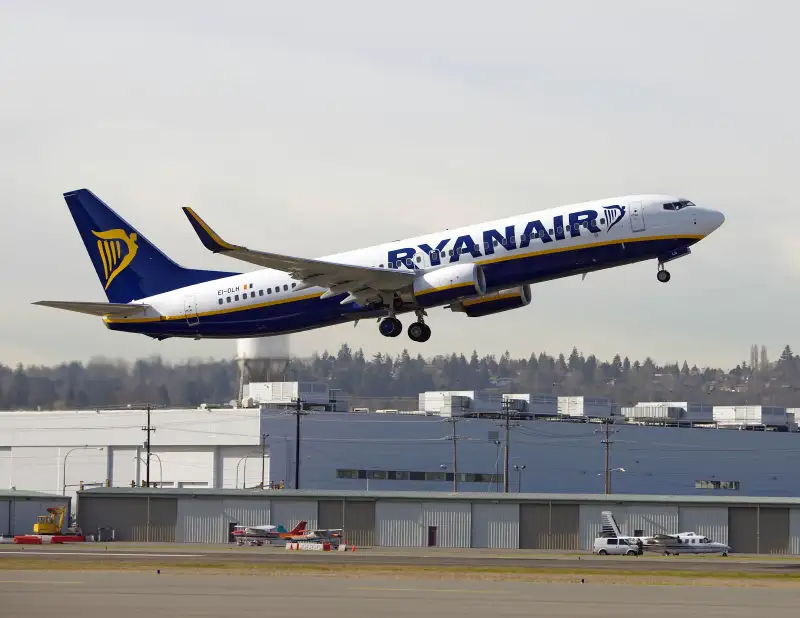 Airlines aren't exactly renowned as the most honest, upfront, and trustworthy of businesses. Years ago, the industry told travelers that fees for checked baggage were necessary to cover the cost of higher fuel prices. Fuel surcharges were added as well, supposedly for the same reason. Yet even as fuel prices have plummeted, fuel surcharges remain commonplace and baggage fees are pricier and more widespread than ever.
For that matter, travelers have constantly been told that the "debundling" of the airline ticket, in which passengers pay fees a la carte for only the services they want, results in lower prices for strictly the flights themselves. How that concept jibes with the fact that average airfares have soared to all-time highs (over $500) for domestic round trips is rather puzzling.
Among this untrustworthy bunch, European low-fare carrier Ryanair is routinely considered the worst of the pack. Led by brash, headline-grabbing CEO Michael O'Leary—known for calling customers "idiots" for thinking they won't be hit with fees at the airport, among other things—Ryanair has a long, storied history of bad, misleading behavior.
In the latest incident that turned out to be completely untrue, it was widely reported this week that Ryanair's board had approved the launch of a series of transatlantic flight routes, with promotional fares from Europe to the U.S. starting for as little as £10 ($15) one way. Within days of the report, however, Ryanair released a statement that completely negated the earlier stories, clarifying that the board "has not considered or approved any transatlantic project and does not intend to do so."
It's hardly the first time that Ryanair appears to have blatantly misled travelers around the world, likely for purposes including but not limited to generating huge amounts of cheap publicity. Here's a look at some other sketchy or downright untrue things that Ryanair has claimed over the years.
It'll sell standing-room-only tickets. In 2012, O'Leary claimed that the airline was close to introducing a standing-room-only section on short-haul flights within Europe. Fares would supposedly start as cheap as £1 ($1.50) for passengers who would stand up rather than require a seat during their travels. The airline later stated that it had no plans for an SRO section on planes.
Seatbelts don't matter. To make the argument that passengers can fly safely while standing, O'Leary was widely quoted saying, "Seatbelts don't matter," and compared the issue to other forms of travel: "You don't need a seatbelt on the London Underground. You don't need a seatbelt on trains which are travelling at 120 mph and if they crash you're all dead." Also, he noted, "If there ever was a crash on an aircraft, God forbid, a seatbelt won't save you." If nothing else, however, pilots and air safety regulators point out that in the event of turbulence passengers are more likely to be injured when not wearing a seatbelt.
It actually flies to Paris. More than a decade ago, a German court ruled that Ryanair must stop claiming that it flies to Dusseldorf when, in fact, the true airport destination is an old military airfield in Weeze, 42 miles away from Dusseldorf. It's common for low-cost carriers to use secondary airports rather than those nearest to city centers in order to keep costs down, but Ryanair has been dubbed the "ultimate bait-and-switch airline" because its gateway listings are so often misleading. A SkyScanner report about the world's Most Misleadingly Named Airports focused in particular on popular gateways used by Ryanair including Paris-Vatry (Disney) and Paris (Beauvais), which are, respectively, 93 miles and 55 miles outside of Paris. Despite its billing, the former is also 70 miles from Disneyland Paris.
It'll charge for in-flight bathrooms. With the hopes of encouraging passengers to use the restroom before boarding planes, Ryanair previously announced plans to charge fees for bathroom breaks on its aircraft, and has also floated the possibility of removing toilets in order to make room for more revenue-generating seats. Understandably, such measures drew an outcry among travelers and regulators, and in retrospect seem like ploys to generate attention.
And in-flight porn. Talk about a marketing stunt to generate attention! Yes, a few years ago O'Leary made headlines by announcing that his latest moneymaking idea would be an app that would charge passengers to watch erotic movies on tablets and smartphones. Gambling and games would be available too, for a charge. "I'm not talking about having it on screens on the back of seats for everyone to see. It would be on handheld devices," O'Leary said. "Hotels around the world have it, so why wouldn't we?"
It considered a "fat tax" too. In 2009, Ryanair surveyed 100,000 passengers on the topic of how to save the airline money, and the top vote getter, receiving the support of 30% of those polled, was an extra fee for overweight passengers. Granted, this wasn't the most serious or scientific survey: Participants weighed in because by doing so they had a chance to win free flights, and the second most popular money-saving scheme among voters was charging money for toilet paper with Michael O'Leary's face on it. Remarkably, the South Pacific's Samoa Air beat Ryanair to the punch by becoming the first airline to charge passengers by the pound in 2013.
It actually changed the way it does business. A year ago, not long after the airline was named as the worst customer service brand in all of Europe and described in the report as "aggressive and hostile towards customers," Ryanair declared that it was instituting a wide range of service improvements and more customer-friendly policies to overhaul its image.
How is that working out? A (UK) Telegraph report in the fall noted that Ryanair has indeed followed through on several customer-friendly changes, including "a new allowance for a second, small carry-on bag, a reduction of the number of clicks required to book on its new website, allocated seating, several family-friendly innovations and more discreet selling of its food and other ancillary services on board." Still, Ryanair continues to receive around 80,000 complaints per year, and as one Telegraph reporter put it, even after the "changes" have been made, "The in-flight experience was the same and the inflight food is still a rip off."