EPA Head Scott Pruitt Is Under Fire for His Spending Habits. Here's What He's Buying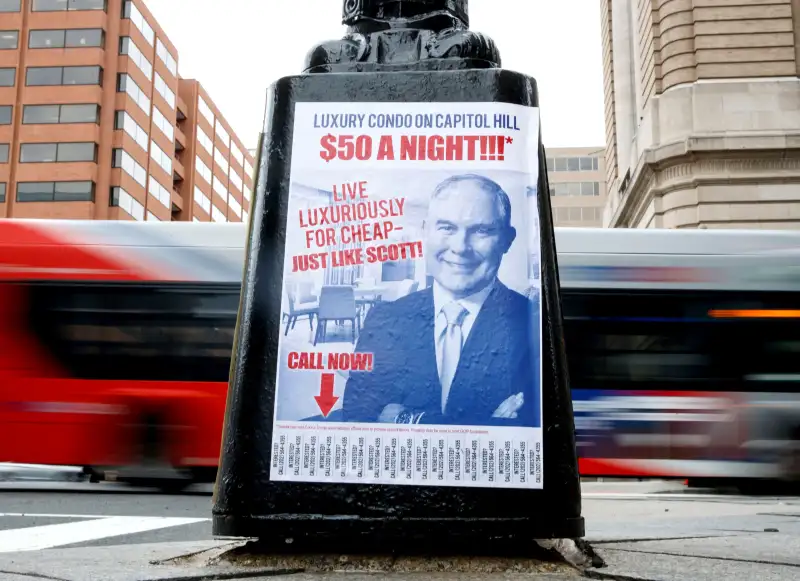 Carolyn Kaster—AP/REX/Shutterstock
Environmental Protection Agency head Scott Pruitt is under fire for what some consider reckless spending and conflicts of interest.
From first-class air travel to office renovations to swank accommodations when staying in Washington D.C, Pruitt's conduct has been making headlines threatening to overshadow his work for the Trump Administration.
The latest controversy -- sparked by a New York Times report that at least five EPA employees sought or were put in new jobs due to concerns over Pruitt's spending -- has led to calls for Pruitt to resign.
President Donald Trump, for his part, defended Pruitt on Twitter and to the press, telling reporters the EPA administrator is doing "a fantastic job" on Thursday, according to the Chicago Tribune. The EPA didn't immediately return a call seeking comment. Pruitt recently told Fox News he believes the attacks are politically motivated.
Here are notable times the EPA administrator's purchases have created controversy:
Surveillance-proofing the office: $52,000
Jackie Jones / EyeEm—Getty Images/EyeEm
The EPA's plans to spend nearly $25,000 to build a soundproof booth for Pruitt were announced in September and probed by the agency's inspector general in December. According to a recent New York Times report, expenditures on the plan to convert a broom closet into a custom-built private phone booth were originally planned for "about $10,000" but ended up costing $43,000.
The private phone booth is not the only Pruitt-led EPA expenditure in the interest of increased privacy and security. The administrator spent nearly $9,000 of taxpayer money sweeping the office for hidden listening devices and installing fingerprint-activated locks, according to the Associated Press, which notes that "EPA employees rarely deal with government secrets."
An EPA spokesperson responded to the Associated Press with a statement saying Pruitt has received "an unprecedented amount of threats against him and while the Associated Press attempts to trivialize his safety, there is nothing nefarious about security decisions made by EPA's Protective Service Detail."
Airfare: $160,000+
Michael Melford—Getty Images
Pruitt's airfare spending stirred controversy in February after the Washington Post called first-class air travel a distinguishing feature of the EPA head's first year. The piece detailed a taxpayer-funded airfare bill that totaled at least $90,000 in early June alone.
A later Politico report pegged Pruitt's total first-class flight spending at $105,000, not including the $58,000 Pruitt spent on charter and military flights. An EPA spokesman told Politico that the agency approved the first class travel due to "specific ongoing threats" that necessitated the EPA head's placement near the front of the plane.
DC Apartment: $50 per night
Andrew Harnik/AP/REX/Shutterstock—Andrew Harnik/AP/REX/Shutterstock
Pruitt is also facing scrutiny for leasing a room in a condominium in Washington's tony Capitol Hill neighborhood for $50 per night from the wife of an energy industry lobbyist. Ethics experts have questioned whether the deal represents a conflict of interest.
In a Fox News interview on Thursday, the EPA head said the Capitol Hill rental was "like an Airbnb situation." According to Bloomberg, Pruitt paid $6,100 total, an overall cost that evens out to 122 $50 stays. (An Airbnb search for private rooms in Capitol Hill pegs the average per-night rental price at $85.)
According to Vox, Pruitt's security staff broke in the property's door after failing to get in contact with him. The EPA later reimbursed the property owners $2,460 for damages.
While EPA ethics officials initially said the arrangement had been approved, an ethics official at the EPA later said the agency lacked all the facts about the arrangement when granting approval, according to the Washington Post. Asked about the rental deal at a press briefing on Wednesday, Press Secretary Sarah Sanders said the White House is reviewing the arrangement.