Sears Is Closing Another 63 Stores as the Company Clings to Life. Here's the Full List of Locations
Money is not a client of any investment adviser featured on this page. The information provided on this page is for educational purposes only and is not intended as investment advice. Money does not offer advisory services.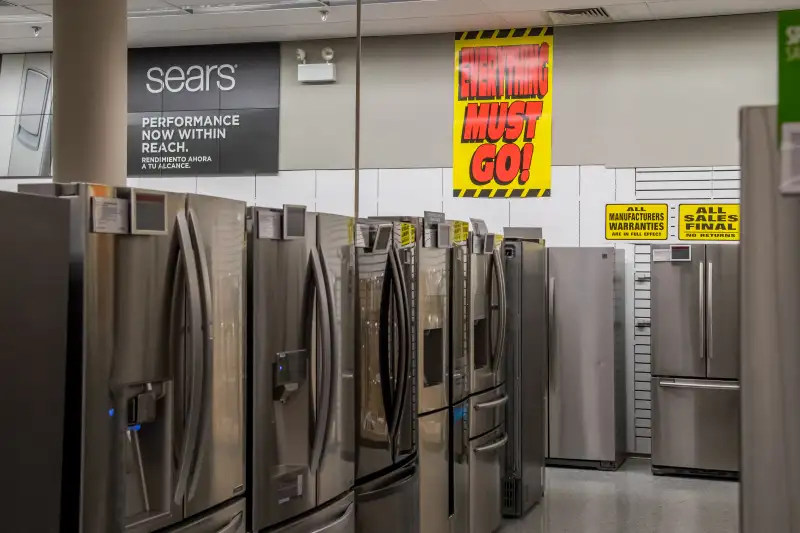 NurPhoto—NurPhoto via Getty Images
Sears, the struggling department store giant that's been shuttering stores for years, just announced a new round of store closures—and it's a doozy.
On Thursday morning, Sears Holdings, which owns Sears and Kmart, announced that it has identified 100 non-profitable stores and that it would be closing 72 of these locations "in the near future."
However, when Sears actually published the list of stores closing, the company changed the tally. The full Sears closing list, which we have included below in this updated story, now consists of 63 stores (15 Kmarts and 48 Sears locations). Liquidation sales at Sears and Kmart stores reportedly start as soon as mid-June, and the stores will be completely shut down by early September.
This latest round of Sears store closures comes roughly two weeks after the company said it would be closing 40 other stores in 24 states. And those closures were on top of a previous announcement made by Sears stating that 166 Kmart and Sears stores would close in 2018.
Altogether, it appears Sears Holdings could be closing roughly 275 Sears and Kmart stores this year.
These closures would come on the heels of the company's decision to shutter well over 100 stores in 2016 and roughly 150 stores in 2017. As recently as 2016, there were nearly 1,600 Sears and Kmart stores in business throughout the U.S. By the start of 2019, that total could be down to around 1,100.
Sears is one of the biggest retail brands perceived to be on its deathbed during the so-called "retail apocalypse," which has put once-powerful stores like Toys R Us and Sports Authority out of business. Sears' troubles include an aging business model and increased competition from dollar stores, home improvement chains, and, of course, Amazon.
In its latest quarterly earnings report, Sears said that comparable store sales fell 9.5% at Kmart and a whopping 13.4% at Sears locations.
Here's the full list of the 63 more stores Sears said it is closing:
ARIZONA
• Sears, 10001 N Metro Parkway, West Phoenix, AZ
CALIFORNIA
• Kmart, 910 North China Lake Blvd, Ridgecrest, CA
• Sears, 100 S Puente Hills Mall City Industry, CA
COLORADO
• Kmart, 9881 W 58Th Avenue, Arvada, CO
FLORIDA
• Kmart, 5400 E Busch Blvd, Tampa, FL
• Sears, 7902 Citrus Park Town Center, Tampa, FL
• Sears, 320 Towne Center Circle, Sanford, FL
GEORGIA
• Sears, 2201 Henderson Mill Road N.E., Atlanta, GA
• Sears, 1300 Southlake Mall, Morrow, GA
• Sears, 2100 Pleasant Hill Road, Duluth, GA
HAWAII
• Kmart, 4303 Nawiliwili Road, Lihue, HI
ILLINOIS
• Kmart, 5909 E State Street, Rockford, IL
• Sears, #2 Hawthorn Center, Vernon Hills, IL
• Sears, #2 Fox Valley Center, Aurora, IL
• Sears, 6136 W Grand Avenue, Gurnee, IL
• Sears, 104 West White Oaks Mall, Springfield, IL
IOWA
• Kmart, 2535 Hubbell Avenue, Des Moines, IA
• Sears, 320 W Kimberly Road, Davenport, IA
INDIANA
• Sears, 2415 Sagamore Pkwy S, Lafayette, IN
• Sears, 40 Muncie Mall, Muncie, IN
• Sears, 6020 E 82Nd Street, Indianapolis, IN
KANSAS
• Sears, 1781 Sw Wanamaker Road, Topeka, KS
LOUISIANA
• Kmart, 4070 Ryan Street, Lake Charles, LA
• Sears, Alexandria Mall, Alexandria, LA
MASSACHUSETTS
• Sears, Hwys 114 & 128, Peabody, MA
• Sears, Eastfield Mall, Springfield, MA
MICHIGAN
• Sears, 3191 S Linden Road, Flint, MI
• Sears, 18900 Michigan Avenue, Dearborn, MI
• Sears, 14100 Lakeside Circle, Sterling Heights, MI
• Sears, 1212 S Airport Road W, Traverse City, MI
MINNESOTA
• Kmart, 215 North Central Avenue, Duluth, MN
• Sears, Shingle Creek Crossing, Brooklyn Ctr, MN
• Sears, Miller Hill Mall Duluth, MN
MISSISSIPPI
• Sears, 1000 Turtle Creek Drive, Hattiesburg, MS
MISSOURI
• Sears, 250 S County Center Way, St. Louis, MO
• Sears, #1 Chesterfield Mall, Chesterfield, MO
MONTANA
• Sears, 1515 Grand Avenue, Billings, MT
NORTH DAKOTA
• Sears, 2800 S Columbia Road, Grand Forks, ND
NEW JERSEY
• Kmart, 24 34 Barbour Avenue, Clifton NJ
• Sears, 300 Quaker Bridge Mall, Lawrenceville, NJ
• Sears, 2341 Rt 66, Ocean, NJ
• Sears, 2501 Mt Holly Road, Burlington, NJ
NEW MEXICO
• Kmart, 2100 Carlisle Avenue, Albuquerque, NM
• Sears, 10000 Coors Bypass N.W., Albuquerque, NM
NEW YORK
• Kmart, 1000 Montauk Highway, West Babylon, NY
• Kmart, 25301 Rockaway Blvd, Rosedale, NY
• Sears, 3649 Erie Blvd E, Syracuse, NY
OHIO
• Sears, 2400 Elida Road, Lima, OH
• Sears, 17271 Southpark Center, Strongsville, OH
OREGON
• Kmart, 12350 N E Sandy Blvd, Portland, OR
PENNSYLVANIA
• Kmart, 1072 Mountain Laurel Plaza, Latrobe, PA
• Sears, 300 S Hills Village, South Hills, PA
• Sears, 1000 Robinson Center Drive, Pittsburgh, PA
SOUTH CAROLINA
• Sears, 205 W Blackstock Road, Spartanburg, SC
• Sears, 3101 N Main Street, Anderson, SC
SOUTH DAKOTA
• Sears, 3400 Empire Mall, Sioux Falls, SD
TENNESSEE
• Sears, 2931 Knoxville Center Drive, Knoxville, TN
TEXAS
• Kmart, 5000 San Dario Laredo, TX
• Sears, 2401 S Stemmons Freeway, Lewisville, TX
• Sears, 1800 Green Oaks Road, Fort Worth, TX
• Sears, 11200 Lakeline Mall Drive, Cedar Park, TX
• Sears, Golden Triangle Mall, Denton, TX
WASHINGTON
• Sears, 4502 S Steele Street, Tacoma, WA