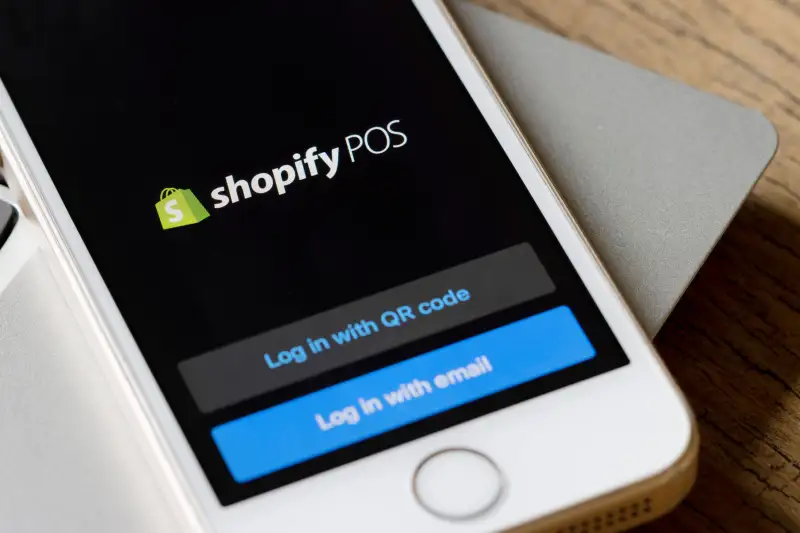 Increasingly, businesses are abandoning the traditional cash register in favor of point-of-sale (POS) systems. POS systems help companies process a broader range of payments, improve inventory management and simplify operations.
Shopify's POS system, which pairs with the Shopify e-commerce platform, is a great choice for businesses that want to sell online and in person. In this article, we review Shopify POS to help you decide if it's a good option for your business.
Best for multi-channel retail
Shopify is known for its e-commerce platform, but it also offers one of the best POS systems for a variety of businesses. Shopify POS is a cloud-based system and an excellent option for multi-channel retail selling, making it great for online and offline sales. You can also sell through apps, social media platforms and emails.
The Shopify POS system allows you to take orders from customers, accept various payments and sync your transactions across multiple channels from a single dashboard. Shopify POS is also great for tracking your inventory, processing orders and viewing your Shopify sales data across retail locations and online stores.
Pros
Excellent user experience
Customizable payment options
Flexible plans
Cons
Less-than-ideal analytic capabilities
Extra fees
Pros explained
Shopify POS offers many beneficial features compared to other POS systems. Its main advantages are the excellent user experience, customizable payment options and flexible plans.
Excellent user experience
Whether you're new to e-commerce or have extensive technical experience, you won't need much training to put Shopify POS to use. It has a user-friendly interface that makes setup and navigation easy so you and your staff can focus on processing sales and managing relationships with customers.
Customizable payment options
Shopify POS allows for customizable payment options for customers, which is a step up from most of its competitors. You can decide which payment options you would like to include, such as credit and debit cards, gift cards and Apple Pay.
Shopify POS can also accept partial payments and deposits, allowing you to better serve both your offline and online customers.
Flexible plans
Shopify POS allows you to choose from four different compatible plans (which we explain in detail below) and switch between them as your business grows.
For instance, you can purchase the Basic Shopify plan to start. As you gain experience and scale your business, you can upgrade to a plan with more features and accounts to accommodate your business's expansion.
Cons explained
While there are many benefits to the Shopify POS, there are areas where it could use some improvement. Some of the shortcomings include less-than-ideal analytic capabilities and extra fees.
Less-than-ideal analytic capabilities
Shopify POS includes analytic tools that give product reports and track sales, orders and customer patterns. Although access to these analytics is helpful, the reports are not as robust compared to competitor systems.
For best results, you can pair Shopify POS with an analytics system that specializes in tracking internet traffic, such as Google Analytics.
Extra fees
If you don't use Shopify Payments as your exclusive payment processor, you will need to pay extra fees. All Shopify plans charge additional fees per transaction. The more you pay for the plan, the lower the transaction fee. Per transaction, the Basic Shopify plan charges a 2% fee, the Shopify plan charges a 1% fee and the Advanced Shopify plan charges 0.5%.
Shopify POS plans and offerings
You need to buy a Shopify e-commerce subscription plan to use the Shopify POS system. Shopify POS offers several different plans to meet the needs of its diverse range of merchants.
All Shopify plans except the Starter plan come with Shopify POS Lite, which includes:
Unlimited product inventory and tracking
Brand management and analytics capabilities
Individual staff logins
Upgrading your POS from Lite to Shopify POS Pro will cost an additional $89 per month per location.
Shopify POS Pro's additional features include:
Smart inventory management that forecasts needs based on previous sales
Low stock alerts
Unlimited registers
In-store analytics
Staff permissions and manager approval settings
Shopify Starter plan
The Shopify Starter plan is an excellent option for merchants just starting out or testing a business idea.
The Starter plan offers basic analytics and order management. The Starter plan does not include an online store or Shopify POS but allows you to sell your products through social media platforms, SMS, forums and email.
Basic Shopify plan
The Basic Shopify plan is the platform's best option for smaller-scale businesses in need of the Shopify POS system. The Basic Shopify plan includes a website with an e-commerce store and a blog, plus the POS Lite. Some of the other Basic Shopify plan features include:
Basic financial reports
Currency conversion capabilities
Customer segmentation
Discounts on shipping
In-person payments
Omnichannel selling
Order management
In-store inventory tracking
Invoicing
Custom discounts
Up to four inventory locations
Gift cards
Two staff accounts
With the Basic Shopify plan, credit card rates are 2.9% plus $0.30 for online transactions and 2.7% with no additional fee for in-person transactions.
The Shopify plan
The Shopify plan is a more professional option than the Basic Shopify plan. It includes all of the features of the Basic Shopify plan with a few added benefits, including:
Up to five staff accounts
Discounted payment processing
Standard reporting
Additional shipping discounts
The credit card rates for the Shopify plan are 2.6% plus $0.30 for online purchases and 2.5% with no money added for in-person sales.
The Advanced Shopify plan
The Advanced Shopify plan includes all of the features in the Shopify plan, with additional features such as:
15 staff accounts
Up to 8 inventory locations
Advanced reporting
Custom report builder
The Advanced Shopify plan includes the lowest transaction fees of the standard plans, with credit card rates at 2.4% plus $0.30 for online purchases and 2.4% and no additional fees for in-person transactions.
The Shopify Plus plan
The Shopify Plus plan is the most expensive plan available. It is an enterprise-level plan designed for high-volume merchants. In addition to the plan's monthly cost, you'll also give Shopify a percentage of your store's monthly sales and other extra fees.
The Shopify Plus plan offers impressive support options. If you subscribe to the Shopify Plus plan, you will have access to a merchant success program. A merchant success manager will be available to help you to ensure that your store runs smoothly. You will also have access to Shopify Plus Academy, which offers advanced resources such as courses and webinars that will help you improve your business.
Other important features offered by the Shopify Plus plan include:
Unlimited staff accounts
Automated workflows
Discounts and shipping rates
More integration features
Tax automation
The Shopify Plus plan has transaction fees if you use an external payment gateway over Shopify Payments. Domestic transaction fees amount to 2.15% with an additional $0.30 added. International transaction fees are more expensive at 3.15%, with $0.30 added.
Shopify POS pricing
The pricing of a Shopify POS system varies depending on the Shopify POS hardware, additional features and plan you choose.
Note that if you want advanced financial capabilities but don't want a higher-tier Shopify plan, you may want to invest in the best accounting software for small businesses to keep track of your expenses.
The Shopify Starter plan does not include POS capabilities and costs $5 per month.
The other plans can integrate the Shopify POS system and come at monthly rates of:
$29 for the Basic Shopify plan
$79 for the Shopify plan
$299 for the Advanced Shopify plan
$2,000 for the Shopify Plus plan
All plans with Shopify POS capabilities come with a free subscription to Shopify POS Lite. Upgrading to a Shopify POS Pro monthly subscription costs $89 per location.
Shopify POS pairs with iOS or Android devices, but Shopify POS hardware is also available. Available hardware ranges from Shopify card readers to cash drawers to printers, which are available on the Shopify website. Prices range from $49 for a card reader to $499 for a label printer.
Shopify financial stability
As a publicly listed company, Shopify has financial transparency and is accountable to its shareholders. It boasts a strong track record, giving merchants confidence in the stability and longevity of the company.
The company's financing arm, Shopify Capital, has also seen continued growth and has funded over $4.3 billion in cumulative capital since its launch in 2016.
Shopify POS accessibility
Shopify POS is available on various devices, including tablets, smartphones and desktop computers. It also offers support for a wide range of languages and currencies, making it accessible to merchants worldwide.
Availability
The versatility of Shopify POS hardware is one of its major advantages, as it can connect to various platforms, including iOS and Android devices. You can also access it on desktop computer browsers.
Using the Shopify point-of-sale app on mobile devices gives you a system that is easily portable, making it perfect for pop-up shops, outdoor markets and traditional brick-and-mortar stores.
Contact information
Shopify POS offers several ways to get in touch with its customer service team. You can contact Shopify via a live chat feature on the Shopify website. You can also send an email to support@shopify.com or call its US customer support line at 1-888-746-7439.
Alternatively, Shopify responds to messages on Instagram, Twitter and Facebook.
User experience
Shopify POS is easy to use, even for users that aren't tech-savvy. The interface is intuitive, and the setup process is straightforward.
Positive online reviews say Shopify POS helps streamline their point-of-sale processes and makes their retail business operations more efficient. However, some negative user reviews noted connectivity issues between the software and hardware and too many forced updates.
Shopify POS customer satisfaction
There are no reviews for Shopify POS on the Better Business Bureau or Trustpilot websites. However, Shopify Inc. has an A+ rating from the BBB. Reviews from users on the App Store gave Shopify POS 4.5 out of 5 stars. Users reviewing the app on Google Play gave the app 3.5 out of 5 stars.
Shopify POS FAQ
What is the difference between Shopify and Shopify POS?
Shopify and Shopify POS serve different purposes, depending on the needs of your business. Shopify is an e-commerce platform that allows merchants to set up and run an online store to sell their products. Shopify POS is a point-of-sale system that enables retailers to process transactions and accept payments in-person, such as in a brick-and-mortar stores.
Do I need a card reader to use Shopify POS?
To accept credit and debit card payments through Shopify POS, you will need a card reader that is compatible with the system. Several card readers are suitable for Shopify POS, including the Shopify Chip and Swipe Reader, the Shopify Card Reader and the Shopify Tap and Chip Reader. You can find more information about these card readers on Shopify's website.
What percentage does Shopify POS take?
Shopify POS charges a transaction fee for each sale made through a third-party payment processor but doesn't charge transaction fees if you use Shopify Payments as your payment processor. The exact percentage of the transaction fee depends on your plan. The Basic Shopify plan charges a 2% fee per transaction, while the Shopify plan charges a 1% fee per transaction. The Advanced Shopify plan charges 0.5% per transaction.
How we evaluated Shopify POS
To evaluate Shopify POS, we looked at its features, customer reviews, ease of use, availability, prices and support options compared to its competitors.
Summary of Money's Shopify POS review
Shopify POS is a solid option for merchants looking for a reliable and reputable retail POS system. It is available on iOS and Android devices and through desktop computer browsers allowing for use in various settings like retail stores, pop-up shops and events. Try out Shopify POS and see if it is right for your business.
If you think a POS could help your business grow but you're currently lacking the funds, you may benefit from researching the best small business loans.