Sister Jean Merchandise Is Selling Like Crazy for Loyola. Here's How Much Money She's Making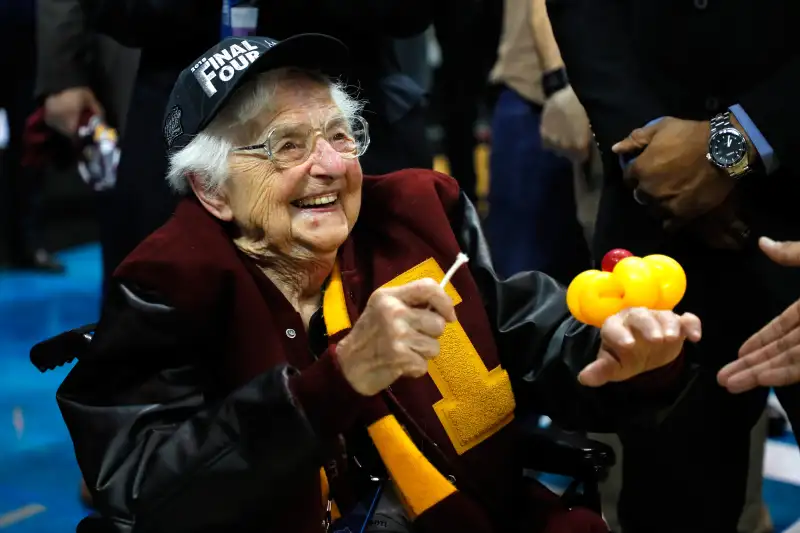 Kevin C. Cox—Getty Images
The 2018 March Madness men's basketball tournament has been full of stunning storylines, including the first-ever No. 16 seed to beat a No. 1 team and the amazing Final Four run of No. 11 seed Loyola-Chicago.
Perhaps the most unlikely story of all is the emergence of a 98-year-old nun as the tournament's premier star. That nun, of course, is Sister Jean Dolores Schmidt, the adorable team chaplain for Loyola-Chicago who has been interviewed on "Good Morning America" and featured in more than one New York Times article. In fact, ESPN noted that over the past two weeks, Sister Jean has been mentioned in over 20,000 stories in the media—more than several boldface-name coaches in the tournament combined.
Sister Jean's celebrity, alongside the Cinderella story of her beloved Loyola-Chicago squad, has also translated into a staggering amount of merchandise sales. Her face is now emblazed on T-shirts, socks, bobbleheads, and more.
Not that any of these sales are benefitting Sister Jean personally: She is not receiving any money or other compensation.
Tom Sorboro, a senior associate athletic director at Loyola-Chicago, told ESPN that Sister Jean "gave her blessing" for the school to use her name and image on items for sale. "She didn't ask for anything for herself," in terms of compensation, Sorboro said. Proceeds from the sales support the Loyola Athletic Fund, which benefits the school's athletes, and the Sisters of Charity of the Blessed Virgin Mary, the religious order that Sister Jean first joined in 1937.
The sports apparel retailer Fanatics.com, which is an official partner selling Loyola-Chicago goods, said that Loyola-Chicago Ramblers merchandise sales were up 500% during the week leading up to the Sweet 16, the Chicago Tribune reported. Among the hottest sellers is this "Powered by Sr. Jean" T-shirt for $24.99.
There are also several Sister Jean-theme items available from sellers on Amazon, like this "Air Jean" shirt that plays off the iconic Air Jordan logo.
And another T-shirt declaring "Sr. Jean Is My Homegirl."
It's not clear if all of these products are officially licensed by Loyola University Chicago. A statement sent to Money from Loyola's Sorboro explained: "We have seen many counterfeit products that are using [Sister Jean's] name without permission and none of these will support the University or any charitable cause. If a product is not an official Loyola product, the only person benefiting from the sale is the seller."
Sorboro said that Sister Jean "has asked that all royalties from products bearing her likeness or name benefit the University and our student athletes." To ensure that sales royalties get to the proper recipients, he recommended that shoppers buy Sister Jean products through the university bookstore website, RamblersGear.com, or Fanatics.com.
While Sister Jean T-shirt sales have been booming, Sister Jean bobbleheads may be in even higher demand. Loyola-Chicago actually hosted Sister Jean bobblehead nights in 2011 and 2015, and these collectibles are now being listed at eBay for $350 and even $500.
Sensing opportunity, Loyola-Chicago recently gave the OK to open sales for a new Sister Jean bobblehead doll. The National Bobblehead Hall of Fame and Museum said that the new $25 Sister Jean model became its best-selling bobblehead ever less than two days after it recently became available for pre-order. That's all the more remarkable because buyers won't even get their bobbleheads until they are actually in stock—in June.
We've included affiliate links into this article. Click here to learn what those are.