Sitting At Your Desk Is Killing You. Here's What It Costs To Stop the Destruction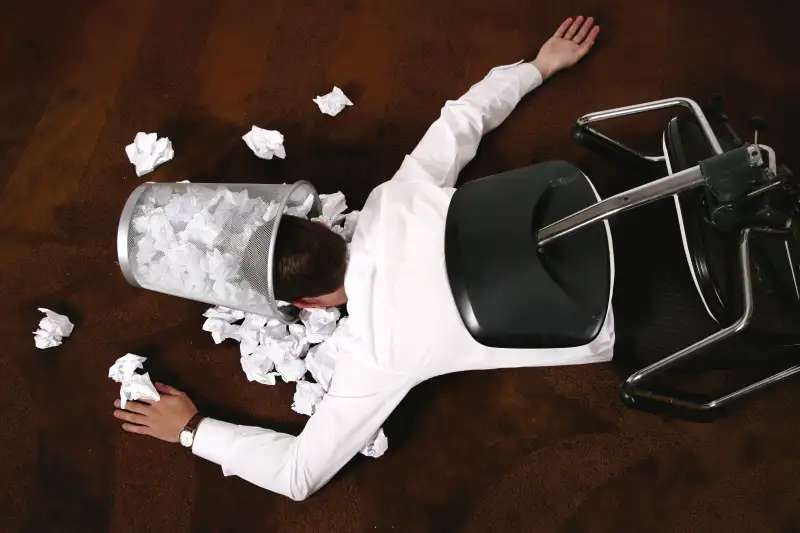 The science is in: Sitting at your desk all day is really, really, bad for you. Studies have shown long periods of sitting is bad for the elderly, drastically increases your risk of cancer, and now new research confirms that being a couch potato at work is hazardous to your heart's health.
Worst of all, your daily (or weekly) trip to the gym isn't enough to offset the damage that prolonged sitting can cause. As a New York Times survey of the scientific literature concluded:
How can you avoid this death-by-lethargy? The key is not exercising more, but sitting less. Luckily for desk jockeys everywhere, there are plenty of products and services that promise to get you moving about during the work day. Here's a quick survey of the market, and how much each solution will cost you.
Standing Desk
Cost: $20-$1,497
The most obvious way to prevent the problems of sitting is to, well, stand. A standing desk is pretty much the same as a normal desk, but much taller, and usually adjustable. The idea is that by standing you'll be more active—flexing your legs, fidgeting, moving around, shifting your weight, etc—and therefore avoid the complete stasis that makes sitting so damaging.
Standings desks run the gamut from virtually free to obscenely expensive. If you don't want to spend any money at all—something standing desk advocates actually recommend for newcomers—you can just use a sufficiently high counter top or table. As long as your new workstation meets a few ergonomic requirements (this graphic from Wired is very helpful), you should be all set.
If you like the standing desk lifestyle (and the ability to literally look down on your seated co-workers), it might be time to splurge on the real thing. On the low end, there's a $20 IKEA hack for the DIY type. A good mid-range product is the $400 Kangaroo Pro Junior, an adjustable (if small) option with a special mounting for your computer monitor.
The top of the line is the NextDesk Terra. At almost $1,500, the Terra is not for anyone on a budget, but it certainly offers some great features. In addition to great build quality, Terra's electrical motor allows you to easily adjust its height using a small console on the right corner. It also remembers three different heights, allowing for sharing or an easy transition back to sitting position. All this was enough to impress the Wirecutter, which picked the Terra as their favorite standing desk.
Treadmill Desk
Cost: ~$700-$1,500+
Standing desk not hardcore enough for you? Try combining it with an actual treadmill. Surprisingly, these contraptions aren't that much more expensive than a standing desk, with some options coming in around $700. Consumer Reports recommends the LifeSpan TR1200-DT5, which retails for $1,500.
Treadmill desks are a great way to remain active while working, but try not to go overboard with the exercise (especially if you can't wear gym clothes to work). Business Insider's Alyson Shontell walked 16 miles in one day on a treadmill desk and described the experience as less-than-enjoyable.
Office Yoga
Cost: Classes start at $250 a session
Yoga is a great way to de-stress while also getting some needed exercise. The problem? You can't exactly break out the tights and yoga matts in the middle of your office without getting, at the very least, some weird looks from everyone nearby.
Or at least that's been the problem until now. A company called Yoga Means Business offers offices group yoga classes that don't require a change of clothes. YMB's signature class is the 30-minute method, which features 15-20 minutes of standing and stretching and another ten minutes of meditation and breathing. Half an hour isn't too much time, but it's a great way to get out of your chair and be active for a little while during the work day.
In terms of cost, YMB's classes are free—assuming you can convince your company to pick up the charge. Each 30-minute session starts at $250 and YMB recommends two sessions per week. If yoga isn't enough, you can also book an appointment with an office fitness expert. Larry Swanson, a Seattle message therapist and personal trainer, offers appointments where you can learn exercises, posture awareness, and other strategies for staying active during work.
Apps
Cost: Free
If all these fancy desks and yoga classes sound like too much, you can make yourself more active using only a smartphone or tablet. StandApp, available for both iOS and Android, allows users to set custom break intervals and then alerts them when its time to get out of their chair. In addition to these periodic reminders, StandApp also has video guides for various office-compatible exercises and tracks how many calories you've burned by getting up more often.
Posture Sensor
Cost: $149.99
If you are going to sit for a while, it's important to have good posture. The LumoBack posture sensor straps around your waist and tracks how your sitting or standing. If it detects you slouching, the device vibrates to let you know you're doing it wrong. The LumoBack also integrates with your iPhone to track your steps and how many times you stand per day, making it useful for anyone who wants to make sure they're not sitting for too long.
Get a New Job
Cost: ????
At the end of the day, the problem is your modern work life. Most white collar jobs require sitting behind a desk for 8+ hours instead of moving around. On the other hand, jobs in manual labor offer plenty of opportunities for exercise. Maybe you'll have to take a pay cut (not always, many manual jobs have pretty great compensation), but you'll probably be healthier for it. And you can't put a price on your health, right?