This Woman Turned a Backache Into a Million-Dollar Home Business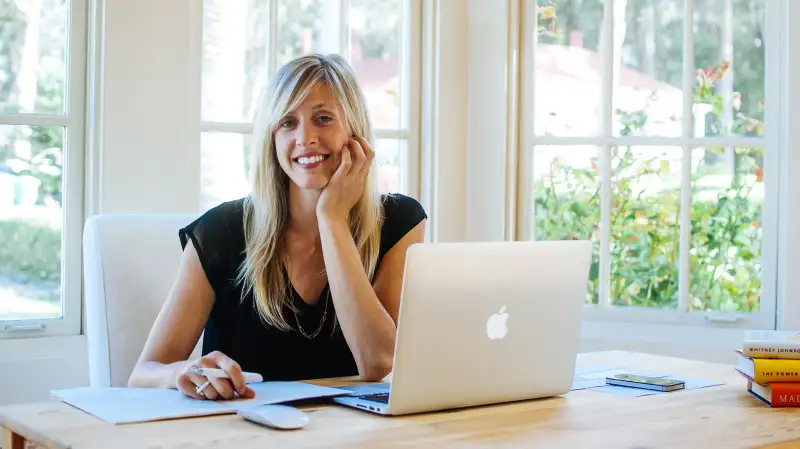 Working around the clock at a mobile app startup called Everest, Katherine Krug suffered a side effect from long hours at her desk: sciatica.
The back pain was intense, she recalls: "It was hard for me to sit." But in her quest to alleviate the pain, Krug, now 33, stumbled onto a million-dollar idea.
The back pain itself was her inspiration. Unable to attract enough users, Everest shut down in 2014, and Krug found herself "emotionally spent" and "trying to figure out what to do with my time." So she and a friend began experimenting with ways to create a strap that would provide back support.
As she mentioned the idea to friends and acquaintances, she discovered many fellow sufferers among them—and began to suspect there was a big market for a product that could help. Asking around, she was referred to industrial designers who helped her create a prototype for the supportive strap. She launched a new startup, Better Back, last year and now runs it from home in San Francisco.
Krug didn't initially have the money to manufacture her product so she turned to crowd funding site Kickstarter. By effectively letting investors put in pre-orders for the product, the campaign raised $1.2 million. Krug plans to start shipping the preorders, currently priced at $65, this fall.
Believe it or not, Krug is one of many solo entrepreneurs who has grown a business to more than $1 million in revenue in recent years. Data released last week by the U.S. Census Bureau counted 30,174 "nonemployer" firms that brought in $1 million to $2,499,999 in 2013, up 2% from the year before.
So how did Krug create her million-dollar, work-at-home business? Here were some her successful strategies.
Get clear on your goal. Krug is a fan of Tim Ferriss's book, The 4-Hour Workweek. But given the realities of the startup scene, she found the goal of working four hours a week elusive. "No matter how much you try to conceive of a business that gives you some work-life balance, there's so much work that goes into it," she says.
After Everest, she worked as interim COO for a company she really liked and was offered a permanent position, but, she says, "I had this nagging feeling in my stomach that something wasn't right." She realized she does her best work when she has flexibility in how she works.
Being an entrepreneur offered the freedom and control over her schedule that she wanted, but she wanted to do it differently this time. She didn't want to slip back into her old lifestyle, where juggling management of her team with getting the actual work done led to very long hours. "I had all of these health issues from constant stress and lack of sleep," she says. At the same time, though, she did enjoy working with others, so she looked for a business idea where she could still work in a collaborative way.
Design a business around your ideal lifestyle. Krug decided to use a business model where she works with a flexible team of contractors. "I'm really focusing on finding people who don't need management," says Krug. "I think a contract model really serves that. You can get people who are experts in their own field. You come to the table as equals and can have a wonderful collaboration."
To launch the business, she contracted with two industrial designers who live in Washington State and Maine; enlisted a marketing firm based in Brazil; and hired a virtual assistant in the Philippines through the freelance platform oDesk, which was recently renamed Upwork. To keep everyone in sync, she uses digital tools such as Skype, Google Docs, and Trello, an organizing site.
Her approach is not unusual among solo businesses, according to Steve King, a partner at Emergent Research, a firm in Lafayette, Calif., that studies the independent workforce. A 2014 study by MBO Partners, to which King's firm contributed, found that 38% of independent workers hired independent contractors in the past year, with most of these contractors doing the equivalent of a one-quarter time worker. Generally, says King, these "virtual" companies turn to contractors because they don't have a consistent need for help, don't want to manage employees, and want to stay agile.
Keep it lean. One thing that helped Krug grow her business quickly, she says, was her familiarity with the ideas of Eric Ries, author of The Lean Startup, and serial entrepreneur Steve Blank.
"It's all about taking an idea—before you spend huge amounts of money and time bringing it to life—and doing cheap and easy iterations of it," she says.
Using Kickstarter made this easier. By promoting her idea on the site, she quickly took the pulse of the marketplace. When more than 16,000 people responded by making pledges or placing pre-orders, she had her proof of concept—and a team of potential beta testers. Dozens of people who wanted to be distributors and partners also contacted her, she says, giving her confidence that the product had traction.
Expand your network. Krug didn't know everyone she needed to create her product, but she wasn't shy about asking people in her network for referrals—and then asking these new contacts for more intros until she found the help she needed. An industrial designer she found, for instance, was "a friend of a friend of a friend of a friend."
Set one meaty goal a day. Krug sets one important task a day—like "Find an industrial designer"—to tackle first thing in the morning. That keeps her from getting distracted by tasks that don't move the business forward in a meaningful way.
In a startup, says Krug, "There's always more to get done. I think a lot of people abandon their vision because they feel so paralyzed by how much there is to do. They get stuck."
She's also built in a safety valve to prevent burnout. Once she completes her key task, she gives herself permission to take a break. "If I have energy to do more I will move onto the next goal," she says. "There are some days where the one thing is so hard I'm depleted. I give myself permission to say 'That was enough' and pick up again the next day—again focusing on only one thing."