Social Security Benefits Will Rise 3.2% in 2024 — Another Historically High COLA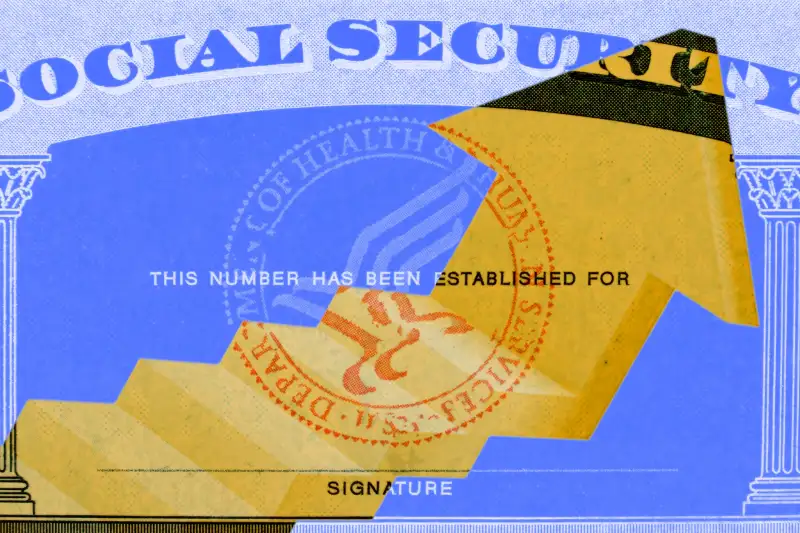 The roughly 70 million Americans who receive Social Security will see another significant increase to their benefits next year: The Social Security Administration announced Thursday that the cost-of-living adjustment for 2024 will be 3.2%.
While the 2024 COLA is far lower than last year's historic increase, it's still higher than average thanks to stubborn inflation.
"Social Security and SSI benefits will increase in 2024, and this will help millions of people keep up with expenses," Kilolo Kijakazi, acting commissioner of Social Security, said in a news release.
Social Security recipients receive monthly payments, and every year, the government raises benefits to bring them up to speed with rising prices. Most beneficiaries are retirees, but the agency also provides Supplemental Security Income to more than 7 million Americans with disabilities as well as those who meet certain income requirements.
Every Social Security recipient will receive this automatic benefits increase, and the majority will see it reflected in their monthly payment in January. Recipients of SSI will get their first increased benefit on Dec. 29.
How much will the 2024 COLA increase Social Security?
The average Social Security benefit is about $1,700 a month, according to the SSA. The agency said Thursday that on average, monthly payments will increase by about $58.
The 2024 COLA was based on inflation data from the U.S. Bureau of Labor Statistics, which released its September update on Thursday. Every October, the SSA calculates the COLA based on the average inflation rate in the third quarter, which spans July, August and September. The average third-quarter inflation rate is then compared to that of the previous year, and the difference between the two is the official COLA.
Estimates from advocacy group The Senior Citizens League projected that this year's COLA would be between 3% and 3.5%. That's above the average COLA of 2.6% but still a far cry from last year's 8.7% increase, the highest boost to benefits since 1981 due to historic inflation.
Will the 2024 COLA be enough?
Despite an above-average COLA the last few years, research shows that Social Security benefits aren't keeping pace with inflation.
A May study from The Senior Citizens League found that the purchasing power of benefits have lagged in the past two decades, especially for the oldest retirees. Retirees 85 and older would need over $500 more a month to match the value benefits provided in 2000, according to the study. For every $100 a retired household spent on goods and services that year, the same household can only afford $64 worth today.
These challenges are expected to persist with the 2024 COLA.
"While the 3.2% COLA is higher than average, the dollar amount of the COLA is really fairly modest," Mary Johnson, policy analyst for The Senior Citizens League, tells Money. "For those without other sources of retirement income, the inability to afford healthy meals or to fill prescriptions can lead to worse health outcomes and higher costs in coming months."
The future of Social Security
Increasing benefits across the board may do more harm than good in the long run. The trust fund used to bankroll Social Security has been barreling toward insolvency for years: a threat economists say needs to be addressed before lawmakers can enact a sustainable benefits increase.
While beneficiaries would enjoy an initial boost to their retirement income from a universal increase, they'd see major reduction in their benefits in the next decade without comprehensive Social Security reform.
An analysis from U.S. Budget Watch 2024 — a project from the public policy organization Committee for a Responsible Federal Budget — estimates that all beneficiaries would see a 23% cut to their annual benefits by 2033, amounting to an immediate reduction of $17,400 for the average newly retired dual-income household.
Higher COLAs could also push the trust fund to insolvency faster than expected.
"Under current law, Social Security is badly out of financial balance, and time is running out to fix this before the changes required to do so become prohibitively large," Charles Blahous, a former Social Security trustee and fiscal policy expert for the Mercatus Center at George Mason University, said in a statement to Money before the 2024 COLA announcement.
More from Money:
The Government Is Coming After Social Security Overpayments
Millennials vs. Boomers: Who's Doing a Better Job Saving for Retirement?
Over 70% of Americans Worry Their Retirement Savings Will Get Eaten up by Taxes