This Airline Just Made Your Butt Happy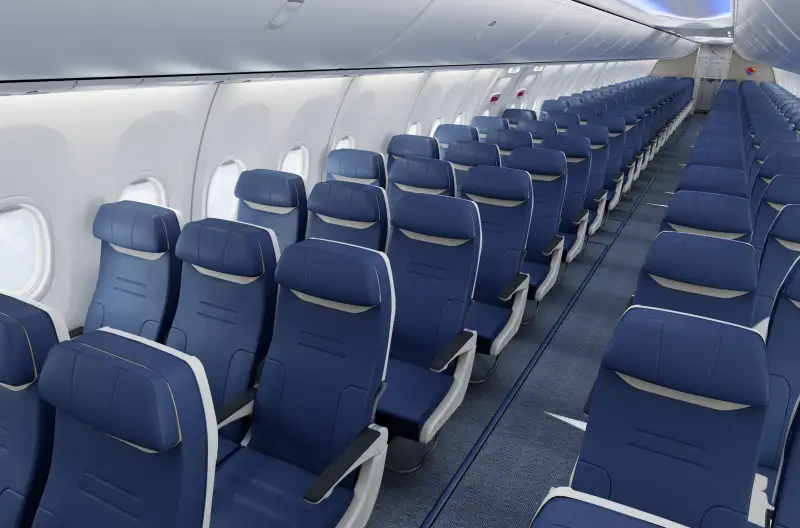 This week, Southwest Airlines announced that its new 737 airplanes will boast seats with a rare commodity: a little extra room for your butt. The bottom seat cushions will be 17.8 inches across, whereas the typical seat width on 737s is 17 to 17.3 inches.
"The new aircraft seats are the widest economy seats available in the single-aisle 737 market, and offer a unique design that gives our customers what they asked for: more space," Bob Jordan, Southwest's executive vice president and chief commercial officer, said in a press release announcing the new seats.
Passengers won't get to enjoy the extra seat width until mid-2016 at the earliest. That's when Southwest's forthcoming 737-800s will first hit the runway and begin accepting passengers.
Will the new seats transform the flying experience of passengers? Honestly, probably not. An extra half-inch or so of space is nice, but for most travelers it won't feel like a true game changer. Besides, the seats in some other airlines' economy sections are already wider than Southwest's new seats. According to SeatGuru, carriers that commonly use 737s, such as Alaska Airlines and Southwest, currently have seat widths of 17 to 17.1 inches. But on JetBlue, which prefers different aircraft (Airbus, Embraer E-190), the seat widths range from 17.8 to 18.25 inches.
Meanwhile, Airbus has argued that airline seats should be at least 18 inches wide, pointing to studies that show sleep quality is 53% better on 18-inch seats compared with 17-inchers. Airbus also pointed out that human beings today tend to simply be larger and heavier than prior generations, and that other industries are more accommodating. The typical modern American movie theater seat, for instance, is 22 inches wide, one inch more than the average of a decade ago.
Nonetheless, Southwest's move is a welcome change, if for no other reason than that it goes against the trend of airlines cramming in more and more seats and scaling back passengers' personal space in economy sections, with the hopes of boosting profits—which are already at record highs thanks to high airfares and low fuel prices. Southwest remains an anomaly in the industry for maintaining its free checked baggage policy. Slightly wider seats could prove to be another way the airline can differentiate itself from the pack in a passenger-friendly way.
Read next: These Are the Airlines With the Most Passenger Complaints