St. Patrick's Day Is All About the Green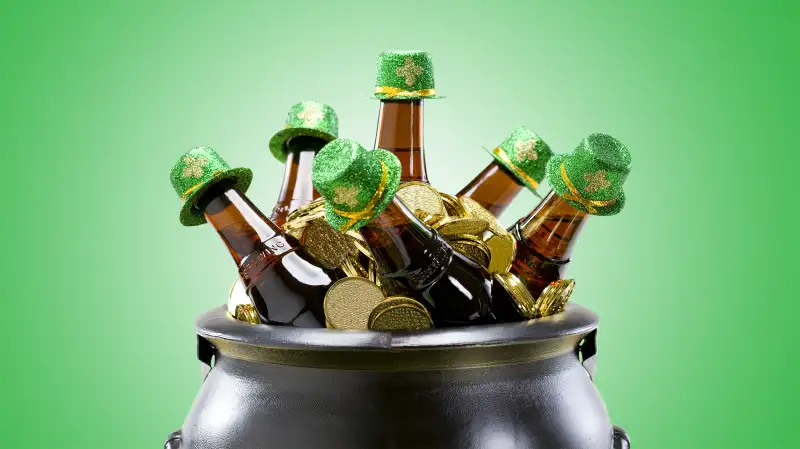 On March 17, as is America's national tradition, people from coast to coast will don green clothing, pinch wearers of non-green clothing and drink way too much.
The annual holiday honoring Irish heritage—or of a cartoon version thereof anyway—is a day worth celebrating for the makers and purveyors of beer, and of green attire too. According to a report from WalletHub, 33.1 million residents of the U.S. claim Irish ancestry (that's about seven times the entire population of Ireland) and many more people, just over half of all Americans, will celebrate St. Patrick's Day in 2016, spending $4.4 billion. Celebrants are expected to drop an average of $35.40 a piece on green beer and the like.
The day is especially good for the storied but floundering beer brand Guinness, owned by the booze conglomerate Diageo, which estimates that on St. Patrick's Day roughly twice as much of its product is imbibed than on other days. Roughly 13 million pints of Guinness are expected to be consumed around the world on St. Patrick's Day.
According to the investment research firm Zacks St. Patrick's Day is only the fourth biggest drinking day in the U.S., after New Year's Eve, Christmas, and the Fourth of July. All that boozing adds up to extra costs for cities—in Hoboken, for instance, a city just across the Hudson River famous for its raucous St. Patrick's Day shenanigans, police expect to spend a total of $111,000 in overtime during the holiday. All that extra spending on law enforcement isn't for nothing. According to WalletHub, an alcohol related car crash takes a life once every 74 minutes on St. Patrick's Day, and in 75% of those crashes the driver had consumed twice the legal limit to drive.
So have fun on St. Patrick's Day, but stay safe.