Stacey Abrams Has $228,000 of Debt. Here's How the Georgia Governor Candidate Got it, and How She Is Paying It Back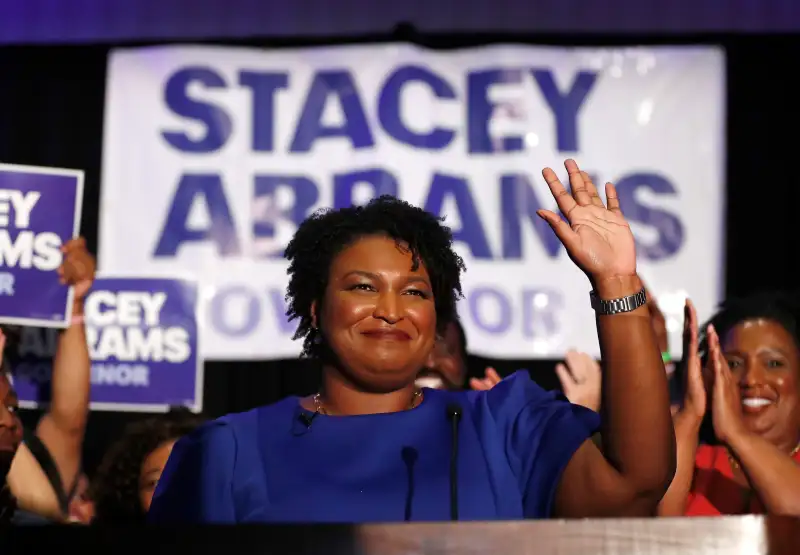 John Bazemore—AP/REX/Shutterstock
It's Election Day 2018, and one of the most closely watched election results will be in Georgia. Democratic candidate Stacey Abrams, who was recently endorsed by Oprah Winfrey, is in the running to be America's first female black governor — and she owes America's various institutions about $228,000 in assorted debt.
That six-digit figure has followed Abrams around for the better half of her campaign, particularly in the months leading up to the general election.
Her opponent on Election Day 2018, Republican Brian Kemp, argues that Abrams' debt shines a light on her inability to manage her own finances, much less those of the entire state of Georgia. Stacey Abrams has responded by discussing her debt openly, sharing personal details related to her money and how she plans to pay it all back.
Stacey Abrams' Back Taxes
In March, Stacey Abrams filed a financial disclosure that showed she owed the Internal Revenue Service $54,052 in income taxes — $40,201 for 2015 and $13,851 for 2016. Abrams discussed it on multiple occasions, explaining that she prioritized her father's cancer treatment over her quarterly taxes on self-employment income.
"For a lot of folks who are doing quarterly taxes, there is a temptation — because it is cash that is sitting there — to spend it on the other insistent things in your life," she said in July during an interview with Yahoo Finance. Abrams also donated $50,000 to her own campaign despite being in so much debt. Kemp used this as a talking point, tweeting "Instead of paying more than $50,000 in back taxes, she gave $50,000 to her campaign. If that's not criminal it should be."
Stacey Abrams' Payback Strategy
Stacey Abrams says she's addressing the back taxes portion of her debt with a payment plan: each month she sends the IRS $1,000. She's been making the payments since early 2017, after the IRS signed off on her request to hold off on paying taxes to fund the family need. "I could not defer my family's needs," she said. "I could defer paying my taxes and I am paying them. The IRS and I are in good standing."
She's referenced a few additional family-related issues that she says unexpectedly came up and contributed to her debt. Her parents needed help after they were struck by Hurricane Katrina and she also adopted her brother's daughter after he became addicted to drugs.
Abrams also has a decent amount of credit card debt. The financial disclosure form showed that she also owes a total of $77,522 for nine separate credit cards accounts: American Express, Capital One Bank, Citibank North America, Chase Card, Nordstrom, Sears, Sync, TD Bank, and Wells Fargo.
Despite earning a $95,000 salary at a law firm right out of college, Abrams' "financial situation was fraught," she wrote in an Op-Ed in Fortune. "Throughout college and beyond, I swiftly turned every credit card application into those magical slivers of plastic that allowed me to pay for daily necessities."
By the time she graduated, she had "seven years of bad credit in [her] future," she wrote. She says she used her law firm salary to start paying these down, and continues to slowly work at them.
And the largest portion of Abrams debt? Funding her education, of course — the same expense that currently plagues 44.2 million Americans. The filing showed that Abrams owes $96,512 to the Higher Education Loan Authority of the State of Missouri, despite having received scholarships and having part-time jobs while she studied. Apparently, the cost of "living, books, housing and other things" added up to a substantial total — but full payment isn't due until December 28, 2035, according to the filing.
Stacey Abrams' Income
Stacey Abrams' income includes the money she's making as state senator, the money she makes from her consulting firm and from the nine books she's published, eight of them romance-suspense novels under the pseudonym Selena Montgomery. As state legislator from 2007 on, Abrams has made a modest part-time salary of $17,342 per year (plus a $173 per diem for when legislature is in session). And even with the $150,000 still owed to her by publishing company Henry Holt & Co. for a book deal, she disclosed a net worth of $108,885.84 — less than half of what she owes. Important to note, however, that in calculating her net worth, she subtracted the value of two liabilities that are technically both assets and debt: $178,500 in real estate debt and $4,434 on a car loan.
Despite calls from her opponents campaign to be taken off of the ballot because of her failure to pay the IRS, Abrams remained on. If she does get the job she's campaigning for, she'll also get that six-figure salary, which is expected to go up by about 26% for the next governor of Georgia. That could put a real dent in the payments owed to the IRS, credit card companies, and her student loans.
"I would argue that the focus should be on what could be done for Georgia and not my conversation with the Internal Revenue Service," she told reporters in August.