Behold Star Wars-Theme Church Services, Burlesque Shows, Brunch, Bar Crawls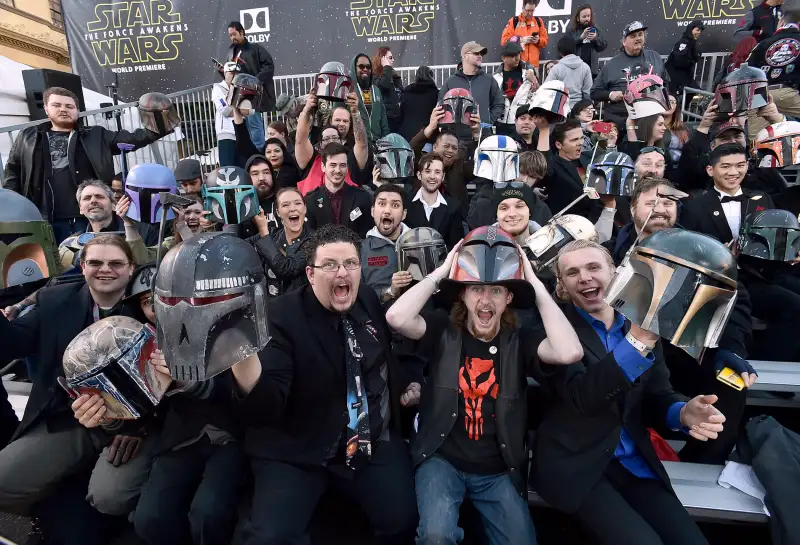 The worldwide release of Star Wars: The Force Awakens is finally at hand, and Star Wars mania among fans is easily at five lightspeed.
We've already taken note of the movie marathons, merchandise sales, and awkward marketing tie-ins associated with the movies. But it turns out the Star Wars brand is even "more powerful than you could possibly imagine," to quote Obi-Wan Kenobi.
The Star Wars-theme drink specials, bar crawls, raves, and yes, church services highlighted below truly jump the craze to hyperspace.
Free Drinks for Star Wars Fans
San Diego's Fluxx nightclub is hosting a special Star Wars bash on Saturday, Dec. 18, including cocktail waitresses dressed like Princess Leia and a DJ Darth Vader. Even better, customers arriving in Star Wars costumes get free admission and a complimentary welcome shot. "Tickets are $20 for those who elect to leave jedi robes at home," the San Diego Union-Tribune reported.
Meanwhile, at the Pourhouse in Minneapolis, anyone dressed in a Star Wars costume or merely holding a Star Wars ticket stub will pay no cover charge and get a free drink on Friday night.
Star Wars Bar Crawl
A foursome of bars just outside Reno in Sparks, Nev., is jointly hosting a bar crawl in honor of The Force Awakens. Starting at 6 p.m. on Saturday night, each will have SW-theme food and drink specials (including $5 pints of locally brewed Dark Side Stout), as well as drawings for Star Wars gift swag.
Star Wars Burlesque Show
Alas, it's too late to attend the performance of "Star Wars Burlesque: The Tease Awakens," which took place in Cleveland last weekend. But the Ohio Burlesque troupe that put on the event complete with scantily clad robot, Storm Trooper, and Leia dancers is involved in this Saturday night's "Star Wars Naughty Ball" at another Cleveland lounge.
Eat Nerf Herders, Drink Han Shot First
These are among the many Star Wars-themed menu items and cocktails available at bars and restaurants in places like Austin and Los Angeles. Be prepared for many Mos Eisley Cantina references.
The City Tap House in Philadelphia, meanwhile, is hosting a Star Wars-theme costume brunch that includes a private showing of The Force Awakens, though it doesn't take place until Sunday, Dec. 27. And the Studio Movie Grill chain of theaters is hosting Star Wars brunches every weekend through New Year's, with menu items like cinnamon-and-sugar Princess Leia Buns and Yoda-Ritas, which include lime wedges shaped like Yoda's ears—and tequila.
Attend Star Wars Church Services
There are people who consider Jediism a religion, so perhaps we shouldn't be surprised by (somewhat) more traditional churches using the premiere of The Force Awakens as a ploy to attract parishioners. First there was the church in Michigan offering free Star Wars tickets as an enticement to get kids to show up for services. Now something called The Liquid Church, with five locations in New Jersey, is hosting Cosmic Church, which it describes as an "out of this world" service culminating on Christmas Eve. The event features a live Nativity scene complete with human stand-ins for Leia, Han Solo, and Chewbacca, as well as a Darth Vader Santa Claus who will welcome children on his lap—and hopefully do no harm to the younglings.
"It's okay to laugh and celebrate together while talking about Christmas. If that means having Star Wars characters in costume and dancing Stormtroopers, I'm all for it," Tim Lucas, pastor and founder of the Liquid Church—who we're assuming is no relation to George Lucas—explained to the N.J. Daily Record. "At its core, Star Wars reflects spiritual faith. It's the battle between good and evil, the light versus the dark, and that's something we can all rally around."
Cue John Williams' "Star Wars Main Theme":