A Record Share of Americans Say the Stock Market Is Primed to Fall: Gallup
Money is not a client of any investment adviser featured on this page. The information provided on this page is for educational purposes only and is not intended as investment advice. Money does not offer advisory services.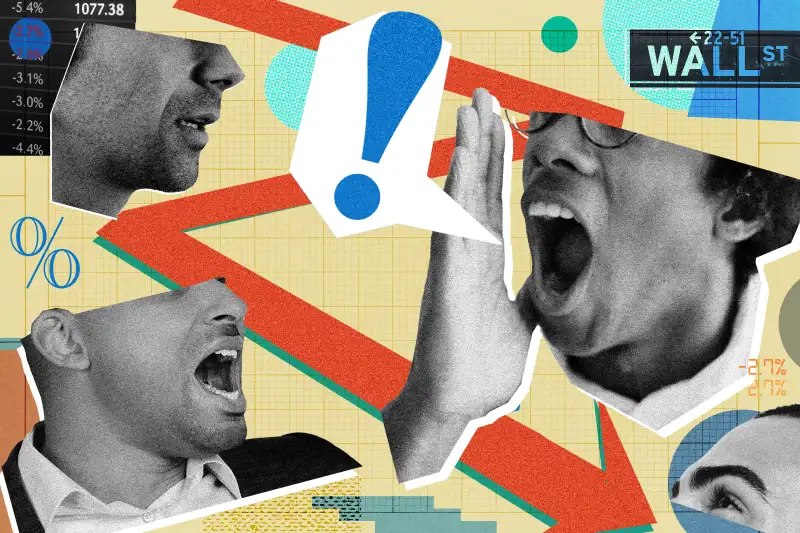 Eddie Lee / Money; Getty Images
The share of people who think the stock market will fall in the first half of the year is at the highest level ever recorded in a Gallup poll.
What the research says
Gallup interviewed more than 1,000 U.S. adults between Jan. 2 and Jan. 22 to gauge their perceptions on where the economy is heading in the first half of the year.
A record-setting 48% of Americans told Gallup that, over the next six months, the stock market will go down.
18% said stocks will remain the same, while 31% said they will go up.
The pessimism isn't contained to stocks. In Gallup's survey, 67% of respondents said that inflation will go up over that same time period. Many respondents were also worried about rising interest rates and the possibility of a worsening job market.
Keep in mind
Gallup has conducted similar surveys since 2003. However, the firm did not ask that specific stock market question during the Great Recession.
"It is possible Americans would have been even more pessimistic than now about the stock market during the Great Recession and financial crisis, when stocks lost much more value than they did in 2022," the research firm said in the report.
Still, 2022 was gloomy for investors, and last year's poor performance was likely fresh in the minds of respondents.
The Dow Jones Industrial Average fell about 9% last year.
The benchmark S&P 500 plummeted roughly 20%
And the tech-heavy Nasdaq fared the worst, diving 33%.
On the other hand
Despite Americans' low expectations in the months ahead, markets are off to a strong start this year. The recently battered Nasdaq, for example, mounted a comeback and is up about 15% so far in 2023. Some experts believe a strong start to the year can be indicative of what's to come.
"In six months things are likely to look much better than they do now in most ways, giving the markets a boost toward year-end," wrote Brad McMillan, chief investment officer at Commonwealth Financial Network, in a blog post.
What it means for you
It's important to remember that the markets are impossible to predict, and trying to time the stock market is risky. Financial experts typically advise investors ignore monthly fluctuations and implement a long-term investment strategy — such as dollar-cost averaging, where the investor sets aside a fixed amount of money to be put into the market at regular intervals.
Those looking to wholly avoid the volatility of stock markets may find some solace in high-yield savings accounts, many of which are boasting APYs of 3% or more.
More from Money
Unemployment Hits Lowest Rate in Decades — and Wall Street Doesn't Know What to Make of It