Subway Announces Plan to Ensure Footlong Sandwich Is Indeed 12 Inches Long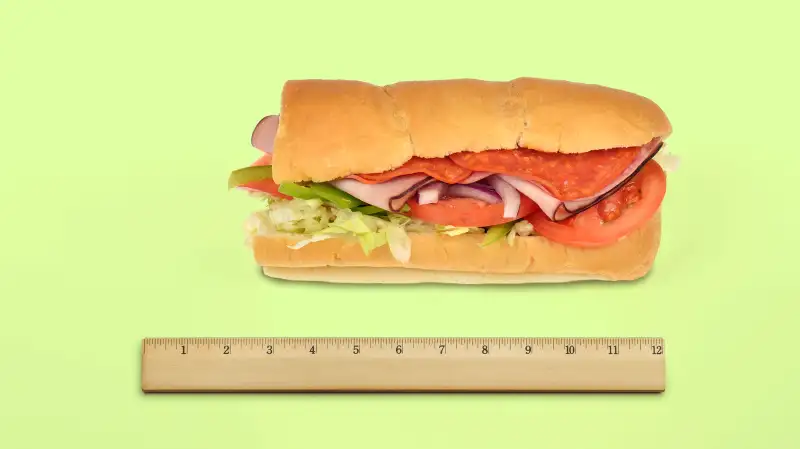 Money (photo illustration)—Alamy (1); Getty Images (1)
Two years ago, a series of lawsuits targeted Subway, claiming that the fast food giant's "Footlong" sandwiches were not always a full foot long. The suits, which were eventually combined into one big class action lawsuit, represent customers who purchased 6-inch or Footlong sandwiches anytime between January 1, 2003, and October 2, 2015. The plaintiffs claim that Subway was marketing Footlong sandwiches "as being 12 inches when they are not in fact 12 inches." The six-inchers allegedly didn't always measure up either.
After working on a settlement for a couple of years (gotta love lawyers!), the parties agreed to some key changes and awards on Monday. The court found that none of the marketing practices by Subway franchises were "improper or unlawful." Yet in the settlement Subway agreed to pay up to $525,000 in attorneys fees, and it agreed to employ and enforce "quality control measures to ensure that operators are complying with the rules," according to the industry publication Nation's Restaurant News. Subway restaurants will now be required to measure bread, so that Footlong and 6-inch sandwiches will indeed be at least 12 inches and 6 inches, respectively.
It was originally estimated that Subway's shorter-than-advertised sandwiches meant that each customer was being shortchanged roughly 45¢, according to lawyers, at least one of whom hired a private investigator to visit 14 Subway locations and collect evidence. In the recent settlement, however, the plaintiffs receive no monetary awards. Instead, they'll have to be content with the reassurance that the next time they purchase a Footlong sandwich it will be a full foot long.
The absence of cash payments to misled customers shouldn't necessarily be viewed as a loss to consumers. "Class actions are to correct mass wrongs that involve small damages," Stephen DeNittis, a N.J. attorney representing plaintiffs in the Subway suit, said to the Philadelphia Inquirer in 2013. "It's not about the money."
The controversy first arose after a customer in Australia posted a photo on Facebook showing a "Footlong" sandwich held up to a tape measure—and it was a full inch short of a full 12 inches.
Read next: McDonald's Customers Want All-Day McMuffins, but Owners Aren't Lovin' It