The Incredible Life of the L.A. Rams' Sean McVay, a 33-Year-Old Football 'Genius' Who Could Become the Youngest NFL Coach to Win a Super Bowl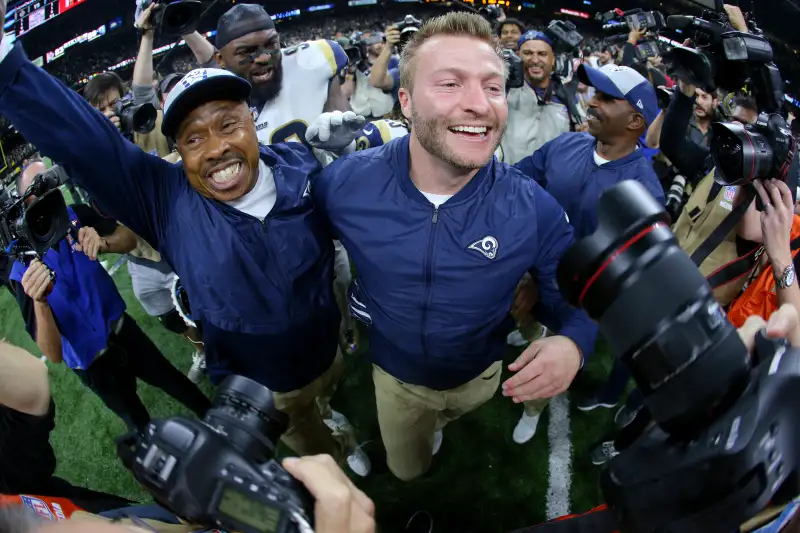 Jonathan Bachman—Getty Images
Many NFL records could be shattered on Super Bowl Sunday 2019, including the possibility of a new mark set for the youngest head coach to win a Super Bowl — by Sean McVay, who is the head coach of the Los Angeles Rams and just turned 33.
If McVay and the Rams beat the New England Patriots in the Super Bowl, he would easily break the record for youngest NFL coach to ever win a Super Bowl, now held by Mike Tomlin, the Pittsburgh Steelers head coach who won the championship in 2009 at 36.
But potentially setting the mark for the youngest Super Bowl-winning head coach is hardly the only thing that's astonished NFL fans about Sean McVay. The Rams coach already owns the title of youngest NFL coach ever, which he snagged by taking over for the Rams in 2017 just before turning 31. By reaching the 2019 Super Bowl on Sunday, February 3, McVay has also already become the youngest head coach to bring his team to the title game. At the end of last season, McVay was named NFL Coach of the Year, and yes, he's the youngest ever to win the award.
McVay's Rams will face a Patriots coach and quarterback both widely regarded as GOATs (greatest of all time), in Bill Belichick and Tom Brady. But lately, it's been McVay drawing over-the-top praise for his approach to the game. Sports writers refer to Sean McVay as a "football-obsessed coaching savant," a "football genius," and the "most advanced offensive mind in the game" today.
A Sports Illustrated profile of McVay essentially stated that the obsessive coach has zero work-life balance. But somehow McVay manages to have a seemingly exciting life away from the NFL. His girlfriend, Veronika Khomyn, is a former model from Ukraine who refers to him as "McBae," and when McVay bought a $2.7 million home after moving to Los Angeles, TMZ was there to take pictures.
A decade ago, meanwhile, Sean McVay was basically working a part-time job as assistant coach for the Florida Tuskers in the now-defunct United Football League.
It's unclear how much money Sean McVay makes now, but according to Celebrity Net Worth, he earns about $3 million per year as the Rams head coach, and his net worth is estimated at $7 million. McVay was an NFL assistant coach in his mid-20s, and probably made over $200,000 annually per estimates from CareerTrend.com. The career site says that as Washington Redskins offensive coordinator, Sean McVay was likely earning in the high six figures to over $1 million per year.
How did the 33-year-old coach rise so high, so quickly? Here's what we know about Sean McVay's amazing career — and life.
How Sean McVay Started His Career in Coaching
Sean McVay is from a football family. His grandfather, John McVay, was head coach of the New York Giants for a spell in the 1970s and won five Super Bowl rings with the San Francisco 49ers as an executive.
As a high school football player in Georgia, Sean McVay stood out not as a mere gifted athlete, but a true student of the game, constantly asking to watch more film and call plays he was sure would work. In one of the most repeated stories emphasizing McVay's early brilliance, he convinced his coach to let him run a naked bootleg as quarterback in a playoff game. He scored a touchdown on the risky play call, of course, and McVay's team won the game and the state championship.
After a college football career playing wide receiver for Miami University in Ohio, McVay was hired as an assistant wide receiver coach by Jon Gruden, then in charge of the Tampa Bay Buccaneers. The Gruden and McVay families knew each other well — John McVay had hired Jon Gruden's father, Jim, to help coach at the University of Dayton in 1970 — and when Jon Gruden hired Sean McVay, the new college graduate was only 22, younger than every wide receiver on the Buccaneers roster.
Sean McVay later worked with Jon Gruden's brother, Jay, both for the UFL's Florida Tuskers and the Washington Redskins, where in 2014 McVay became the NFL's youngest offensive coordinator at the age of 27.
Lisa Blumenfeld—Getty Images
In January 2017, McVay had a memorable dinner with Rams owner Stan Kroenke at Spago in Beverly Hills — where Black Eyed Peas singer Fergie and her husband, actor Josh Duhamel, stopped by to chat — and was later offered the job as head coach. McVay was only 30 years old, and he accepted.
Bill Belichick and Sean McVay
Naturally, the 2019 Super Bowl coaching matchup of Bill Belichick and Sean McVay is being portrayed as "boy wonder versus the sage veteran."
Sean McVay, now 33, is half the age of his counterpart on Super Bowl Sunday, 66-year-old Patriots head coach Bill Belichick. McVay is also eight years younger than Tom Brady, 41, and he played against another current Patriots player, Julian Edelman, when the two were in college in Ohio.
Sean McVay was born on January 24, 1986. He was exactly one year and one day old when Belichick helped coach a team to his first Super Bowl win, as defensive coordinator for the New York Giants under Bill Parcells.
Despite the age discrepancy (the largest ever among Super Bowl coaches, per nfl.com), the millennial Sean McVay and baby boomer Bill Belichick share some similar characteristics. Both began their NFL careers as glorified gophers for coaches — McVay for Jon Gruden, Belichick for Ted Marchibroda of the Baltimore Colts.
And both Belichick and McVay quickly developed reputations as obsessive genius workaholics who constantly looked for strategies for their teams to improve and win. McVay has been known to set his alarm for 3 a.m. to drive in to work long before L.A. traffic. After one of the parades celebrating a Patriots Super Bowl victory, Belichick awkwardly tried to lead the crowd in a chant of "no days off!"
As Sports Illustrated put it at the beginning of this past season, "the real McVay more closely resembles Bill Belichick (an emotionless cyborg and football lifer who's more than twice McVay's age) than he does Justin Bieber (whose music—gird yourself—McVay admits he does not hate)."
Sean McVay's Girlfriend and $2.7 Million Home
As if NFL fans don't have enough reason to envy Sean McVay, what with his youth and phenomenal success, the Rams coach sure seems to have an amazing private life off the field.
After accepting the job as Los Angeles Rams head coach, McVay moved to southern California and purchased a $2.7 million home in Encino. The modern 4,660-square-foot home has six bedrooms, six bathrooms, a pool, and panoramic views of downtown Los Angeles from the master suite.
McVay moved to L.A. with his girlfriend, former model Veronika Khomyn, who he had started dating in the Washington, D.C. area when he was coaching for the Redskins. Khomyn is active on social media, and has 42,000 followers on Instagram.
That's pretty impressive, but not close to being the same league as Tom Brady and his wife Gisele Bundchen, who have 5.2 million and 15 million Instagram followers, respectively.