Women Are Buying Up Plan B Because They're Terrified of the Future Supreme Court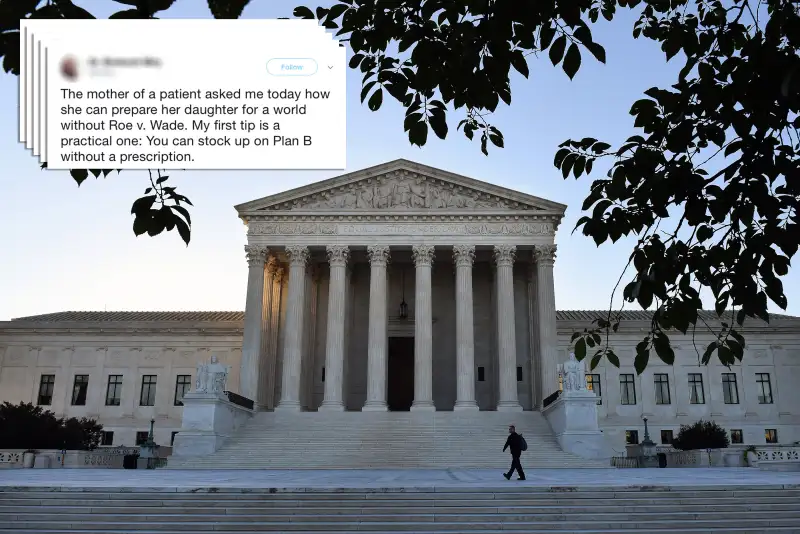 Matt McClain/The Washington Post—Getty Images
Within hours of Supreme Court Justice Anthony Kennedy's retirement announcement last month, Emily Hauser was standing at a drugstore counter asking a pharmacist for two packages of Plan B.
At age 53, she didn't need the emergency contraception pills — in fact, she wasn't sure who would, or when. But Hauser bought them anyway. A mother of two, she's worried her teenagers won't be able to access Plan B if Roe v. Wade, the decision that protects a woman's right to abortion, gets overturned after Kennedy leaves the Supreme Court.
It's a big fear for Hauser, though she feels a little better with $70 worth of morning-after pills sitting in her cabinet.
"I want to make sure I can provide some level of protection," Hauser, a librarian and writer in the Chicago area, tells Money. "If either [kid] comes to me and says, 'Oh, God, we made a mistake,' I'll say, 'Here you go.'"
Emily is not alone. Across the country, Americans are stockpiling emergency contraception in light of Justice Kennedy's retirement and President Donald Trump's Monday nomination of Brett Kavanaugh. The nation's highest court is on its way to having a conservative majority, making threats against Roe v. Wade seem more dire than ever. People are shelling out $10 to $50 per dose even if they'll never use the drugs themselves — they just want to have them available in case reproductive rights come under attack. That way, if a daughter, a son, a neighbor, a friend or a stranger finds themselves worried after having unprotected sex, they still have a modicum of choice.
"I can't do much," Hauser says, "but I can do this."
What's Happening (and Why It Matters)
To understand the interest in buying up Plan B, you need to brush up on Roe v. Wade. Some background: The court handed down the 7-2 decision in 1973, confirming that a woman's right to terminate her pregnancy is covered by the Fourteenth Amendment.
Progress has been rocky since then. The real-life woman behind Roe changed her stance and tried to get the case overturned. Lawmakers passed several anti-abortion regulations that mandated waiting periods and banned procedures after certain points. While polls show that 70% of Americans oppose overturning the decision, politicians have kept taking steps toward doing so. In 2011, now-Vice President Mike Pence said he longed for "the day that Roe v. Wade is sent to the ash heap of history." Earlier this year, Politico reported that state legislatures in places like Mississippi and Ohio were weighing restrictive abortion bills with the intent of sparking lawsuits that could make the Supreme Court reconsider.
President Trump has waded into the debate, as well. Just after inauguration, he signed an executive action preventing non-governmental organizations that support abortions from getting federal funding. In a 2016 interview, the president said a Roe v. Wade reversal "will happen automatically in my opinion because I am putting pro-life justices on the court."
That's what some activists fear he's doing with Kavanaugh. When Kennedy was on the Supreme Court, he was the swing vote. Kavanaugh, though, will likely be less of a wildcard. He said in 2006 he would follow Roe v. Wade, but last year he argued that an undocumented teen should be blocked from getting an abortion. ("The Government has permissible interests in favoring fetal life, protecting the best interests of a minor, and refraining from facilitating abortion," he wrote in a dissenting opinion.)
In Cate Stuart-Hodges' opinion, Kavanaugh will support overturning Roe v. Wade — which, according to one report, could cause nearly three dozen states to outlaw abortion.
"I'm not super optimistic about where we're headed," the 47-year-old says.
The director of records at a law firm near Atlanta, Stuart-Hodges has been putting aside money to donate to nonprofits like the American Civil Liberties Union since the election. Last month, she dipped into those funds to buy $100 worth of levonorgestrel morning-after pills, which are sold under brand names like Plan B One-Step, My Way, Next Choice One Dose and Take Action.
Stuart-Hodges had a hysterectomy last year but she wants to have a supply of pills for her 14-year-old daughter and friends. She's even thinking about organizing a spreadsheet of people who have extra meds along with the dates they expire.
"It's rage-inducing that we are in this position where we're having to think about this right now in 2018," she says.
Introducing a New Kind of Prepper
Just like they did after Trump's election, some women frantically scheduled appointments to get intrauterine devices (IUD) in the wake of Kennedy's announcement. Others took to Twitter to spread the word about morning-after pills, sharing coupons and warning each other about weight limits for certain brands.
Travis Stewart, 49, says she saw the conversation online and bought 10 boxes of a generic morning-after pill on Amazon because "we need to be prepared." She plans to donate her $115 order to a local charity.
However, she thinks there's another benefit to scooping up Plan B while Roe v. Wade is still in effect. The Los Angeles business owner is a proponent of the vote-with-your-wallet mentality. If women show pharmaceutical companies how important maintaining access to Plan B is, Stewart says she believes the industry will exercise its influence to keep the products on shelves. Corporations have big-shot lawyers, lobbyists and other tools that grassroots activists may lack. (Globally, the emergency contraceptive pills market is on track to exceed $1 billion by 2022. The U.S. sees some of the highest demand.)
"In Trump's America, the corporate dollar is king. That's the No. 1 thing that matters to these people," she says. "We have a tremendous amount of purchasing power, and if we can yield that properly, we can move mountains."
Foundation Consumer Healthcare, which owns Plan B One-Step, would not comment about whether sales have spiked recently. A spokeswoman tells Money that since the company acquired Plan B eight months ago, it's "made significant strides in educating and addressing stigma about emergency contraception" as well as "supporting efforts to ensure all women have over-the-counter access to this critical back-up birth control option today and in the future." Nurx, a birth control prescription and delivery service, also declined to comment for this story.
The accounts may be anecdotal, but the desire to brace for the worst is very real in the face of Supreme Court uncertainty. Daria Phoebe Brashear, who identifies as transgender, non-binary and genderqueer, recently discovered that emergency contraception was available on Amazon and started buying it up — $45 worth of My Way. The five packages were waiting in the mailbox days later.
"Bodily autonomy is very important to me," Brashear says. "While I don't have a working reproductive system, I want to make sure the folks who are in my life do have the options available to them."
Having just moved from Boston to Providence, the 45-year-old software developer has made it a mission to meet the new neighbors because they may be the ones who end up taking the pills. Or maybe it'll be a stranger — it doesn't particularly matter to Brashear.
"I don't realistically have an idea of who's going to need it at this point," Brashear says. "But I'm going to have it on hand."