Now That You Can Surf at Your Desk, Standing Is So Passé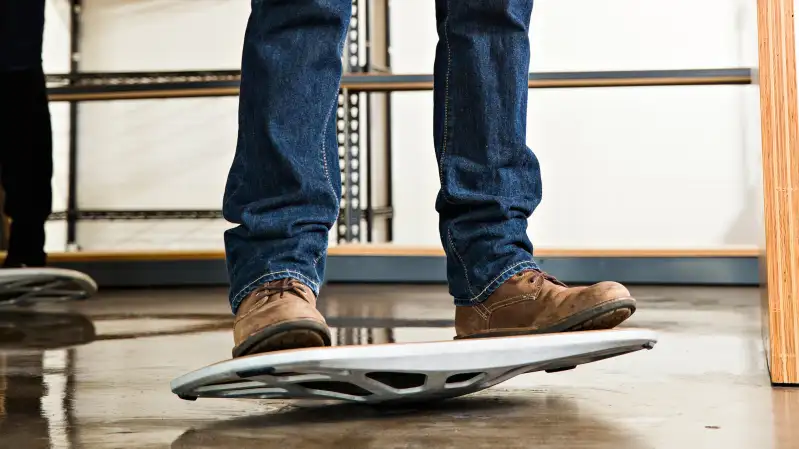 To hear Joel Heath tell it, standing was just too hard.
"I started experiencing pain in different places," he told Fast Company about his experience using a stand-up desk. "I just felt like there had to be a better way. I started to play with the idea that if you put a subtle rocker under the foot, you could move out of a sedentary state."
So Heath created the Level, a surfboard-like platform that requires users to constantly shift their weight in order to keep their balance. FluidStance, the company behind the product, says that research conducted by the Heeluxe Testing Lab in California shows that introducing movement beneath one's feet increases heart rate by 15% compared with sitting.
It's the next evolution of the standing desk, which grew in popularity after studies showed that sitting for long periods of time could be bad for your health.
Kent Hatcher, ergonomics director and engineer at HumanTech Inc., likened using the Level to balancing on a stability ball, which requires your core muscles to work continually to keep you from falling over. "I see a product like this being great for some conference rooms, or occasionally used by people at a standing desk," he says. "But it would take a period of acclimatization to get good at using the mouse and keyboard while wobbling around."
Indeed, similar products like treadmill desks have been shown to affect performance-related tasks like typing. Heeluxe's testing of the Level found no statistical difference in the number of typing errors made by Level users compared with those sitting at a desk, but even the occasional typo might be worth it. "Generally, the scientific community seems to think that the overall health benefits of standing and movement on the muscles and skeleton outweigh any sort of [performance] declines," Hatcher says.
Level has clearly tapped into an enthusiastic niche market. The company's crowdfunding campaign, launched on Jan. 12, raised $126,255 in less than a month—more than three times the original goal of $40,000.
FluidStance offers three different versions of the product: the Original Handmade Level ($389), the American-made Level ($289) and the Pacific Level ($269). That's a lot more than the $22 you'll spend building your own standing desk, but it certainly looks like more fun.