How Taco Bell Is Taking (Secret) Aim at Foodies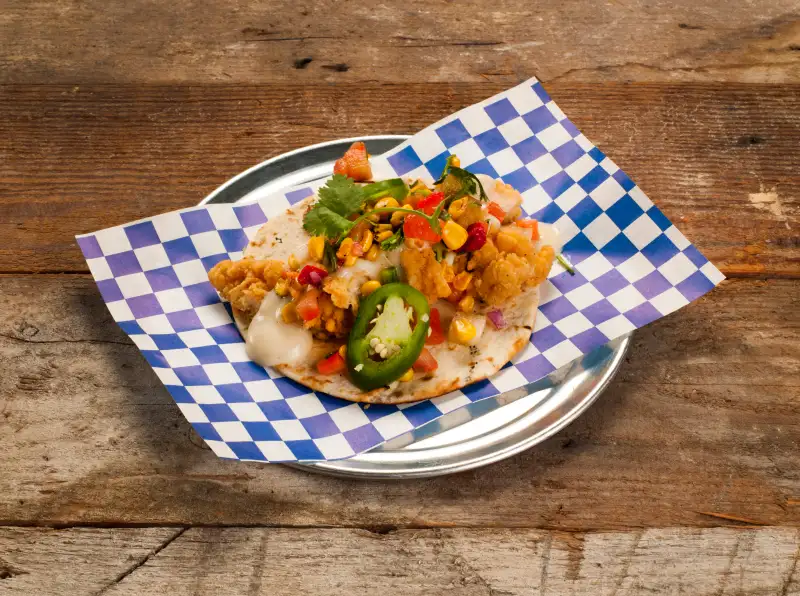 This week, Taco Bell opened up an upscale offshoot called U.S. Taco Co. right off the beach in Huntington Beach, Calif. Thus far, that's the only location for the new restaurant concept featuring $4-$5 "premium" tacos and an even fancier "One Percenter" lobster taco for $10. But if it proves successful in attracting a critical mass of high-end foodies, we'll surely see more. When Taco Bell first announced plans for U.S. Taco, Chief Executive Greg Creed told the Orange County Register that he "would love one day to see 1,000 of these" around the country.
It may sound surprising that the restaurant chain best known for dominating the lowbrow, low-price "craversphere" with Doritos Locos tacos, Waffle Tacos, and fast sub-$1 snacks is trying its hand at wooing foodies who'd scoff at the usual Taco Bell fare. But Taco Bell isn't the only cheap, quick-service chain that's been dipping its toes into the higher-end market with new restaurant models.
Last summer, KFC (a sibling to Taco Bell, as both are Yum Brands), blurred the fast-fine-casual-quick-serve market by opening KFC eleven, a subdued upscale twist on the original. More recently, Yum began quietly testing a new concept called Super Chix in Texas. In this case, the model, with the braggy slogan "last true chicken sandwich," is aimed not at Chipotle, Panera Bread, or other fast-casual stars but at KFC's more upscale, rapidly growing upstart competitor, Chick-fil-A.
Similarly, in mid-September, Cinnabon will begin testing a fancy new bakery concept called the Bon Bake Shop at a mall in Houston. Instead of the usual Cinnabon cinnamon roll, which isn't even on the menu, customers can select among bite-size treats covered in an array of unique and decadent frosting flavors, such as S'mores, Maple Bacon, Brownie Batter, and Pumpkin Caramel, Businessweek reported.
In some ways, these efforts are simply being used as tests that perhaps will expand the brand a bit—and push core customers to spend a little more. Another example of this is the Panda Express Innovation Kitchen, which opened earlier this summer in Pasadena, Calif., with a tea bar, orange chicken burritos, and other test items you won't find at the typical food court Panda Express location.
Yet by launching entirely new restaurant brands—seemingly unattached to the original cheap-and-fast model, and, frankly, unburdened by an overt association with it—the companies are hoping to do much more. The goal is to win over entirely new customers, notably the folks who wouldn't be caught dead in a Taco Bell, KFC, or Cinnabon, or perhaps those who frequent such establishments only as a once-in-a-blue-moon guilty pleasure.
Without knowing any better, you might assume that U.S. Taco would be a direct extension of Taco Bell, following in the footsteps of previous pushes upscale, like when the chain added gourmet-inspired Cantina Bell items to its menus in 2012. Like Cantina Bell, the higher-end U.S. Taco is likely to be seen by the industry as a response to the runaway success story of Chipotle, which with Panera Bread and others have helped make the pricier, higher quality fast-casual restaurant segment flourish at a time when the typical fast food joint has struggled.
Yet Taco Bell is insisting that U.S. Taco is not simply a Taco Bell spin-off, and that it's not a Chipotle knockoff in any way either. "This is not a Chipotle walk-along," Creed said in April.
The U.S. Taco concept was cooked up by an "intrepreneurial" team in a "secret war room" at Taco Bell's headquarters in Irvine, Calif., as Nation's Restaurant News put it. While much of the fast-casual space is hot on burritos, U.S. Taco will focus on its namesake tacos—with inspiration from American cuisine, as opposed to what Creed described as "Mexican-inspired" Taco Bell (a proposition some might question). The U.S. Taco menu includes thick and spicy steak fries, and tacos with ingredients such as pulled pork, smoked brisket, and fried chicken.
Other U.S. Taco options, such as Papa's Fritas (steak fry wedges spiced up with habanero dust and served with homemade roasted poblano crema), and Shut Your Pie Hole shakes (vanilla mixed with strawberry pie), are squarely aimed at the hipster-foodie demographic. The décor seems to target this group as well. Despite the distinct American-ness of the menu, the restaurant's design was given a theme of Mexico's Day of the Dead, complete with a vibrant skull logo that pops up everywhere.
Originally, the plan was for U.S. Taco to also have craft beer on the menu, but for now at least, customers are limited to specialty craft sodas. The hope is that the average customer will wind up spending $11.50 or $12 at U.S. Taco, with a drink included. Taco Bell's typical visitor, meanwhile, drops a little over $7, and sometimes a lot less.