Target Hopes to Sell Christmas With a Life-Size Legos Pirate Ship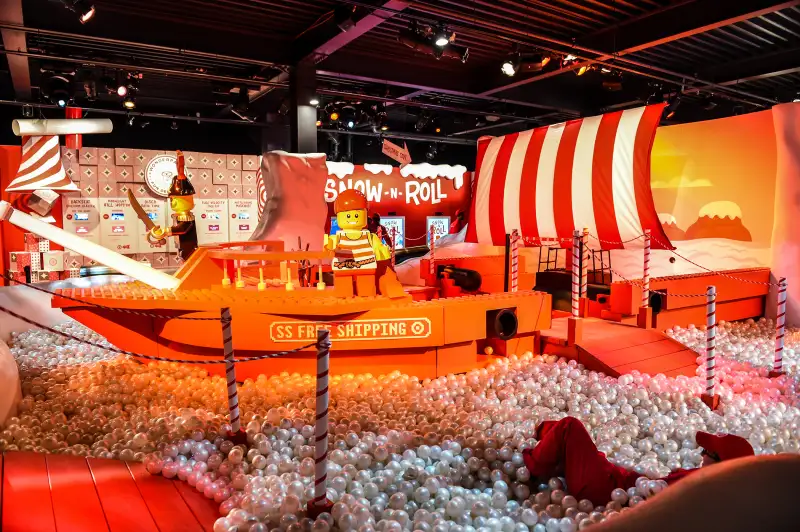 Neil Rasmus/BFA.com—courtesy Target
In the movie Big, Tom Hanks personified New York City's status as the land of perpetual childhood when he played Chopsticks by dancing on an oversized piano at FAO Schwarz. This year's Christmas display from Target is sure to give that iconic scene a run for its money.
At a 16,000-square-foot "retail spectacle"—located next to the Chelsea Market in New York, free and open to the public for two weeks starting Wednesday, December 9—Target will lure adult shoppers and the children within us all with interactive experiences tied to toys the retailer is selling this season.
Visitors will be able to test-fly drones, drive remote-control cars around a peppermint track through a smartphone app, play with their own picture on an enormous Etch A Sketch, and use what Target describes tantalizingly as "a Rube Goldberg-like contraption to personalize an ornament." The display will include a grownup-sized ball pit and a life-sized Lego pirate ship, as seen on TV, dubbed the S.S. Free Shipping. (Get it? A Target promotion includes free standard shipping for all online orders throughout the holidays.)
Of course the purpose of the whole display for the Minneapolis-based retailer isn't all ball pits and Legos. Upon entering, visitors will get an RFID tag they can scan at displays to put items in a digital cart, which they can pay for and pick up at the end of of their journey (from Santa's arm sticking out of a chimney).
"The idea is to make the shopping experience feel weightless and less encumbered and to make the transaction more seamless and effortless," retail analyst Amy Koo told the Minneapolis Star Tribune. "But the most significant part of [Wonderland] is to bring this interactive and physical experience to a segment of the population that Target very much cares about."