Target Has a Super-Rare Gift Card Deal Happening Right Now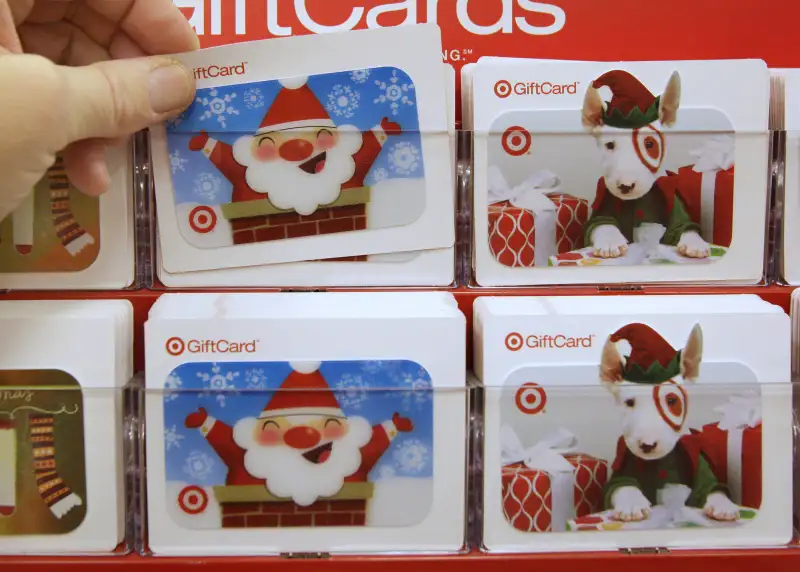 Amy Sancetta—AP/REX/Shutterstock
Target started running holiday deals well in advance of Black Friday, and it's continuing the promotional blitz this weekend with a discount that's pretty awesome no matter who you're buying gifts for—and even if you just want to save during normal Target runs for your own household.
On Sunday, December 3, shoppers both in-store and online at Target.com can score a remarkable 10% off all Target gift cards.
(Say what you will about Amazon, but even it hasn't run a promotion this sweeping.)
This 10% gift card discount is only valid on Sunday, so if you can't get to a Target store, hop onto Target.com and pick up some holiday gift cards. You have your pick of several different kinds of gift cards. Online, Target has a few gift cards that say "Merry Christmas," one that says "Happy Hanukkah," and a Spanish-language expression of holiday cheer. You can choose from Target gift cards featuring religious holiday figures, Santa Claus or generic wintertime motifs.
Now, here comes the fine print: The gift cards you buy can't be redeemed until next Monday, December 4, at 10 a.m. Eastern Time. This is fine if you're giving them as Christmas presents, of course, but it does mean you can't buy a bunch of gift cards, then immediately turn around and buy a cart full of stuff with those gift cards for 10% off. You'll have to wait at least a day to go shopping with one of these discounted gift cards.
Also, there's a limit of $300 worth of 10% off gift card purchases per household on Sunday. There's a $10 minimum purchase to qualify for the 10% off too, and gift cards can be purchased in increments of $5.
Target gift cards are one of the more versatile holiday gifts (including so-called "self gifts") we can think of, so by all means take advantage if you can.
We've included affiliate links into this article. Click here to learn what those are.