Target Has 120,000 Seasonal Jobs to Fill. Here's How You Can Apply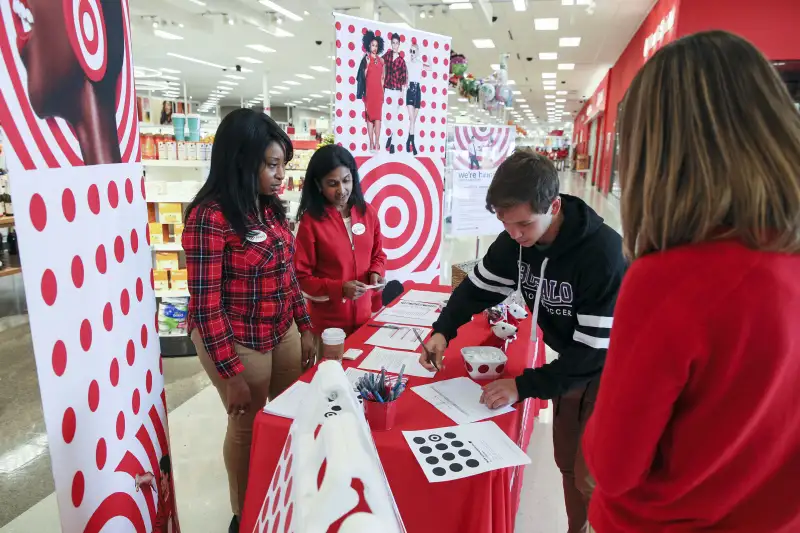 Brian Peterson—ZUMAPRESS.com
You might not be thinking about the holidays just yet. But America's largest retailers are. And this year no retailer has announced a bigger seasonal hiring spree than Target.
Target plans to hire more than 120,000 workers for seasonal jobs this year -- 20% more people than they hired in 2017, and more than other holiday heavy hitters like FedEx, Macy's and Kohl's, according to Challenger, Gray and Christmas, a firm that tracks seasonal hiring commitments.
"The economy is doing really well and people will have extra money in their pockets this holiday season, so retailers are expecting really high demand," says Andrew Challenger, the vice president of Challenger, Gray and Christmas. "There's really going to be a war for talented people in the retail space."
Wondering if one of Target's open positions might be the right fit for you? Here's what you need to know about Target jobs, including pay and benefits:
Target seasonal jobs in every state
If there's a Target near you, they probably have seasonal positions to fill. The retail giant plans to hire 120,000 seasonal employees in its stores and an additional 7,500 at its distribution centers.
"Every one of our 1,800 stores is hiring," says Target spokesperson Angie Thompson. "We're just coming off a really strong second quarter and anticipate a very busy holiday season."
The best way to check what's open in your area is to visit TargetSeasonalJobs.com, Thompson says, where applicants can search for open jobs by location and keyword or view roles by state.
How much does Target pay?
Three years after Target announced their first minimum wage hike to $9 per hour, the starting salary at Target is now $12 per hour for any employee hired after Sept. 16.
Compared to similar stores, that rate isn't bad. Nationally, the median hourly rate for a retail sales associate is $10.30, according to salary tracking website Payscale. And, while $12 is the minimum wage for Target's seasonal workers, an employee's actual salary may be higher depending on position and the local market, Thompson says.
How to apply for a job at Target
The easiest way to apply for an open position is to visit TargetSeasonalJobs.com. But if you already have a specific store in mind, you can always just drop in.
"They're welcome to come into the stores and apply at any time," Thompson says. "They can talk to store leaders and learn about available opportunities at their store."
While it is easier to apply for a job at Target online, showing up in person is often more effective, says Challenger.
"If you show up at the store, the warehouse, and you ask to speak to a hiring manager, you're put to the head of the line," Challenger says. "Everybody appreciates people who show up even though more and more of this hiring is being done online."
Rates are subject to change. All information provided here is accurate as of the publish date.