Target Is Going to Sell Real Hunter Boots for a Lot Less Than $150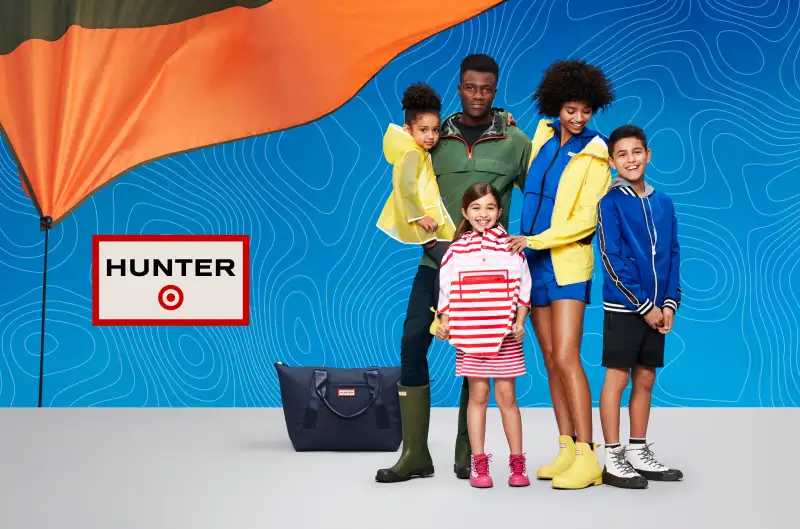 JUCO Photo, Courtesy of Target
If you're not OK shelling out $150 for these popular rain boots, you may be in luck.
Target will sell Hunter boots for less than $45 as part of a new collaboration between the two companies. Hunter, a British heritage brand best known for its tall — and expensive — rain boots, partnered with Target for a limited collection that includes apparel, boots and accessories for women, men and children, as well as home and outdoor décor.
All items from the Hunter-Target collaboration will range from $5 to $80, and will be available starting April 14 — just as the damp season of Spring begins. (Target REDcard holders will get access to the collection a week early, on April 7.) A Target representative did not immediately respond when asked how long the line will be available for.
The price drop from around $150 to $45 or under for the Hunter boot at the discount retailer is perhaps due to Hunter's desire to reach a wider clientele. Alasdhair Willis, creative director at Hunter, said in a statement that the opportunity allows the company to "engage with a very broad audience in the U.S." Hunter boots are also sold at other retailers like Bloomingdale's, Nordstrom and Macy's.
The tall Wellington boot the company is known for is included in the collection, but perhaps in a different style. Wills told People the boot designed for this collection was "created in such a way that would make it as accessible as possible in terms of price" and is "truly a one-off."
The partnership with Hunter is one of many Target has done with other companies in the past. Target launched its highly anticipated "Hearth & Hand with Magnolia" home décor line with Chip and Joanna Gaines of HGVT Fixer Upper fame late last year.