These States Are Pushing Tax-Free Shopping Holidays for Guns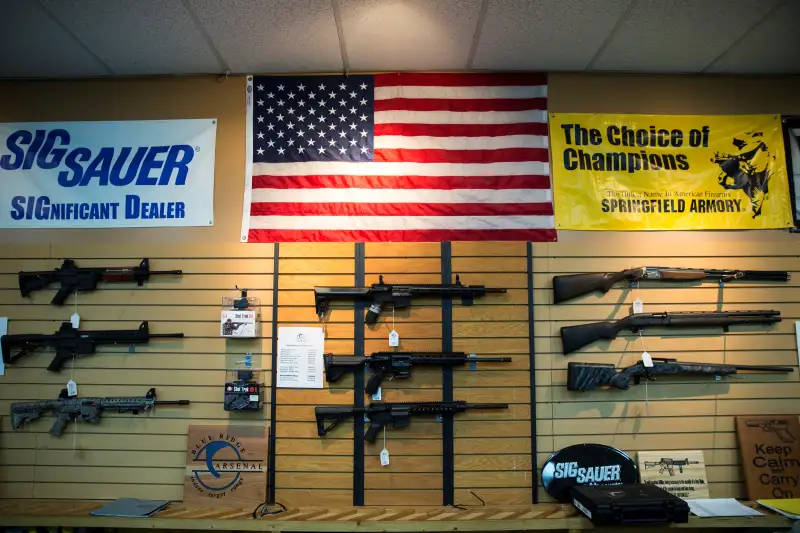 Anadolu Agency, Getty Images
More than a dozen states host special tax-free shopping days during the back-to-school shopping season, so families can save a little while stocking up on things like pencils, notebooks, and computers.
Now some states want to expand the options far beyond school supplies, with measures that could waive the usual sales tax on guns, ammunition, and hunting equipment.
In mid-January, Arkansas State Sen. Bart Hester introduced a bill creating a "Second Amendment Appreciation Weekend" every September, when the 6.5% sales tax would be waived from firearm and ammo purchases. A similar bill was introduced about the same time in Texas, which if approved would make gun and hunting supply sales tax-free one weekend every August. Yet another bill put on the table this week in Tennessee would exempt guns and ammunition from sales tax on the first weekend of every September.
Tax-free weekends for guns have already become a reality in two states. Mississippi and Louisiana hosted Second Amendment-themed tax-free weekends in late August 2016, and they're expected to be annual events. Lawmakers in Texas introduced their tax-free bills partly because gun sellers said they were losing sales to customers heading across the border into Louisiana for tax-free gun shopping.
The timing of tax-free gun sales weekends has nothing to do with back-to-school season. Instead, it's hunting season that provides the rationale. "September is the beginning of hunting season, and typically, hunting stores start getting their inventory in August," the owner of one Louisiana sporting goods store owner explained in 2015.
Sales tax holidays boost sales, but they come at a hefty cost to state coffers. In 2015, Louisiana legislators voted to temporarily eliminate all state sales tax holidays (including a back-to-school event), adding revenues of $600,000 from recouped gun and hunting supply taxes and $4.3 million overall. Now that the state again hosts tax-free weekends for both back-to-school and gun sales, those revenues have disappeared.
What's especially interesting is that the sales tax holidays for guns can be more generous than those for back-to-school shopping. In Mississippi, the normal 7% state sales tax is waived only for clothing and footwear items priced at $100 or less during its back-to-school event. However, there is no such price limit for tax-free gun purchases during Mississippi's Second Amendment Sales Tax Holiday. In other words, the most a shopper could save for school clothes is $7, on a $100 item. Gun buyers can save much more during the Second Amendment tax-free shopping holiday—$70 on a $1,000 purchase, for example, or possibly much more.