Black Friday Madness Expands Overseas, Even Without Thanksgiving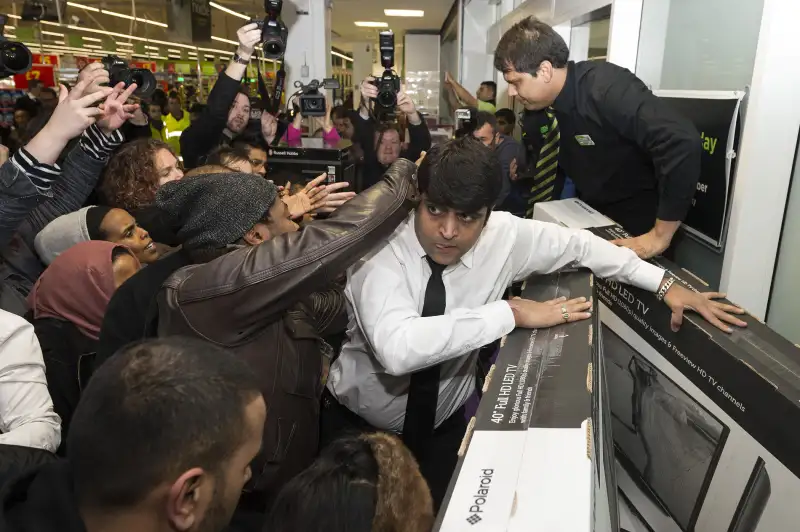 Thanksgiving is an American thing. So it would make sense that everything associated with the holiday would be limited to America as well. Yet while the U.S. still holds a virtual monopoly on Thanksgiving turkey dinners, the other, more consumer-y aspects of the holiday—namely, shopping during Thanksgiving-Black Friday weekend—have pushed beyond our borders in recent years.
Most American employees have the day off on both Thanksgiving and Black Friday. Because the latter has traditionally been a free day, without the pull of family dinners or work, it naturally evolved into a big day for deals, when retailers kicked off the holiday shopping season with doorbusters and extra-long store hours. While people in the U.K. are expected to work on both Thanksgiving and the day after, the recent arrival of American-style doorbusters and big discounts at stores have turned these days into epic shopping events there as well.
According to research from SimilarWeb, the three biggest "Mega Shopping Days" for online shoppers in the U.K. all have their roots in the U.S.: Thanksgiving, Black Friday, and Cyber Monday. Online shopping traffic on these days rose nearly 26% from 2013 to 2014.
In recent years, the U.K. has also been following America's lead in terms of physical stores hosting big sales on Thanksgiving and Black Friday. Most unfortunately, alas, these events have resulted in ugly shopping episodes on par with America as well.
A year ago, the BBC reported, police had to be called in to calm crowds on the prowl for hard-to-find Black Friday deals in cities such as Dundee, Cardiff, London, and Manchester. At least three people were arrested, and one woman was injured when a TV fell on her, while fights broke out in other shopping centers and hundreds of shoppers refused to leave another store that advertised heavily discounted items but had sold out.
Last year the website BlackFridayDeathCount.com featured its first incident in the UK (the site tracks injuries, in addition to deaths), and apparently some overseas retailers have decided that perhaps it's best to leave the Black Friday mayhem to the uncouth Yanks. Bloomberg News reported this week that Asda, the British supermarket chain that's owned by Walmart and has hosted big Black Friday sales in recent years, is essentially pulling the plug on Black Friday this year.
Asda isn't going the "full REI," as it will be open on Black Friday. (The American outdoors specialty store REI made big news with its decision to remain closed on Thanksgiving and Black Friday this year.) But Asda is making a break from the past by spreading its deals throughout the entire holiday season, as opposed to the previously commonplace practice of offering short-lived discounts that require shoppers to wait out overnight for a prayer of taking advantage. "Customers have told us loud and clear that they don't want to be held hostage to a day or two of sales," Asda CEO Andy Clarke said in a statement. What's more, the company said its decision was made to address "shopper fatigue setting in around flash sales on big-ticket, nonessential items at Christmas."
The backlash against Thanksgiving-Black Friday shopping overseas is somewhat similar to the battle over Thanksgiving Day shopping in the U.S. While the Americans opposed to Thanksgiving shopping hours are most upset that the trend is killing family time for consumers and retail employees alike, there is also a growing feeling that the nonstop flurry of sales is overkill and hype. Because deals are available every day starting November 1 if not earlier, there's much less urgency to shop on any one particular day, be it Thanksgiving, Black Friday, or any other.
From the retailer perspective, the realization also seems to be setting in that expanding store hours further in Thanksgiving and going overboard with doorbusters and flash sales could simply be bad for business. Over in the U.K., big sales on Thanksgiving and Black Friday "damaged Christmas gift spending and it took sales away from full-priced sales over the Christmas period," according to Richard Perks, director of retail research at Mintel, speaking to Bloomberg. "We think U.K. retailers will concentrate on damage limitation from now on, though it is clear that no one feels that they can really ignore Black Friday."
Likewise, few retailers in America feel like they can totally ignore Thanksgiving as a shopping day. Virtually all major stores will offer online deals on Turkey Day, and nearly all of the big players will be open store doors for part of the day as well.