Whole Foods or Trader Joe's? Here's Where to Buy Groceries for Thanksgiving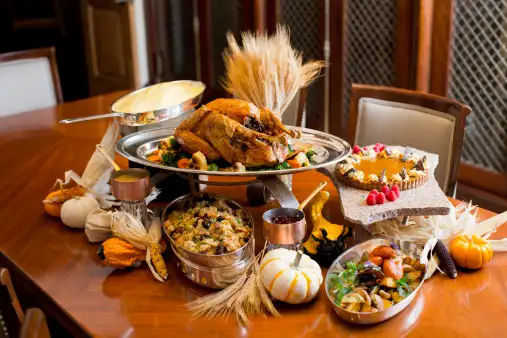 Robert Benson—Getty Images/Aurora Open
Any chefs looking to buy groceries for the Thanksgiving meal at Whole Foods and save a buck at the say time may have to keep on looking.
The cost of buying 20 common ingredients in the holiday meal at Whole Foods came to $87.91 this year, according to a Bloomberg Intelligence study. That's 22 percent higher than the $72.28 cost at Trader Joe's and a big leap from the 0.9 percent difference between costs at the two grocers last year. The study looked at the cost of items like Turkey, eggs, stuffing, apples, cranberries, green beans, garlic and cream of mushroom soup. Opting for an organic turkey would push your shopping bill even higher, hitting a total of $107.52 at Whole Foods.
Among the supermarkets covered in the Bloomberg study, Stop & Shop had the lowest prices, with the total coming to around $65. A different annual study, meanwhile, puts the average cost of feeding a family of 10 at just over $50 on Thanksgiving this year.
Whole Foods has struggled of late to shed it's reputation as a pricey food purveyor amid slipping sales. Earlier this month the chain announced same-store sales fell 0.2 percent in the fourth quarter. Next year the company will launch a new lower-price grocery chain, called 365 by Whole Foods Market, aimed at millennials and focused on integrating technology with the shopping experience to offer a bit more value and convenience, Bloomberg reports.
Despite Whole Foods gluttonous costs its prices on 20 Thanksgiving staples are still lower than those at Fresh Market, which tops out the category at $101.83.
MORE: 10 Supermarkets with Incredible Deals on Thanksgiving Turkeys