The 'Mind-Blowing Flair' Inside This House for Sale Is Driving the Internet Crazy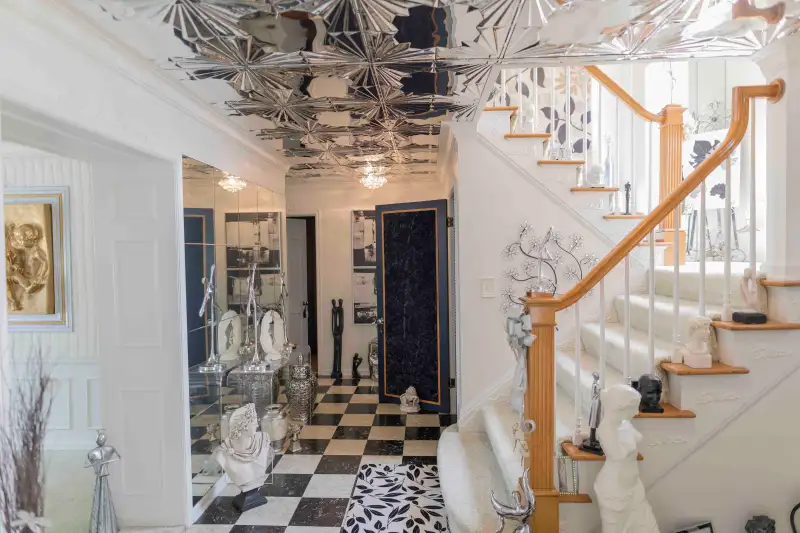 courtesy of Alex Lauer—Real Estate One
A lavishly decorated home called the Lion Gate Estate went on sale in Detroit this week and it has so much more to offer than just lions.
The 1,886-square-foot house at 450 W. Grixdale Avenue has gone viral due to its eccentric decor. There are Grecian statues next to the toilet, hand-painted murals in the garage, and an entire room where everything is white and silver. Not to mention that the owner used to be an automotive designer, so the property comes with two custom cars: a 1966 Cadillac Fleetwood Sedan and a 1974 Lincoln Mark IV Coupe.
All of it could be yours for just $550,000.
"Everything in the house is included with the house — there's all sorts of stuff in there to go through," Real Estate One agent Alex Lauer, who's working with co-agent Ben Ness to sell the home, told Money. "I've never been in a house like that."
Built in the 1950s, the property has three bedrooms, two bathrooms and two half bathrooms. It's packed with vintage appliances, and there's a heated pool in the backyard. In his listing, Lauer described the style as "mind-blowing decorative flair."
"There's a lot of excitement because it's so unique," he said. "It really feels like a museum."
See the Lion Gate Estate — and judge its design — for yourself below.
courtesy of Alex Lauer—Real Estate One
courtesy of Alex Lauer—Real Estate One
courtesy of Alex Lauer—Real Estate One
courtesy of Alex Lauer—Real Estate One
courtesy of Alex Lauer—Real Estate One
courtesy of Alex Lauer—Real Estate One
courtesy of Alex Lauer—Real Estate One
courtesy of Alex Lauer—Real Estate One
courtesy of Alex Lauer—Real Estate One
courtesy of Alex Lauer—Real Estate One
courtesy of Alex Lauer—Real Estate One
courtesy of Alex Lauer—Real Estate One