This 34-Year-Old CEO Is Helping People Earn Thousands by Playing Video Games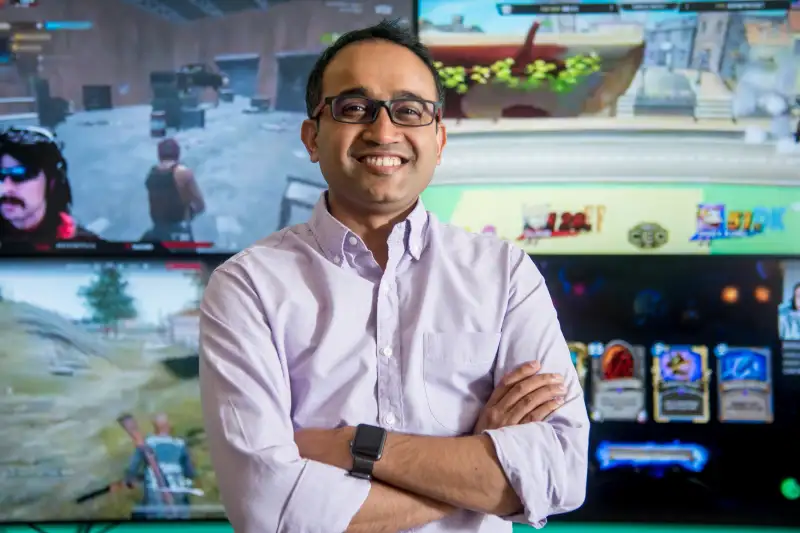 Todd Johnson—San Francisco Business Times
Ali Moiz got hooked on video games early. As a child in Karachi, Pakistan, he snuck through stone dungeons in Prince of Persia, grabbed gold trophies in Dangerous Dave, and blasted aliens with lasers in Space Invaders. He hopped from console to console. Even when he moved to Massachusetts for college, gaming was his life.
Decades later, it still is.
Moiz, 34, is the CEO of Streamlabs, a free service that helps people livestream their gameplay online—and get paid to do it. Amid the rise of online platforms like Twitch and games like Fortnite that draw massive followings, Moiz has created a system that allows thousands of streamers to pay their bills with virtual "tip" money donated by devoted fans.
It's amassed into a lot more than pocket change: Streamlabs says it processed $36.7 million in tips between April and June of this year.
"What gets me out of bed every morning is I think of this as we're creating jobs," Moiz tells Money of his ambitions. "By creating consistent income for streamers that are struggling, we're enabling them to do what they love."
Game and Get Cash
Earning a living from video games may seem like a kid's pipe dream—and in many ways, it still is—but it's become an increasingly real career option, at least for some. Tyler "Ninja" Blevins told CNBC in March that he's earning $500,000 a month from subscribers who pay to watch him play Fortnite on Twitch for 12 hours a day. That's a rarity, though.
"Streamers as a whole as a content-creating class really struggle to make ends meet because right now the advertising market is pretty small and weak," Moiz says. "If you're starting a livestreaming channel today and you have a handful of fans, making income is incredibly hard."
That's where Streamlabs sees potential. Initially a rebranding of controversial fantasy e-sports company Vulcun that offered widgets, it started to pick up momentum in January when it released an open broadcasting software, or OBS, a type of program that allows computer gamers to stream on Twitch and other sites.
Moiz says that software, called Streamlabs OBS, is now used by about 30% of streamers on Twitch. It racked up about 1.37 million active users in that community in the past quarter.
Streamlabs OBS works like this: You download a free desktop application, log in, and load your stream. Voila—now you've got access to a dashboard, themed overlays, chats, alerts, analytics, and more.
Most importantly, however, you can rake in tips from your viewers. Like their restaurant counterparts, they're optional and generally small amounts of money paid as a token of appreciation. On the back end, streamers can hook their Streamlabs account up to PayPal and set a minimum tip amount. On the front end, all a viewer has to do is enter how much they want to pay and click.
Tips are accompanied by short messages that appear on the screen and are often read aloud by streamers. For an extra fee, fans can add a GIF or effect (confetti, hearts, bubbles, etc.) to make their comment stand out.
Silly, sure, but also lucrative. The company says it's on track to raise $150 million for streamers by the end of 2018.
'Watching Is the New Playing'
The idea for Streamlabs was partly born out of Moiz's own gaming experience. As he got older, dropping out of school and entering the startup scene to lead a handful of companies, the hours he could devote to video games dwindled.
These days, "watching is the new playing," Moiz says.
"As gamers age, they find they don't really have time to play six hours a day anymore. Watching 20 minutes is a lot easier," he adds. "It's hard for people outside the [streaming] world to understand, but it's no different from baseball or football."
In fact, it may be even more addictive. A recent study by content delivery firm Limelight Networks found that the average gamer between the ages of 18 and 25 spent about three and a half hours a week watching someone else play online. That same demographic only watched two and a half hours of traditional sports.
As of January, about 960,000 people were tuned into Twitch streams at any given moment. Since then, viewers have watched 630 million hours of Fortnite alone—the equivalent of about 72,000 years, as Mashable points out.
Luckily for streamers, those viewers come with wallets attached. And Moiz says they're willing to tip through services like Streamlabs because they want to support figures they see as celebrities.
On Ninja's page on the service, for example, a leaderboard lists the usernames of the biggest donors. The top 10 tippers this month alone have given Ninja a total of $2,268.83.
"It's no different to these fans than big sports stars or actors or actresses," Moiz says. "At its simplest level, it's 'I want to spend $5 and get my name and message on TV and get my favorite celebrity to reply to me.'"
Streamlabs reports that last quarter it had 164,000 people who made more than $1 from their channels. Just under 7,000 made more than $1,000, meaning the vast majority of users are making relatively small sums of money. (The company declined to break down the numbers further.) And Streamlabs gives the full amount of every tip to the streamer.
"It makes a real difference to these people's lives," Moiz says. "This is really important to them. Say, if your rent is $1,500 a month and you're making $1,000 a month. Our tool allows you to pursue livestreaming as a serious career."
The Competition for Revenue Stream(er)s
Streamlabs, however, isn't the only platform of its kind with tipping. Competitors like StreamElements and Muxy offer similar services for free, but Streamlabs has by far the biggest following on social media. In Twitch itself, viewers can purchase "Bits" used to "Cheer" on streamers, though the site takes a cut of the revenue.
As is often discussed on Reddit, many streamers mix and match these tools. Streamlabs is attempting to stand out by constantly coming up with ways for streamers to make money.
In July, it introduced one-click tipping—an addition it says has increased conversion rates, meaning more people who start the tipping process actually complete it. It's also developed an affiliate program that lets users earn commission whenever they convince someone to install the broadcasting software, and launched Streamlabs Merch, offering the ability to sell shirts, mugs, and more with logos on them.
But how does the company make money for itself? Based in San Francisco, Streamlabs derives most of its revenue from its pro service, which costs $5.99 a month and comes with an animation effect that shows up every time a user follows, tips, or subscribes to a channel. Not that the company's hurting for cash—it's raised about $17.3 million in funding from investors like Universal Music Group and Sequoia Capital, according to business analytics site Craft. (Moiz confirmed those funding sources.)
Even so, Moiz admits that his personal salary is "nowhere close" to Ninja's eye-popping income.
That's fine by him. He says that at the end of the day, for him, Streamlabs is about giving gamers the tools to be financially successful. And if he happens to make a buck, too, that's okay.
"When I'm having a bad day, [I think], 'If I go to work and do a good job today, 50,000 people are going to be able to pay their rent,'" he says.