This 36-Year-Old Dad Is the King of Selling T-shirts Online — and He's Sharing Detailed Strategies on How Others Can Make Thousands a Month Too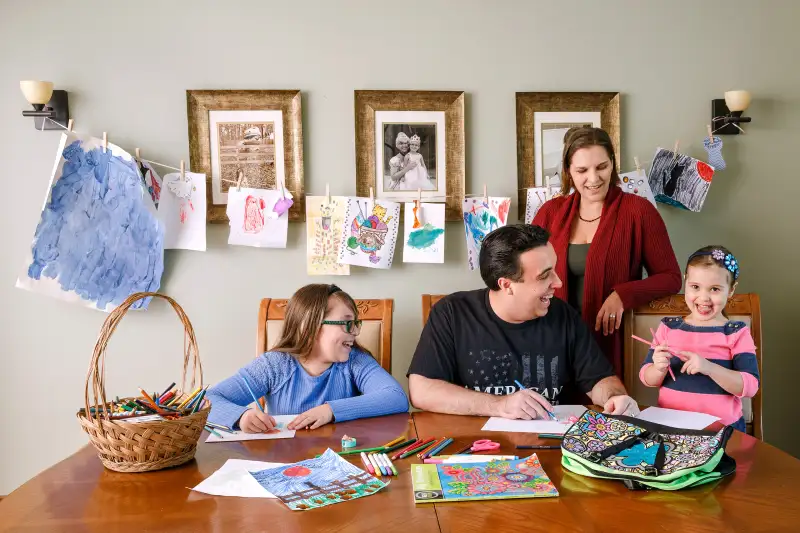 Photograph by Sara Stathas for Money
Michael Essany has always known how to handle an audience.
As a teenager, he hosted a talk show from his parents' home that eventually drew international attention and landed him two seasons on E! He's interviewed Gabby Douglas, William Shatner and Stan Lee. And now, he has 11,800 followers in a Facebook group who tune in every day to hear how he made six figures selling T-shirts.
Essany is a genius when it comes to print on demand, an increasingly popular way to generate passive income online. Generally, passive income models involve people putting in work up front and then perpetually earning cash from it without maintenance. In print on demand, entrepreneurs use services like Merch by Amazon and Redbubble to sell shirts, hoodies and accessories they've designed without ever having to handle inventory, ship heavy boxes or answer customer emails.
"It's the best passive income opportunity anywhere online today," Essany tells Money.
But it's not easy to get to his level. That's why the 36-year-old is constantly researching trends, cultivating methods and sharing them with subscribers.
"If you develop the strategies for approaching print on demand, you can slingshot yourself into the upper stratosphere," he says.
Finding His Groove
Essany stumbled across Merch by Amazon while working on a white paper about tech companies and e-commerce in late 2015. He signed up "just to tinker," he says, and got hooked.
"To me, graphic design was crayons on paper, playing with my children. I slapped together a design to see how the process would work," he says. "When [it] sold, something clicked for me."
The barrier to entry really is that low. Though it can take weeks to get approved for a Merch by Amazon account, print on demand has almost no overhead. Anyone could do it — if they're smart about it.
Essany tried different techniques for a couple of months, mimicking best-sellers and attempting to enter markets already saturated by thousands of other people. But when that didn't work, he switched tactics. He realized that in order to be successful, he needed to create shirts for niches of people searching Amazon for highly specific products. He couldn't chase full-fledged trends; he had to uncover them in their infancy.
"[Merch by Amazon] has become a place where only the truly creative can survive," he says. "It's no longer a matter of quantity over quality. Quality's the only way to succeed."
In no time, Essany was rising through Merch by Amazon's seller tiers, selling 10 shirts to move up to 25, then 50 and so on as he added designs to his catalog.
By the end of the year, he was tier 2,000. Today, he's 12,000.
The Big Power of Small Niches
Essany's prevailing approach revolves around what he's termed micro niches: tiny sections of broader hobbies or professions. Amazon already has pages of shirts for the wives of firefighters, for example, so he caters to their cousins.
He also does extensive keyword research and seeks out crossover niche opportunities. Combining the popularity of nurse shirts with those for astrology fans yields an "I'm a Tough Scorpio and a Tougher Nurse" slogan. Mixing the coal mining industry with children gives him "Coal Minor Today, Coal Miner Tomorrow." Putting together Halloween with coffee lovers inspires "Scary Without Caffeine. I'm All BOO Before My Brew." It may sound weird, but those customers do exist on the internet, and they're flocking to buy Essany's designs.
"A simple but clever message targeted to the right audience is powerful in the apparel market," he says. "The first step in harnessing this power is to identify a passionate audience ignored by most T-shirt makers."
Essany says he spends roughly four hours a day on passive income. About 90% of his time goes toward research, and so does a lot of his cash. He says two-thirds of his annual business expenditures are related to obtaining those insights.
He often shells out for Pollfish questionnaires to see which kinds of people like which kinds of designs.
"It could cost $1,500 for a survey, but from that investment I could quickly turn around and sell $2,000, $3,000, $4,000 worth of product based on what I learned," Essany says.
Managing the Merch Momentum (with Memes)
Essany decided to spread that wealth of knowledge by creating Merch Momentum. For $10 a month, subscribers get guides packed with tips and leads into potentially popular micro niches. (A recent issue included the keyword suggestions "fire eating T-shirt," "mic skills T-shirt" and "divorce papers T-shirt.")
The Facebook group is free, and it has become a hub for print-on-demand discussion. Members post several times daily with trademark questions, inspirational quotes, graphics bundles, font recommendations, screenshots, graphs of sales reports and memes. Some users call Essany by nicknames, addressing him in comments as "Mike" and "Mikey."
Essany says the group is "wonderfully supportive" and, for the most part, drama-free. After all, he likes to help people.
"There are people from all over the world. With very little money, very little opportunity elsewhere, they come to print-on-demand," he says. "For them, it's not passive income — it's survival income."
Collaboration has become crucial as the print on demand industry has exploded. Merch by Amazon now offers PopSockets and caters to the U.K. and Germany. Teespring gets about 3,000 new sellers every day.
Print on demand isn't going anywhere anytime soon, and neither is Essany.
"It's the slow-but-steady mentality that wins the modern print-on-demand race," he says. "I have become someone who can't imagine not doing merch."