6 Ways Tim Duncan Was the Ideal Employee and Coworker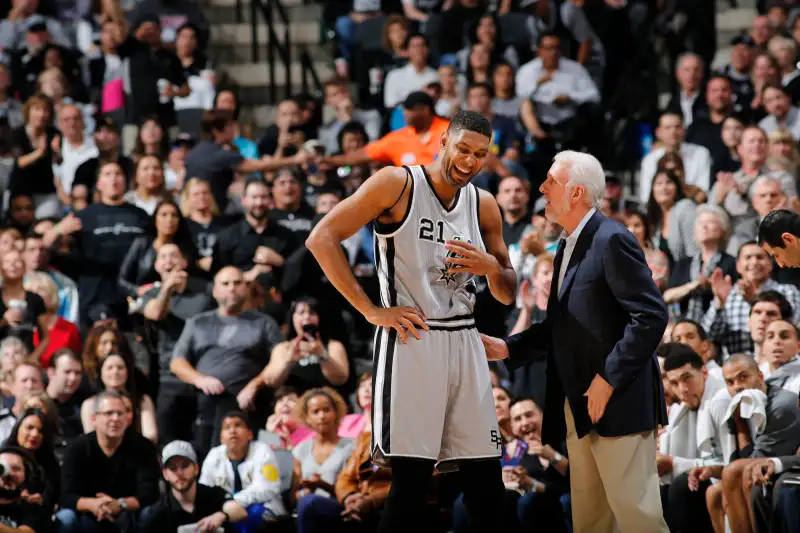 Chris Covatta—NBAE/Getty Images
In the NBA, as in offices across the world, there are prima donnas, there are underachievers, and there are superstars mostly seeking personal glory. And then there is the rare breed of team-focused talent who toils unselfishly and does whatever is necessary to lead the organization to success over the long haul. Tim Duncan, who played 19 phenomenally solid years for the San Antonio Spurs, owns five NBA titles and two league MVP awards, and quietly announced his retirement on Monday, was the epitome of the latter.
Here are some of the ways that Duncan was the kind of worker that bosses dream of, that colleagues yearn to have as part of their team—and that every employee should aspire to be like.
Consistency. In the many glowing tributes that have been written freshly in praise of Duncan, this is the word that pops up most often. GQ called Duncan "the bedrock of the most consistently competitive team in basketball." Sports Illustrated referred to the 15-time All-Star's statistics on the court as "comically consistent," with 13 straight years averaging double-digit rebounding and scoring, before only the slightest falloff in his later years. Jason Gay of the Wall Street Journal noted that "it is easy to get caught up in the momentary dazzle, and ignore the genius of consistency" that was Duncan's career.
The point is: It's one thing to do great work for a brief spell; it's quite another to bring a tireless work ethic and genius to the table year in, year out. Quite obviously, organizations place higher value on employees who dependably do high-quality work over the course of decades, rather than some brilliant flash in the pan.
Unselfishness. In a statement released on Monday, NBA commissioner Adam Silver said of Duncan, "His understated selflessness made him the ultimate teammate." Earlier this year, Spurs coach Gregg Popovich explained what his team looked for in players: "You can talk to somebody for four or five minutes, and you can tell if it's about them, or if they understand that they're just a piece of the puzzle. So we look for that."
Read Next: Guess Who Is to Blame for Fewer Fans Watching Sports on TV
Duncan, while undeniably a world-class talent, always seemed to understand that he was just a cog in the wheel. The NBA is full of huge egos, yet he and his teammates were renowned for a humble, team-first approach. Anyone who is selfish, thin-skinned, and humorless just wouldn't cut it, as Popovich said: "A sense of humor is a huge thing with us. You've got to be able to laugh. You've got to be able to take a dig, give a dig — that sort of thing. And [you have to] feel comfortable in your own skin that you don't have all the answers."
Versatility. While Duncan is generally considered a power forward—in fact, he's the consensus best power forward ever—the player had tons more to his game. As Sports Illustrated put it, the 7-foot Duncan was both a power forward and a center, and he was equally valuable on the offensive and defensive sides of the court. He guarded screens and blocked shots on one end and then set screens, made smart passes, and nonchalantly hit shots off the backboard on the other.
Duncan was also versatile in the sense that he worked so well with so many different players, in whatever role best suited the team's needs at the time. As Duncan got older, he never seemed threatened by younger, more athletic teammates. Instead, Duncan was more than willing to allow younger players like Tony Parker and Kawhi Leonard to step in as leaders, especially on the offensive end. "Duncan helped San Antonio reach the playoffs in each of his 19 seasons and became the only player in league history to start and win a title in three different decades," NBA.com pointed out.
All Fundamentals, No Flash. They call Duncan "The Big Fundamental" because unlike so many other players who try to get on the highlight reels with tomahawk dunks and stylish crossover dribbles, the Spurs leader had a much simpler goal. He wanted to stop the other team from scoring points, and to help his team to score lots of points. "He played basketball the way your coaches always told you to play basketball: relentlessly, unselfishly, at both ends of the court," Gay wrote in the WSJ.
Read Next: 5 Live Streaming Sports Services Every Cord Cutter Must Know About
Flash may get you some extra points with jersey-buying fans, SportsCenter, and sponsorships, but it certainly doesn't get your team extra points in actual games. This is something Duncan, who dunked only when it was the most sensible option and blocked shots in the least flashy, most strategic way possible, seemed to understand better than any other NBA player in recent memory. In the big picture, what kind of worker does a boss and company want most: one who is focused on exciting yet immaterial fluff, or on the results that really matter?
Loyalty. Loyalty isn't held in particularly high regard anymore, no matter if we're talking professional sports (hello Dwyane Wade) or corporate America (we're a nation of job hoppers). Yet everyone can understand that loyalty makes perfect sense when both employer and employee value and trust each other, and everyone has the same goals. This was the situation with Duncan, Popovich, and the Spurs for nearly 20 years, and it's what made it possible for Duncan to become the only player to hit the 1,000-win mark with one team.
Leadership—by Example. With the exception of when Duncan is called for a foul—he famously seems to think he's never committed one—the Spurs' veteran is known for his quiet, unassuming demeanor on and off the court. Duncan is also known as pretty much a nerd who played D&D, goes to Renaissance fairs, and has no fashion sense. And yet this extremely uncool dude has been one of the greatest leaders in professional sports, as indicated by all of the details and accomplishments mentioned above.
Read Next: 4 Hobbies That Could Help Get You a Job
Through it all, Duncan has led by example, not mere words, nor by charisma or force of personality. Teammates have been amazed that Duncan considered himself just one of the guys, not a superstar. It's essential to have talent, but it's what you do with that talent that matters most. Duncan always worked hard, always tried to get better, and always focused on team (rather than personal) accomplishments. He was simply the kind of coworker that you want on your team and that you want to be your leader.