General Mills Just Launched a New Cereal Inspired by Another Breakfast Favorite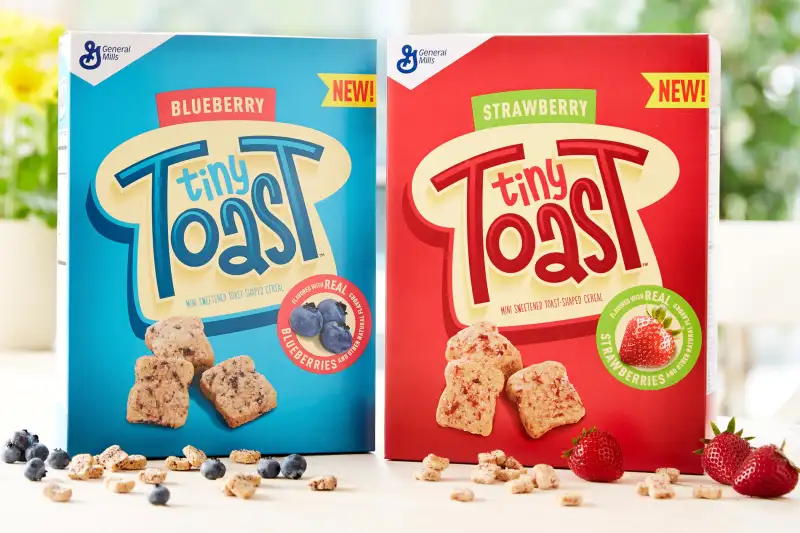 Step aside, French Toast Crunch—there's another tiny bread-shaped cereal in town.
General Mills announced Monday the company is launching "Tiny Toast," its first new cereal line in 15 years.
Like its forebear French Toast Crunch—a General Mills breakfast classic rescued from "discontinued" oblivion in 2014—Tiny Toast is shaped, as the name suggests, like tiny pieces of toast. The cereal comes in two varieties, blueberry and strawberry, and is sprinkled, product developer Mike Evanson says, with real powdered fruit. Tiny Toast contains no artificial flavors or colors.
Tiny Toast is General Mills' first completely new cereal brand since the ill-fated launch of Harmony, a cereal tailored to women released in 2001 and since discontinued.
Cereal sales have been in a long decline for years, a trend that runs counter to the growth in popularity of other breakfast foods and a general rise in breakfast's prestige (see, for example, the recent launch of Time Inc's newest media product Extra Crispy, a website dedicated exclusively to covering the breakfast and brunch beats).
"People told us that both varieties tasted real, and not fake like they typically associate with fruit-flavored cereals," Evanson says. We heard from several consumers that the Blueberry Tiny Toast tastes like a blueberry muffin, which is just awesome praise. That's exactly what we were going for. When we heard that, we knew we were on to something good."
Yes please.