Auto Loan Rejection Rates Are at a Record High — Here's How to Improve Your Odds of Approval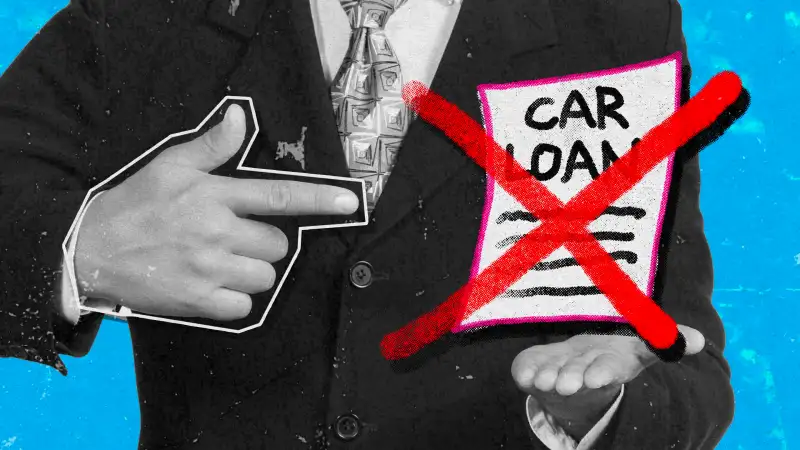 It's a challenging time to get an auto loan if you have poor credit — but don't lose hope of buying a car just because you got a loan rejection.
The rejection rate for auto loans is at 14.2%, which is the highest level since the Federal Reserve Bank of New York began keeping track in 2013. Rejections are up from a rate of 9.1% in February, the last time the Fed collected survey data.
One reason auto lenders are less willing to approve loans is that more Americans have been falling behind on car payments amid high inflation and high interest rates. It doesn't help that car prices have skyrocketed in recent years, given that lenders associate larger loans with greater risk.
If you get rejected for a car loan, it doesn't mean you can't buy a car. But you may have to adjust your expectations of what you can buy or take steps to make your application more attractive to lenders.
How to improve your chances of getting a car loan
Here are some of the things you can do to get a car loan if you've been rejected:
Increase your down payment
Considering that a growing number of Americans are struggling to make car payments, auto lenders may reject loan applications from prospective borrowers with lower credit scores who aren't able to make a sizable down payment.
With new car purchases, vehicles lose value the moment you start driving them. That's a concern for lenders because if a borrower has negative equity in a vehicle, the lender would lose money in the event they have to repossess the car.
It's a significant risk for auto lenders when the amount financed in a loan is higher than what what the vehicle would sell for at auction, according to Bill Liatsis, Cars.com vice president and CreditIQ general manager. "The more that you increase the down payment, the more that you reduce the risk because your payment will go down, but also the lender's repossession risk when they have to take back that car goes down," he says.
Whether you're buying new or used, saving more money to increase your down payment is a great way to up your loan approval odds.
Build credit and reapply
With poor credit, car shoppers won't qualify for the best auto loan rates and it's harder to get approved for a loan at all.
The average new car loan rate was 6.6% in the second quarter, up from 4.6% a year ago, according to an Aug. 31 report from Experian. More than 80% of new car buyers have credit scores above 660 — which is generally considered good — but for those who are below that mark, auto loan rates are vastly higher.
Subprime borrowers represent a near-record low share of new vehicle financing. For someone with a credit score between 500 and 600 who manages to get approved, the average loan rate is 11.7%, according to Experian. At that rate, your car payment would be roughly $100 more per month on a $30,000 loan compared to a buyer with a high credit score. Over the life of a multi-year loan, the difference can easily add up into the thousands.
Paying off revolving debt and consistently making on-time payments on your credit cards and loans can improve your credit over time. Those are just some of the many strategies to improve your credit score.
In addition to your credit score, lenders typically look at your credit report and debt-to-income ratio, so chipping away at that debt can make a big difference for your approval odds.
Get a co-applicant
Saving for a larger down payment and improving your credit take time, but getting a co-applicant can be a quick way to increase your chances of loan approval.
Liatsis says it's common for first-time car buyers with less credit history to apply for a car loan with a co-applicant.
"Every lender is going to look at you and say, 'You haven't had a car loan, you haven't had a home loan, how do I know that you're going to make this payment?'" he says. "In that case, you're probably going to want to look for somebody who might be a parent, might be another part of your family, might be a friend who has better credit that's willing to be a cosigner or a co-applicant on your loan."
Lenders will be more likely to approve your loan application knowing that your cosigner will want to help you out in the event you can't make payments. The loan account will show up on the co-applicant's credit report, giving them a strong incentive to ensure payments are made on time.
Consider other cars and lending options
Borrowers with lower credit scores typically shop for used vehicles because it can be much easier to get approved for a loan with lower-priced payments.
Auto loan rates are high in the used vehicle market (11.4% on average in the second quarter, per Experian, compared to 6.6% for new cars), but you likely won't need to finance as much through your lender because used vehicles cost less.
If you get rejected for a new car loan, you could apply for a loan on a used vehicle. Alternatively, you could try applying for a loan to buy a less expensive new vehicle that would require less financing. This could be a blessing in disguise: If you can't get approved for a loan on a fancy new vehicle, that could be a sign that it's simply too expensive for your budget — and you're better off with a more reasonably priced car.
Lastly, you should always consider multiple financing options when you're shopping for a new car. Dealerships typically offer financing (often subsidized by the manufacturer), but other options include credit unions, banks and online lenders.
While settling for a lower-priced car and still potentially committing to a loan with a high interest rate isn't ideal, it can get you on the right track to buying your dream car in the future. If you consistently pay your car loan on time, lenders will look favorably at that payment history the next time you pursue a car loan.
"Maybe you're not going to buy the car that you want today, but in a year or two, you're going to be able to be approved for that car if you make those payments," Liatsis says.
More from Money:
Owning a Car Now Costs Over $1,000 a Month, on Average
10 Best Auto Refinance Companies of 2023