Here Are Today's Best Mortgage & Refinance Rates for August 5, 2020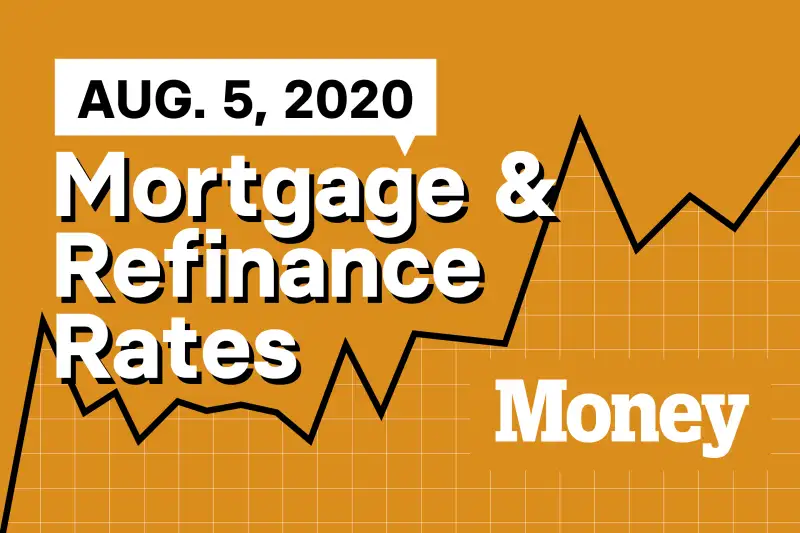 The total volume of mortgage loan applications decreased once again last week even though mortgage rates remained at near historic lows. Despite the decline, the number of applications still outpaced 2019 numbers.
According to the Mortgage Bankers Association, overall mortgage applications for the week ending July 31 dropped 5% from the previous week. Purchase loans decreased by 2% week-over-week but remained 22% higher than the same week last year. Although refinances also slid, down 7% from the previous week, the volume was still up 84% year-over-year.
"MBA's forecast calls for rates to remain at these low levels, which will continue to spur strong refinance activity and offer homeowners relief in the form of lower monthly mortgage payments during these uncertain economic times," said Joel Kan, MBA's associate vice president of economic and industry forecasting.
The volume of purchase and refinance loan applications have been above 2019 levels for eleven straight weeks as homeowners and buyers have taken advantage of a series of record-setting interest rate drops between March and July.
What are people paying for mortgages right now?
Borrowers with 700 credit scores were charged an average of 3.534% to secure a 30-year fixed-rate purchase mortgage on Tuesday, according to Money's survey of over 8,000 mortgage lenders across the country. The average rate for a 30-year refinance was 4.3%.
What are experts saying about loan options?
Josh Lewis, certified mortgage consultant at BuyWise Mortgage, told Money:
For more on the pros and cons of adjustable rate mortgages read: With Mortgage Rates So Low, Getting a Floating Rate Mortgage Might Seem Crazy. Here's Why I Did It Anyway
What should house hunters be watching next?
On Thursday, Freddie Mac will release its weekly Primary Mortgage Rate survey. The Bureau of Labor Statistics is also set to release the new unemployment claims numbers. An increased number of claims could indicate that layoffs are increasing along with the rise in COVID-19 infections. Some experts worry the job market will eventually hurt home sales, which have been one of the few bright spots in this recession.
What are today's advertised rates?
Of course, mortgage rates vary widely by location and personal factors like the size of your down payment and your credit score. Here are today's advertised mortgage rates at some of the mortgage industry's largest lenders. (All rates are APRs. The rates you see may be different.)
JP Morgan Chase
Based in New York, JP Morgan Chase has nearly 5,000 U.S. branches.
Mortgage rates advertised for August 5:
30-year fixed: 2.944%
15-year-fixed: 2.507%
5-year ARM: 2.662%
(Rates based on New York City zip code 10006.)
Wells Fargo
Based in San Francisco, Wells Fargo has more than 7,000 locations.
Mortgage rates advertised for August 5:
30-year fixed: 3.092%
15-year-fixed: 2.720%
5-year ARM: 2.827%
Quicken
Quicken, a non-bank lender based in Detroit, is the nation's largest mortgage lender by dollar origination volume.
Mortgage rates advertised for August 5:
30-year fixed: 3.129%
15-year-fixed: 2.833%
(Quicken doesn't advertise a five-year adjustable rate.)
Bottom Line:
Everything You Need to Know About Mortgage Rates in 2020
Mortgage Rates Are at Record Lows. But What Does It Take to Actually Qualify for a 3% Loan?
Money Survey: 76% of Young Americans Say the Pandemic Has Impacted Their Living Situation