Here's the Surprising College That Ranks No. 1 in Helping Students Beat the Odds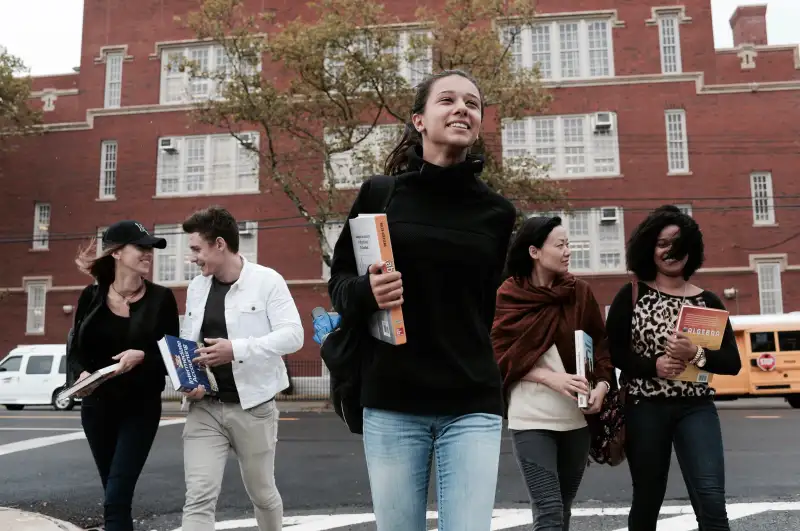 For much of its short history, the words "Touro College" have often been followed by ... Touro who?
Not for long.
Less than 50 years old, the private college in New York has started to make a name for itself in the health sciences, education, and finance fields, placing alumni in countless hospitals, public schools and business firms in the greater New York area.
Those achievements have placed Touro at the top of Money's Value-Added All-Stars ranking, which highlights colleges that do the best job at turning comparable student populations into more successful graduates.
"We're not the secret we used to be," says Judah Weinberger, interim dean of Touro's New York School of Career and Applied Studies.
Founded to serve the Jewish community, Touro has expanded to enroll a more diverse student population. At its New York campuses, more than 25% of students are black or Hispanic, and 60% of freshmen qualify for federal Pell grants, a commonly used measure of population of low-income students.
At the same time, Touro has increased its overall completion rate by about 15 percentage points in the past decade. Its rates are still far below those of elite colleges, but at 62%, the college's six-year graduation rate for bachelor's degree recipients is 92% higher than colleges with similar test scores and percentages of low-income students. Across the board, the colleges on Money's list have only a median 7% higher graduation rate.
Likewise, recent Touro graduates report average salaries that are about $5,800 higher than peers from similar colleges. (Money's Value-Added All Stars list looks specifically at graduation rates, student loan repayment rates, and alumni earnings for a given student population.)
How does Touro do it?
It starts with small class sizes—Touro's are among the smallest in New York City, administrators say. That leads to more personalized attention, which naturally leads to closer relationships between faculty and students.
Research and information from the National Survey of Student Engagement has shown that meaningful interactions between faculty and students can positively influence academic performance and retention.
"Students have a tremendous amount of access to their professors, and that way, problems are identified sooner and addressed," Weinberger says.
Like other colleges, Touro has started using technology to track students' progress, and an early alert system will flag students who are at risk of dropping out or failing based on things like attendance or course performance. The college's freshmen retention center provides tutoring, as well as advice on time management and study skills.
That extra support was crucial for Nadin Samad, who says she took advantage of tutoring in English and plenty of extra help from professors in math, which she calls her worst subject.
She's now working toward a master's degree in education. But she still keeps in touch with a handful of professors who tutored and counseled her during her undergrad courses—including one business professor who was partly responsible for putting her on the path to becoming a teacher.
That's starkly different from the frustration she hears from friends enrolled at other nearby colleges. They're often confused about which courses they need to take, or they struggle to find enough help with tough subjects, Samad says.
Touro has more than 30 academic centers in the New York area, plus satellite campuses in California, Nevada and three foreign countries. With classrooms in each of New York City's five boroughs, freshmen usually attend classes close to their homes, says Stanley Boylan, vice president of undergraduate education. That means they can focus on the demands of college work without piling on an hourlong commute to and from campus.
College administrators also organize course schedules to make it easier for students who are working while attending college full-time. Courses are often scheduled as a single three-hour session per week, which reduces the number of days students have to come to campus, and makes it easier for them to schedule full days of work.
There's no definitive playbook to increasing retention and graduation rates—different strategies work for different student populations and campuses, says Kevin Kruger, president of NASPA, an association that represents student affairs administrators.
But Touro's practices follow strategies that successful colleges have employed to reduce financial barriers and encourage face time between faculty and administrators, Kruger says. Those support services are especially important for low-income and first-generation college students or students who don't have the experience or support system that would help them navigate campus resources.
Touro also benefits from what surrounds its campus hubs: New York City. Researchers have found that attending college in a city with a robust economy can pay off in strong internship and job opportunities.
Recent Touro students have interned for New York politicians, gone behind the scenes at media outlets such as ABC and CBS, and worked alongside forensic psychologists at Queens County Courthouse. That sort of broad diversity of exposure only happens in a city like New York, Touro officials say.
Boylan, who's worked at Touro for almost as many years as the college has been open, says Touro's final advantage is a keen sense of mission. Its effort to provide higher education and career training to local, underserved communities—a cause that started out focused on Jewish students, but today encompasses the city's minority populations—helps the school attract like-minded professors, and boost alumni engagement.
"It's driven where we're going and why we've done what we've done," Boylan says. "We've stayed student focused."