How a Transgender Woman's Job Discrimination Lawsuit Turned into a Constitutional Fight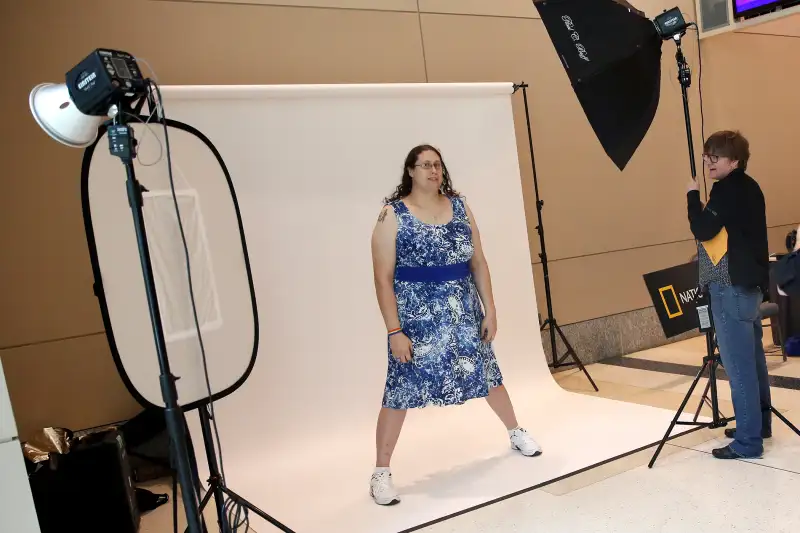 Shannon Stapleton—Reuters
Kate Lynn Blatt once lived as a woman at home but went to work in a battery factory as a man, a painful phase in her gender transition that would later propel her to the forefront of a constitutional battle for transgender rights in America.
She decided to start over, interviewing as a woman for a new job with the outdoor equipment and apparel retail chain Cabela's, landing it, and finally leaving her life as a male behind. A 6-year transition, starting from when she graduated high school, was finally over.
"Oh my God, it was the most liberating thing I've ever experienced in my entire life," Blatt said in an interview in her hometown of Pottsville, Pennsylvania, about 90 miles (150 km) northwest of Philadelphia.
"And then slam," she said, smacking a fist into her palm. "Employee discrimination."
Blatt, now 35, is suing Cabela's for sex discrimination, saying she was subjected to all manner of humiliation by superiors and co-workers during the six months she worked as a seasonal stocker in 2006 and 2007.
In a preview of the current controversy in the United States over which bathroom transgender people should use, Blatt claims she was denied use of the women's room. She was fired, she said, when Cabela's alleged she threatened a co-worker's child during an altercation at work, a claim Blatt denies.
Cabela's, through a company spokesman, declined to comment.
The lawsuit, brought by Blatt in 2014, also challenges a little-known clause in the Americans with Disabilities Act of 1990 (ADA) as discriminatory because it specifically excludes transgender people from protection.
Cabela's has called on U.S. District Judge Joseph Leeson of the Eastern District of Pennsylvania to dismiss Blatt's claims under the ADA. The judge's ruling on that motion, the next step in the case, could come at any time.
Blatt's lawyers, Neelima Vanguri and Brian Farrell of Philadelphia-based Sidney L. Gold & Associates, are asking the judge to rule that the clause of the ADA violates the U.S. Constitution because it denies equal protection for all under the law.
The ADA was landmark legislation that expanded the rights of disabled people, but some exceptions were written into the law following a debate influenced by the late Jesse Helms, a Republican senator from North Carolina. The law says "disability" shall not include "transvestism, transsexualism, pedophilia, exhibitionism, voyeurism, gender identity disorders not resulting from physical impairments, or other sexual behavior disorders."
Judges customarily avoid ruling on constitutional issues, preferring to settle disputes on narrower grounds. Even so, at a time of expanding transgender rights in America, the Blatt case directly challenges what her lawyers consider discrimination codified into law.
Transgender in America
Blatt knew from her first memories that she was a girl, taking advantage of every Halloween to dress as a girl and wearing panties from age 10.
In high school, before making her transition, Blatt only let a few trusted friends into her life.
"Every person I met as a guy was another person I would have to come out to as transgender later, so I just avoided it," she said.
For years she lived a dual life, but that became unmanageable. Her job in the battery factory required employees to shower on the premises after work because of their exposure to chemicals, and she was starting to grow breasts from the hormones she was taking, so she told co-workers she was now Kate. When a co-worker's husband learned of Blatt's transition and confronted her on the job site, she left, becoming free to live as Kate full-time.
Blatt, a proud firearms owner, grew up hunting and fishing in rural Pennsylvania and soon felt at home working for Cabela's, which specializes in guns, outdoor equipment and apparel.
The Cabela's where she worked in Hamburg, Pennsylvania, is a 250,000-square-foot (23,000-square-meter) amusement park of a store, decorated with big-game taxidermy, including an elephant, and an aquarium. All manner of outdoor shoes and gear are on sale, along with hundreds of models of guns and stacks of ammunition.
But problems arose immediately. She was told she must use the men's room. Later she was directed to a gender-neutral restroom where families can change diapers. She also claims in her suit she was required to wear a tag calling her by her birth name James, even after she had legally changed her name and gender with the state of Pennsylvania.
After Cabela's fired her, Blatt said she gave up on the workplace and started her own business fixing up old houses.
No Longer a Disorder
Among transgender people, seeking justice for a "disability" is somewhat controversial. At the time the ADA was passed in 1990, transgender people were diagnosed with "gender identity disorder," which might have been covered under the law if it were not for the Helms-inspired exclusion.
Being transgender today is no longer considered a disorder by the American Psychiatric Association, but it can give rise to gender dysphoria, a type of anxiety that may require medical treatment and thus should also be covered by the ADA, transgender advocates say.
While her case plays out, a transgender rights controversy has overtaken the United States.
At least 18 states have anti-discrimination laws protecting transgender people, but officials in more than a dozen states are suing U.S. President Barack Obama's administration for directing public schools to allow transgender students to use the bathrooms and locker rooms that match their gender identity.
Federal appeals courts have generally sided with the White House, saying its interpretation of civil rights law to protect transgender people is acceptable, but it could be overturned by a future president.
In the meantime transgender people, estimated at 0.3% of the population by a 2011 study conducted by Williams Institute at the University of California, Los Angeles, are fighting their own battles.
"For the larger part of my childhood, I felt alone," Blatt said. "I had no idea there were other people. There's tens of thousands, hundreds of thousands of people like me in this country, and I never knew it."