38 Genius Items the World's Best Travel Agents Always Pack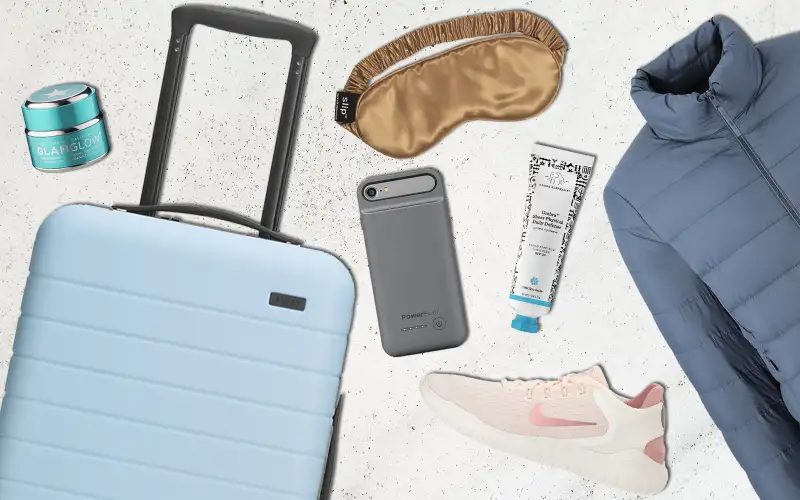 Each product we feature has been independently selected and reviewed by our editorial team. If you make a purchase using the links included, we may earn commission.
Fine, call us nosy. But we can't help but wonder what other people have packed in their suitcases, especially if said people are seasoned professionals at this whole packing-for-a-trip thing. It's our favorite way of discovering new packing tips and tricks.
We've asked the editors at T+L for their favorite travel products. When we board a plane, we're almost certainly glancing at our seatmates' gear. And you can bet that anytime we chat with a celeb, we're asking for their packing philosophy. But we also thought it'd be smart to pick the brains of another category of travel experts: travel advisors.
We polled some of the world's top advisors from our A-list to hear about what they bring with them on every trip — and some of their picks are seriously genius. There are foldable backpacks that'll barely take up any space in your carry-on, comfy travel shoes you'll wear on every trip, no-fuss travel adapters that'll make traveling with electronics less complicated, and so much more. Scroll through below to see what's inside the luggage of some of the best travel advisors in the business.
---
Wrinkle-resistant Dress and Hidden Pocket Scarf
Andrea Ross of Wild Frontiers USA frequently finds herself traveling to Southeast Asia. To combat the hot temperatures while still dressing modestly, Ross often turns to Leota's 'Darien' dress (nordstrom.com, $128), a light and airy asymmetrical dress made from no-wrinkle fabric that's perfect for packing. Ross loves the garment for its versatility, sharing, "I can wear it to a hotel inspection and then take a boat ride on the Chao Praya and feel appropriately dressed."
Another travel must-have Ross loves is this stylish travel scarf with a hidden pocket (amazon.com, $55) that's perfect for stashing essentials. "Of course everyone knows you need a good scarf for planes, but this one doubles as a boarding pass and wallet holder. It can even hold cash and a hotel key for a night out."
---
Travel Passport Wallet
Louisa Gehring always travels with this specific wallet (amazon.com, $15). "I have tried them all and they all seem to be missing something. Either they aren't big enough to hold boarding passes, or the passports fall out. This one, however, is perfect and has lasted years. I love the little pen holder, too, because I am now never 'that guy' asking for a pen from the flight attendant during immigration form time."
---
Waterproof Wet Bag
Back when April Cole of Wild Frontiers USA first started travel planning, her kids were in diapers, so she would always travel with a diaper wet bag. Now, years later, Cole still packs a wet bag, but not for diapers, mind you. "I now use it for anything wet or dirty," she shared. "Even if I'm traveling with only a carry-on, I have a place to store dirty gym clothes or a wet swimsuit so that the rest of the items in my bag will remain dry and odor-free. I love my Logan and Lenora Wet Bag (amazon.com, $25) because it is chic and no one would ever guess it's actually a diaper bag."
---
Fitness Watch
Mei Zhang of WildChina never travels without her Suunto watch (amazon.com, $229). A true fitness junkie, Zhang loves wearing the watch while on runs throughout her trip. She's explored Bhutan, Morocco, Uzbekistan, and a number of Chinese villages with her Suunto. "It's the best way to stay fit and see a new destination on foot."
---
Away Carry-on
Kristen Pike of KK Travels Worldwide loves cult-favorite brand Away's carry-on luggage (awaytravel.com, $245) with the ejectable power bank. "Having a built-in charger is incredibly convenient. Gone are the days of having to crawl on the floor in search of an open wall outlet," she said. "Every feature of the suitcase has been so well thought-out, from the luxury wheels and zippers to the indestructible exterior shell. They even have a lifetime warranty, so it's guaranteed to be the last piece of luggage I'll ever buy."
---
Electronics Organizer Board
Liz Sutton of Sutton Planning packs this tech organizer (amazon.com, $12). It's made up of elastic bands that stretch to hold items of various sizes. Load it up with your chargers and gadgets, then slide it into your carry-on, and you're good to go.
---
Travel-sized Bath Essential Kit and Melatonin Gummies
John Clifford of International Travel Management always packs his Malin + Goetz Essential Kit (revolve.com, $32), a carry-on-approved set of luxurious bath essentials. "You know that cool, hip, New York–based brand of beauty products you find in all the hippest luxury hotels that you love to use (and take home)? Malin + Goetz sells those wonderful products in TSA-approved bottles in an entire kit. It has everything to get you through a weekend getaway: grapefruit face cleanser, vitamin E face moisturizer, bergamot body wash, vitamin B5 body moisturizer, peppermint shampoo, and cilantro conditioner."
Clifford also loves VitaFusion's melatonin gummies (amazon.com, $12) to combat jet lag. "Not only do they work well, they also taste great as they're enhanced with passion flower, chamomile, and lemon balm."
---
Packable Backpack
Jean Sanz Bernay shared, "I really never leave without my Zomake backpack (amazon.com, $16). It's the best thing I have encountered in ages! I just take it folded in my travel purse, and once I get to my destination, I pop it out and go on hikes or walk around the city. It's very lightweight and fits anywhere, making it great for when you have different situations throughout the day."
---
Noise-cancelling Ear Buds
Zachary Rabinor of Journey Mexico loves his Bose QuietComfort 20 Acoustic Noise-cancelling Headphones (amazon.com, $249) for travel. "I've tried countless pairs of wireless options and they don't measure up to the sound quality, battery life, or noise-cancelling functionality."
---
Self-filtering Water Bottle
Jonny Bealby of Wild Frontiers Adventure Travel never leaves home without self-filtering Water-to-Go bottle (amazon.com, $30). "Not only does this cut down on the amount of single-use plastic I use, it also means I am never without water. The filter is so good I can literally fill the bottle from rivers, lakes, or even dodgy water courses around the world."
---
Lightweight Travel Slippers
David Rubin of DavidTravel has a favorite travel shoe brand: Fitkicks (amazon.com, $30). "No footwear is lighter or thinner, so they are ideal for travel. They are perfect for the plane, hotel gym, beach, and walking. Also, I love that they were created with a minimalist ideology that incorporates a stylish edge."
---
Exercise Bands
"I don't like to miss a workout," Mina Agnos of Travelive shared, "When hotel gyms are incomplete or non-existent, the NeeBooFit Resistance Loop Band Six-piece Set (amazon.com, $16) always comes in handy. They come in a tiny pouch that you can take anywhere and can offer a complete workout in your hotel room or even on the go."
---
Travel-sized Essential Oils Set
Kathy Stewart of Butterfield & Robinson always packs a travel-sized set of essential oils in her carry-on. "I like to take essential oils for the plane. It combats bad smells and generally revives you when you're tired." Her pick? Saje's Pocket Farmacy Essential Oil Blend Set (amazon.com, $60).
---
Moldable Ear Plugs
For the plane, Cherri Briggs of Explore, Inc. prefers to bring her own pack of soft, moldable wax ear plugs (amazon.com, $8 for a set of two), rather than settling for the hard ones you get on the plane.
---
Weatherproof Backpack and Waterproof Power Bank
A weatherproof backpack paired with a waterproof powerbank (amazon.com, $96) to keep your devices charged is the ultimate duo for Jessica Wolff at Upscape. This weather-resistant Patagonia Black Hole Pack (amazon.com, $220) comes with multiple compartments that will fit all the essentials (including a 15-inch laptop), making it the perfect pack for going from the airport and straight into your outdoor adventure.
---
Compression Carry-on Luggage and Cute Travel Wrap
Kara Bebell of The Travel Siblings loves her Mer-Sea & Co. travel wrap (amazon.com, $69). "There are lots of wrap options out there, but this is a three-in-one item. The material is warm, cozy, and acts as a blanket on board. But the style is chic enough to be worn anywhere, from airport security lines to afternoons in Paris. Oh, and it comes with a matching pouch that doubles as a perfectly sized pillow."
Harlan deBell's pick is the Briggs & Riley CX Compression Expansion Carry-on (amazon.com, $569). "It fits everything but the kitchen sink! You can stuff it to the gills and it compresses back to its original carry-on regulated size."
---
Waterproof Bluetooth Headphones and Protective Wine Bottle Bags
Julie Danziger of Ovation Vacations loves these Mpow Flame Bluetooth headphones (amazon.com, $17) not only for their noise-cancelling capabilities, but also for their water-resistant design. Oh, and let's not forget the under-$20 price point.
Another essential Danzinger always packs is this set of reusable "wine diaper" bags (amazon.com, $11). "They're great for bringing wine home (or even to a trip), and they prevent the bottle from cracking and spilling."
---
Collapsible Water Bottle
Ally Lewing from Heritage Tours always travel with a foldable water bottle (amazon.com, $10). "We're all trying to take care of our planet, aren't we? This collapsible water bottle easily fits into my carry-on, but is durable enough that I'm not worried about it getting punctured."
---
Ballet Flats
For Jody Bear of Bear & Bear Travel, Repetto's ballet flats (shopbop.com, $325) are the perfect travel shoe. "If there is no pre-check at the airport, you can easily slip the shoe on and off at airport security. They are comfortable and stylish when I hit the streets running to my destination."
---
Handheld Luggage Scale
Engin Kadaster of Turkey At Its Best avoids excess baggage fees by taking a portable luggage scale (amazon.com, $10) on every trip. "We all get carried away with purchases in the countries we visit and do not know how our luggage is going to absorb all those new goodies."
---
Vacuum Storage Bags
Jessica Griscavage of McCabe World Travel has a genius packing idea: Use vacuum storage bags (amazon.com, $20) to compress clothing and maximize space in your suitcase. "I find these especially useful on ski trips. We can take all of our bulky ski gear — pants, gloves, jackets — and really compress the space. It makes packing with bulkier items so much easier."
---
Glamglow ThirstyMud Hydrating Treatment
Thomas Robinson combats dry airplane air by applying Glamglow's ThirstyMud Hydrating Treatment (sephora.com, $59). "I always use it on flights, and you really arrive with your skin feeling totally hydrated. Drinking plenty of water, of course, is key as well, but these are the little things that can really make the difference in taking some of the pain out of long haul travel!"
---
Packable Backpack
Jordan Harvey of Knowmad Adventures always makes sure to bring a foldable backpack (amazon.com, $85) that can be rolled up and packed away. "A must-have for adventure trips, this pack saves on space, but is extremely useful for day hikes, kayaking excursions, and more while you're traveling. It can also act as an extra bag on your way home if you plan to buy any souvenirs."
---
iPhone Battery Case, Trtl Travel Pillow, and Sleep Mask
Beth Jenkins of McCabe World Travel combats a low phone battery by carrying a phone case with a power bank built in (amazon.com, $25). And when it comes to the right travel pillow, Jenkins's top pick is the best-selling Trtl pillow (amazon.com, $30). "It is discreet, like a scarf, so you don't have a big, bulky neck pillow hanging off your bag or taking up much space in your carry-on. It also offers more natural head support." Oh, and she never forgets a sleep mask for overnight flights and restful shut-eye while traveling to different time zones.
---
De-puffing Eye Balm and Cashmere Scarf
For Marion Miller, Boscia's Super-cool De-puffing Eye Balm (amazon.com, $26) is a must-have for reviving tired eyes on long journeys. The solid stick format also makes this the perfect on-the-go product. Miller also always travels with an oversized cashmere and silk scarf from Chan Luu (zappos.com, $176) that could do double duty as a light blanket for the plane ride and an elegant wrap for evenings out.
---
Universal Travel Adapter and Drunk Elephant Umbra Sheer Daily Defense SPF 30 Sunscreen
Teresa Sullivan of Mango Safari loves this color-coded, five-in-one travel adapter (amazon.com, $35). "It fits in the palm of your hand and offers you four different adapter options, plus a USB connection. When we talk to clients about their trips to Africa, we always suggest this adapter." Sullivan also packs this daily sunscreen by Drunk Elephant (amazon.com, $34).
---
Pressure-reducing Earplugs
Holly Monahan of Ilex Luxury Travel swears by these airplane earplugs (amazon.com, $14 for four pairs). "Recently, I had to board a flight just hours after being diagnosed with an ear infection (a consequence of swimming with elephants, which is a different story). I needed all the help I could get, so I picked these up at the airport. Thanks to wearing these, taking some meds, and chewing gum like a maniac, I survived the flight with minimal discomfort. Now I just have to remember to wear earplugs the next time I jump into a pond with pachyderms."
---
Comfortable Allbirds Sneakers
Josh Alexander of Protravel International always travels with a pair of Allbirds sneakers (allbirds.com, $95). The comfy shoes are a cult-favorite and feature a simple design that makes them perfect for sliding on and off in the airport security line.
---
Waterproof Phone Pouch
For Marilyn Clark of Lighthouse Travel, this waterproof phone pouch (amazon.com, $8) is a must-have. "Since I specialize in travel to Hawaii and Tahiti, it's a no-brainer for me to take along my MPOW waterproof phone pouch. Even when I'm on the water (not in it), I have my phone in the pouch and I take photos with the camera on it. I usually keep my ID, credit card, and money in a smaller pouch inside, so I have everything I need around my neck or arm."
This article originally appeared on TravelandLeisure.com.