Taking Out Student Loans? Here Are 4 Ways Trump's Budget Could Affect You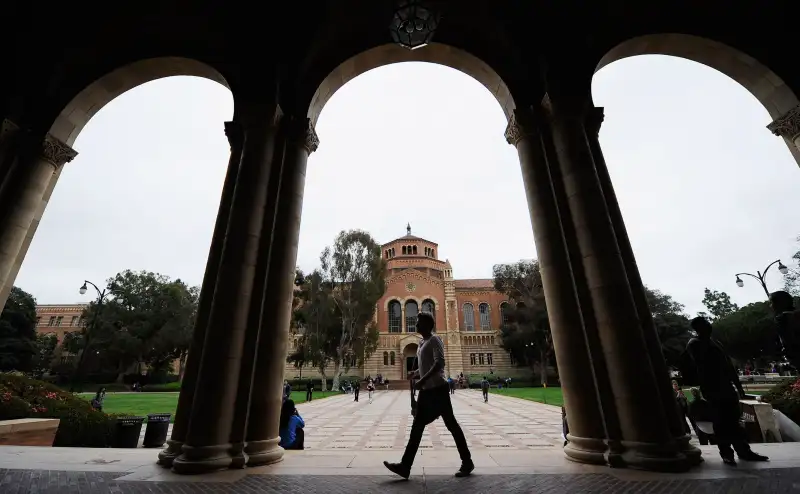 Kevork Djansezian—Getty Images
A first look at President Trump's proposed 2018 education budget revealed massive changes to the federal financial aid system, including work study cuts, reshaping student loan payments, and eliminating a loan forgiveness program.
The White House's official 2018 budget proposal isn't expected to be released until Tuesday, but the Washington Post obtained what its sources called "near final" documents that outline a more than $9 billion cut to the Education Department. The department's spokeswoman Liz Hill said in an email that the department wasn't commenting on the budget until it was released next week and that until then, negotiations are ongoing and numbers are preliminary.
A president's spending proposal has to go through Congress before becoming a budget, so it's possible these cuts will be tweaked or removed from the final version altogether. Still, they reveal Trump's and Education Secretary Betsy DeVos's education priorities. Here's what's on the chopping block for college students and student loan borrowers.
1. Public Service Loan Forgiveness Would Get the Axe
A program that forgives the debt of government and non-profit workers after 10 years would be eliminated, as Trump hinted at in a campaign speech last October. Public Service Loan Forgiveness (PSLF) was created under George W. Bush in 2007, meaning the first crop of borrowers will be eligible for forgiveness later this year. So far, more than 550,000 borrowers are on track for forgiveness. But the Government Accountability Office has estimated that as many as a quarter of U.S. workers could qualify based on the definition of eligible jobs. The program is supposed to encourage borrowers to take lower paying jobs that benefit their communities, such as public defenders or teachers. But it's also been criticized as an expensive handout to borrowers who took on massive debts to earn advanced degrees. If PSLF were eliminated, it's unclear whether people who were already counting on the program would be affected. In fact, those borrowers already feel in limbo, as a current lawsuit accuses the Department of Education of changing its mind about whether certain types of jobs qualify for forgiveness.
2. You'd Have to Pay More to Borrow for Graduate School
There are nearly 6 million borrowers who are enrolled in one of the government's five separate income-driven repayment plans, where your monthly payment is set based on how much your earn. Trump's budget would streamline those five plans into one and change the payment details.
Borrowers currently plan 10 or 15 percent of their take-home income. After 20 or 25 years, depending on the plan, outstanding debt is forgiven. For undergraduate borrowers, Trump is proposing (as he did while campaigning) that borrowers pay 12.5 percent of their income for 15 years. So, undergraduates would pay slightly more month-to-month, but less in the long run. Graduate borrowers, though, wouldn't be eligible for forgiveness until making 30 years of payments. Borrower advocates have called for simplifying the maze of student loan repayment options for years, but that change seems to be the silver lining in a budget that otherwise cuts programs those same advocates are fond of.
3. So Long, Campus Jobs
The government currently pays about $1.1 billion a year to employ more than 670,000 college students. Trump's budget proposal would cut that nearly in half, with a $490 million reduction to the Federal Work Study program. Work Study is far from a perfect program—because of an antiquated funding model, a majority of the funds go to older, private colleges, and higher education finance experts argue the money could be better targeted toward lower-income students. Regardless of those critiques, it's largely popular and research shows it's successful at helping students stay in college and graduate. The typical work-study student earns about $1,600 a year.
4. Interest-Free Loans Would Become Rare
There are two types of loans for undergraduates: unsubsidized and subsidized. Unsubsidized loans are available to all students—they're also the most expensive. Interest starts accruing on these loans as soon as you take them out. Subsidized loans, which include the relatively small Perkins Loan program, are reserved for students who demonstrate financial need. Direct subsidized loans don't start accruing interest until six months after you leave college. The grace period for Perkins loans is 9 months. The Washington Post reported the budget proposal calls for slashing $8 billion from the subsidized loan budget and $700 million for the Perkins loan program. While money for subsidized and Perkins loans will be reduced, the proposal calls for additional money for unsubsidized loans.
Other proposed cuts in the budget include eliminating money for a program that helps low-income parents enrolled in college pay for child care, and cuts to two programs (TRIO and Gear Up) that focus on college access.