Some Genius Bought TrumpPence2016.com for $10 in April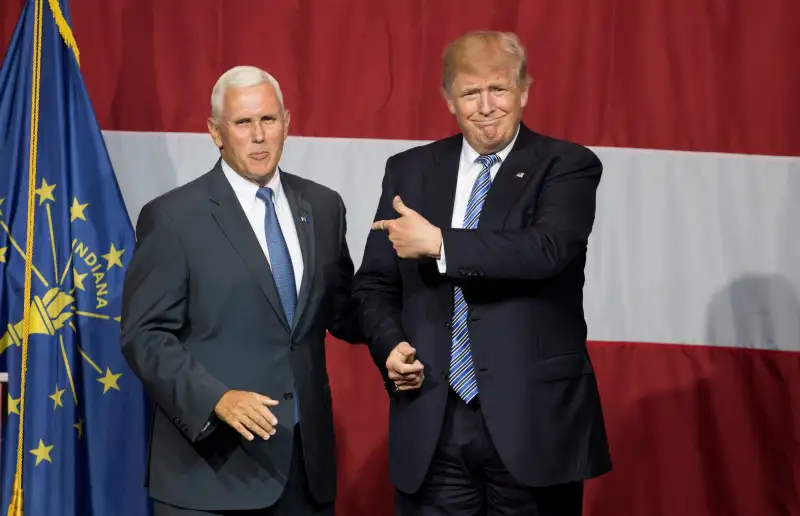 Tasos Katopodis—AFP/Getty Images
Every time there's a new social media service, people jump to snag @nike, @coke, @barackobama, and more on Twitter. It's called "squatting" on a domain, and squatters can often sell their handle to a brand that was too slow to the draw. Usually people don't use these accounts, so the platform gives them to the brands that want to use them, according to Twitter's user policy. But if a user is active, they usually keep it (see this funny piece in GQ about a Russian guy who has the @GQ Twitter handle and uses it).
This was the idea behind the genius who nabbed TrumpPence2016.com in April for just $10.
Shannon Burchett saw the future in the spring and purchased a flurry of Trump/Pence domain names when demand was nonexistent. Speaking with the Atlantic, Burchett said he considered the purchase an "investment" and that it may pay out in six figures. In reality, it was more of a gamble, something that Burchett admitted, likening it to winning the lottery.
Should it sell for the low six-figure sum of $100,000, that would be a nice 999,900% ROI.
Speculating on VP picks isn't a particularly sound investment strategy, but legit-sounding website domain names have a history of being a part of political subterfuge. As the Atlantic notes, TedCruzforAmerica.com was a site exhorting people to emigrate to Canada and JebBush.com was a redirect to the Trump campaign page.
Because of this, it's possible that the potential buyer of TrumpPence2016.com won't come from the campaign at all. While the only likely bidder for a squatted Twitter account in the case of a company is that company, politicians are in a race replete with ruthless enemies who would love to have some creative fun with a topical domain name.