Half of the Top 10 U.S. Colleges Are in the Same State — and Four Are Public Schools. Here's Why They Rule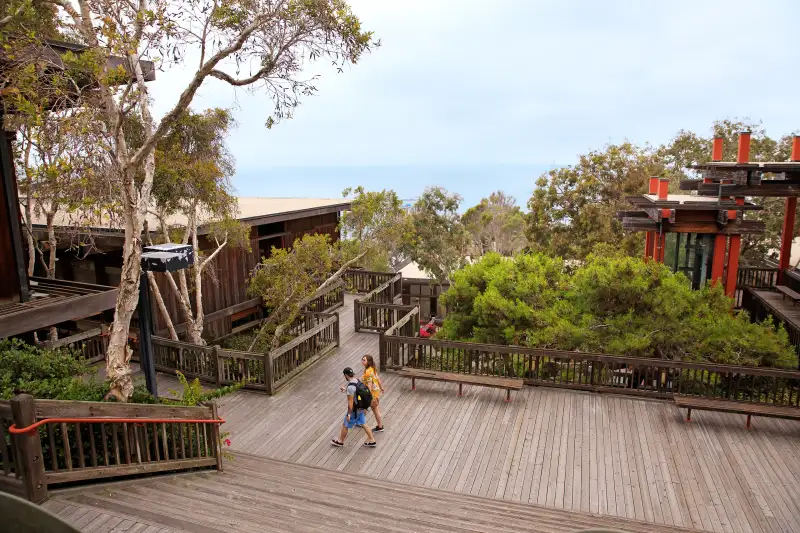 Photograph by Richard Benson for Money
If Money's 2018 Best Colleges rankings put you in a West Coast state of mind, there's a reason: This year's list was dominated by the University of California system.
The top-tier network of public colleges landed eight campuses in the top 100 this year — four in the top 10 alone. (A fifth California school, Stanford University, clocked in at No. 5, giving the Golden State fully half of the top 10 spots.)
Cameron Smither, an American Institutes for Research expert who helped Money wrangle its data, says the UC schools were so successful largely because of their high graduation rates, although other factors also played a role. The schools scored well for economic mobility as well as in a newly available measure of how many Pell Grant recipients graduate on time. The campuses got an extra boost because their students tend to borrow less than average.
Much of that can be traced back to the 1960 California Master Plan, which mapped out three college tracks: the UCs, the California State University system, and California Community Colleges. Each system had a distinct mission, according to John Douglass, a senior research fellow at UC–Berkeley's Center for Studies in Higher Education — but because the plan included the ability to transfer among them, it allowed students to start school at a lower-cost community college and still end up with a UC degree.
Early on, students had to pay only fees, not traditional tuition. And although those days are long gone—in-state UC students now pay $12,570 a year in tuition and fees — a focus on low costs has persisted. One-third of every tuition dollar goes toward student aid, says Pamela Brown, UC vice president for institutional research and academic planning, and about half of students graduate from the system without any debt.
Administrators are also trying to improve graduation rates by providing incentives for summer enrollment and using data to track students' progress toward their degrees. At UC-Riverside (No. 32), for instance, initiatives like learning communities — groups of freshmen with the same major who take the same courses at the same time — have boosted graduation rates for African-American students and improved retention rates overall.
The UC schools have one other advantage: They launch graduates into the California economy, which is packed with lucrative gigs in Silicon Valley's San Jose as well as in San Francisco and L.A. — recently named by Indeed as the first-, second-, and fifth-best cities for job seekers.
Still, there are downsides. The admissions process is under fire as interest has exploded — five UC campuses received more than 100,000 applications each this year, according to Inside Higher Ed. Now critics complain that the schools are becoming too hard to get into.
Parkland shooting survivor David Hogg, for instance, said this spring that he'd been rejected by UCLA, UC-San Diego, UC-Santa Barbara and UC-Irvine — despite his 4.2 GPA and 1270 SAT score. Last year, after UC-Irvine saw 800 more students enroll than expected, the school revoked 500 acceptances — and then, after public outcry, reversed its decision.
"It's challenging," Diane Geller, a Los Angeles-based certified educational planner, tells Money. "The UC system has always been selective, but now it's selective and unpredictable."
These days, California high school seniors in the top 9% of their class — or statewide — are guaranteed at a spot at one of the UCs, although not necessarily their first choice. Each school has its own holistic application review process that considers extracurricular activities and other achievements alongside academics.
Geller says that subjectivity can be worrisome for teens and families. "The big concern with parents is 'How much is this going to cost?' and 'Can my kid get in?'" she says. "It is very competitive … a lot of people have heard the horror stories."