5 Valentine's Day Scams to Watch Out For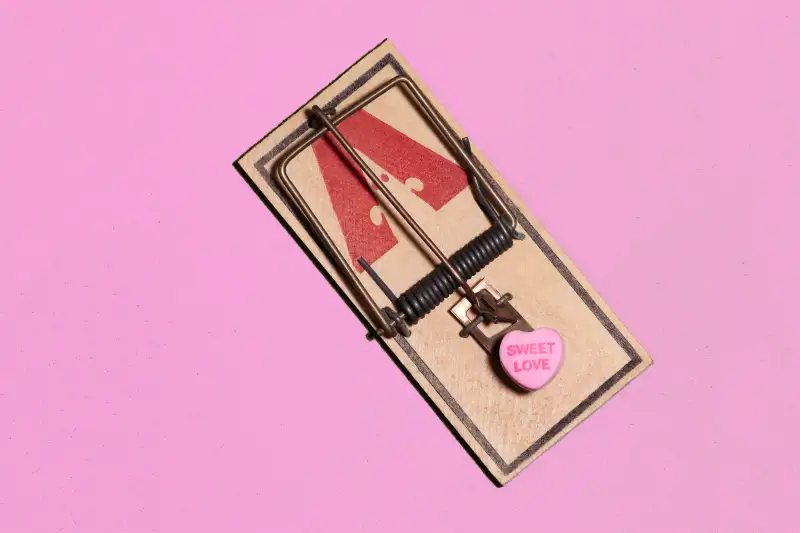 Jan Cobb Photography—Getty Images
This Valentine's Day love will be in the air as folks in relationships profess their mutual affection and hopeless romantics woo their crushes with flowers, chocolates, cheesy poetry and the messages on those weird, tasteless candy hearts. But, while earnest lovers engage in cringe-worthy PDA, a much darker force will be afoot seeking to take advantage of all the lovey-dovey message sending—scam artists.
Whether you're celebrating with a longtime companion or just hoping to get through the day unbothered, this Valentine's Day here are five scams to be on the look out for (and sorry, but your significant other picking a cheap place for date night doesn't count).
Fake E-Cards
If you get an unexpected message from "someone you know"—or a message with some other similarly innocuous subject line—be wary. Fraudsters will try to entice you into loading malware on your computer by clicking the links in emails or by creating fake sites that mimic popular greeting card sites. If malware makes it onto your machine, you and everyone in your address book could be in for a deluge of spam.
Read next: All the Best Valentine's Day Restaurant Freebies, Deals, and Specials
Consumer Reports recommends you protect yourself by "looking for the confirmation code that proves the card is legitimate," and by going directly to a greeting card website by typing the url into your browser rather than clicking the link in an unexpected email.
Bogus Deliveries
Con artists use a similar tactic to get you to click links that install malicious software by sending emails about gift and flower deliveries supposedly for you. If you don't think you ordered a delivery, don't expect one, or don't recognize the name of the company, don't open any links in these emails. If you're unsure, you can always call the company on the phone directly, using a number you find yourself—through Google, for instance, just not in the email you receive.
Undelivered Flowers
Scammers prey on the eagerness of your loving heart by sending spam emails that say a bouquet of flowers you ordered can't be delivered unless you re-enter your credit card information online, which scammers then use to rack up charges. As with any email, be wary of who the sender is and cautious about clicking any links in the email.
An easy way to protect yourself from this sort of scam is to order flowers on the phone or in person through your local florist. As an added bonus, you'll get to spend a few minutes in a sweet-smelling shop completely full of flowers and you might even make a new friend in your neighborhood!
Read More: More Valentine's Days Scams to Avoid
Bogus Packages
According to the Better Business Bureau, one popular scam in circulation goes like this: a delivery man shows up at the door with a beautiful basket of flowers, wine, and other sundry gifts. He tells you he's just there to deliver the flowers and doesn't know the sender and that a card will come later, but that there's a tiny charge tacked on to the delivery you have to pay on your credit card (perhaps a surcharge on alcohol). The delivery guy scans your card and bids you goodbye, having downloaded all the data on your card in the process.
If you get a delivery from a friend or a secret admirer, it's ok to show your ID to prove your identity but be wary of any delivery service you don't recognize and don't give over your credit card—any secret admirer who expects you to pay a fee to have his or her gift delivered ain't worth your time anyway, honey.
Catfishing
We all know Valentine's Day can be an especially rough day for the lonely hearts out there and the criminals looking to take advantage of people are no different. According to the FBI's Internet Crime Complaint Center, losses from online romance scams totaled more than $86,000,000 in 2014.
Typically, fraudsters will "meet" someone online and cultivate a romance from a distance that feels real to the innocent victim on the other then. Eventually, the scammer will ask the victim for a sum of money to help with an urgent family emergency or to help cover the cost of a plane ticket to finally meet in person. Or the scammer might entice the victim into performing sex acts on video and then threaten to post the video online if he or she doesn't pay up.

Many people these days are dating online—it can be a great way to meet that special someone. But if you're first matching with people on the Internet, meet in person before you start sending them gifts. And if they're hitting you up for cash right off the bat, scam or not, they probably aren't that great anyway.