Will My Kids Make Any Money Off My Vinyl Collection? I Asked Experts to Find Out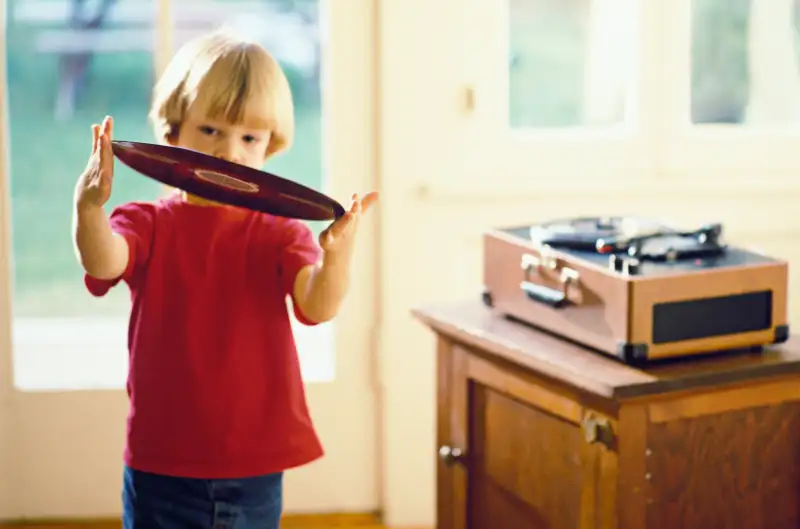 A few months ago, a neighbor died and his adult kids were having an estate sale. I got wind that a slew of his old records were being sold, so I dropped everything and hustled down the sidewalk straight to his collection. It was clear he was a fan of the classics — literally, every other thing was a classical piece I didn't recognize. But in between the Chopins and the Tchaikovskys were first pressings from the '60s of John Denver, Johnny Mathis, and the Chipmunk's Christmas for some reason. I walked away with Bing Crosby's "White Christmas" and a Nat King Cole album, both in great condition.
The total cost was $2.
"What a steal," I thought.
But quickly, I went morbid. I started thinking about my own death, and my growing vinyl collection. I only recently started buying vinyl, but it's become addictive — and expensive. Most of my purchases aren't from estate sales or thrift stores, and new albums cost anywhere from $15 to $40 a pop. I'm embarrassed to say, hundreds of dollars have left my bank account every month since the new year to build my collection, and I was now having a tinge of buyer's remorse.
I wondered: Will my kids be selling off my prized vinyl collection for $1 apiece one day in the future? Is my $40 semi-limited edition Father John Misty double LP going to someday cost the equivalent of a pack of gum or whatever future kids chew?
"It's going to depend on whether Father John Misty has any fans 15 years from now," says Carl Mello, the director of entertainment product merchandising at Newbury Comics in Boston. This store issues numerous exclusive releases each month, with limited pressings of older albums that feature special colored LPs and different artwork. I'd recently dropped $30 there on a copy of Paul Simon's Graceland, limited to just 2,000, which I felt was a solid purchase that wouldn't depreciate overnight. But now I'm not so sure.
"There's lots of things that were collectible type releases from artists who were the bell of the ball 20 years ago, that aren't worth anything now," he said. "It's a fluctuating market — and that's what makes it interesting."
That made sense, but didn't make me feel good about the wads of cash I'd dropped recently. He offered another example to drive the point home.
"R.E.M. used to be very big and collectible, and now you can't give their records away to a 20-year-old," Mello added.
That stung. I had recently bought the 25th anniversary vinyl reissue of R.E.M.'s landmark Out of Time, and it looks like my ROI is less than nothing.
Confused, I approached another expert — Ben Blackwell, who co-founded Third Man Records with Jack White — with my concerns about the future monetary value of vinyl.
"To me that seems dumb as s***," he said bluntly. "You should think of resale value for a car or a house. But a record? If you're getting into anything for any sort of monetary reasons, you should just be buying f***ing stocks."
That made sense. Except it wasn't what I was told way back when.
Growing up, I distinctly remember thinking that the pop culture items I bought could one day be worth a fortune. My father passed along this mentality, gifting me his baseball cards from the '50s: Mickey Mantle, Hank Aaron, Willie Mays. They weren't in perfect condition, but they were heirlooms that, at the time, were worth several hundreds of dollars. (Nowadays, they could easily fetch several thousand bucks.) My childhood friends were jealous. I always had this cardboard nest egg if things got really tough.
It seems like everything is now collectible to someone. Original iPods — ones with click wheels that can't stream any music — go for hundreds of dollars on eBay. A Japanese version of Indiana Jones and the Temple of Doom, on the long-defunct betamax tape, lists for $99. A Space Jam beach towel goes for $35.
No one really needs records today: You can access any album on your phone at any point in time, anywhere. But nobody needs any of the collectibles above either. So where does the leave me and my vinyl collection?
Clearly, I'm not the only person fascinated with vinyl. According to Forbes, vinyl sales are projected to reach $1 billion this year, with 40 million new pieces being sold. Collectors flock to subscription services like Vinyl Me, Please, which is like a Columbia House for vinyl nerds — except it isn't cheap. For $75 every three months, you get an exclusive album delivered to your door monthly, plus some art work and a cocktail recipe that's supposed to match up with album.
My own personal weakest (or proudest) moment as a newish collector came towards the end of January, when I impulsively ordered an extremely limited-edition Ryan Adams box set for $179. The package featured 7-inch singles of every song on his new album, plus new, unheard B-sides. It also came with a box that became a concert stage and cardboard cutouts of him, his band, and his pet cat that you could position on the mock stage if you were feeling super bored or super lonely.
When it finally arrived, three months later, I contemplated not opening it. Could I maybe put my kids through college by keeping the box set in pristine condition and selling it for a mountain of cash down the road?
I still didn't really understand what makes some records valuable and others worthless, so I asked DJ Cassidy. He's a professional DJ who's performed for Barack Obama, Jay Z, and Usher, and his collection of 35,000 records is insured. Vinyl's worth, he said, is rooted in its personality, not whether or it's limited or the color blue.
"MP3s have no character. CDs have no character," he said. "Cassettes have character in the sense that a wise listener might be able to guess. But it was never looked upon as a desirable character. Vinyl has worldwide, agreed-upon praise on its character and its texture and its sound. People love that sound."
Sound. That was comforting to hear.
With those words I let go of the idea that I should keep my records sealed in plastic because listening to them would decrease their value. I also dropped my morbid curiosity on the likelihood of my kids profiting one day off a killer music collection. I decided, going forward, it would probably be just about the music. And who knows? Maybe that R.E.M. album will be the next Mickey Mantle.