The Greatest Airline You've Never Flown Is Going Public This Week
Money is not a client of any investment adviser featured on this page. The information provided on this page is for educational purposes only and is not intended as investment advice. Money does not offer advisory services.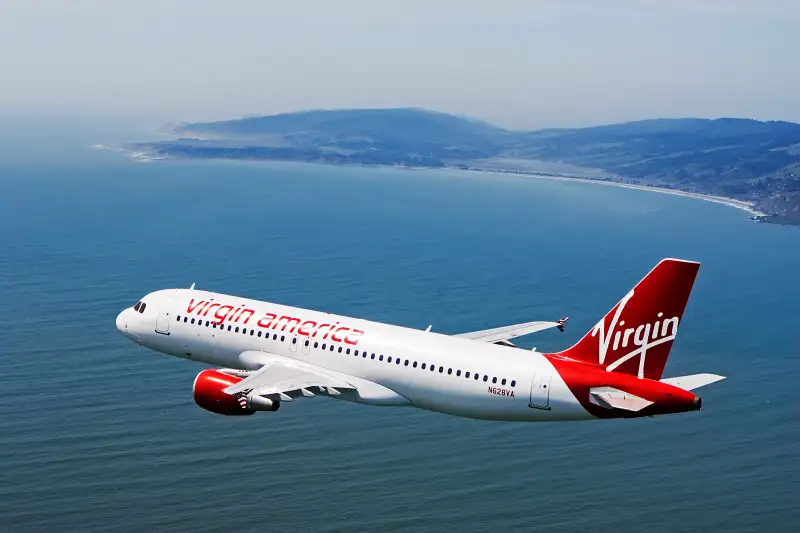 Herb Lingl—Aerial Archives
For most of its existence, Virgin America, the U.S. offshoot of Richard Branson's Virgin Group, has been the equivalent of a TV show that's beloved by critics and viewers but has trouble attracting a large enough audience to be a true success. The airline, which began flying out of a San Francisco hub in 2007, has lost tons of money year after year, even while it routinely nabbed top honors among domestic airlines for having the best combination of service and amenities. Virgin America remains a beloved darling among travelers, who enjoy the leather seats, wi-fi, seatback screens with live TV, and power outlets available to all passengers on all planes. It was named the country's best domestic airline by Travel and Leisure readers for 2014, marking the seventh year in a row Virgin America has held the top spot. The fares are often very good too, with deals like San Francisco to Los Angeles from $69 each way and San Francisco to Boston starting at $179.
Nonetheless, only a small portion of travelers actually have firsthand experience with the airline. For all of 2013, Virgin America carried a total of roughly 6.2 million passengers. Southwest Airlines, by contrast, was responsible for transporting 108 million passengers last year. Even though Virgin America has expanded its route network over the years, recently adding Dallas-Love to its roster of destinations as one example, the carrier still only serves 13 U.S. metropolitan areas. What's more, many of its connections come up short in the convenience department. For instance, Virgin America has service to both Austin and Las Vegas, but if you want to book a flight between the two cities with the airline, you'll have to fly by way of San Francisco.
There has been plenty of skepticism about whether or not Virgin America can have a successful run in the U.S. marketplace. "I'm surprised it has survived this long, given the huge losses accumulated to date," Scott Hamilton, managing director of aviation consulting firm Leeham Co., said in 2012. "I don't really see a place in the market for Virgin America."
And yet the airline is alive and apparently doing quite well today, with an IPO planned for this week. As Businessweek and others have noted, the timing of the public offering couldn't be better: The Virgin America IPO is taking place at a high point for the airline business, with strong demand and cheap fuel prices helping carriers to pull in record profits. Speaking of which, after a long string of quarters noting loss after loss, Virgin America has been in the black of late as well, recording a net profit of $60.2 million through the first nine months of 2014, up from a loss of $4 million for the same period the year before.
In its planned IPO, Virgin America is expected to sell more than 13 million shares starting at a price of $21 to $24. Should investors buy in? That's a gamble. Airline stocks have had an extraordinary run in 2014, but there's no telling if the upward trajectory will continue. We just hope that at some point, more travelers get to fly on what sounds like a pretty terrific airline.