Walmart Just Found a New Way to Take On Amazon. Here's How You Could Benefit
Money is not a client of any investment adviser featured on this page. The information provided on this page is for educational purposes only and is not intended as investment advice. Money does not offer advisory services.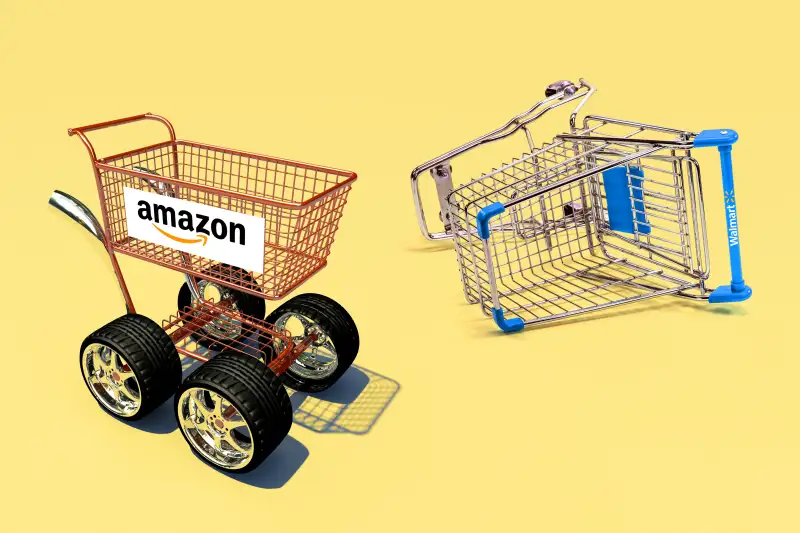 Photo illustration by Money; Shutterstock (1); Alamy (1)
Walmart, which has been testing meal kits in about 250 of its stores, says it will expand that effort and sell prepared meals at 2,000 locations later this year.
"More than 80% of Americans don't know what they will have for dinner tonight," Walmart senior vice president Tyler Lehr told Bloomberg. And that's a big opportunity for the world's largest retailer.
Walmart's push into the meal kit business is yet another step to bolster its grocery division, which accounts for more than half its overall revenues. But this is also another front in Walmart's war with Amazon — which is proving a lot harder than investors assumed.
Amazon announced its own foray into the $5 billion meal kit business late last year, which is expected to accelerate with the company's acquisition of Whole Foods.
How is Walmart's War Against Amazon Going?
Investors have come to believe that the world's largest retailer is the one bricks-and-mortar store that has a legitimate shot at challenging Amazon for e-commerce supremacy.
Driving that narrative has been Walmart's push into something called omni-channel retailing, a strategy of allowing customers to peruse, purchase, receive, and return merchandise through any number of different channels from online to mobile apps to delivery services to physical stores.
Omni-channel retailing has helped Walmart seemingly turn a disadvantage — its legacy bricks-and-mortar locations, with all the costs associated with operating those properties — into a competitive edge against Amazon. After all, Walmart has more 5,300 stores nationwide from which it can facilitate grocery pick ups and deliveries, hassle-free returns, and same-day delivery services. Amazon, by contrast, has fewer than 500 Whole Foods locations to accomplish the same tasks.
But a funny thing happened to Walmart recently on its way to omni-channel dominance. The one channel that really matters to investors — online sales — suffered a major slowdown.
Walmart recently reported that its e-commerce sales grew 23% in the most recent quarter. Relative to the retailer's overall revenue growth of 4%, that seems pretty good — at least at first blush.
But e-commerce expectations are set by the 800-lb. gorilla in this space: Amazon. And relative to the e-tailing giant's 38% revenue growth in the same time period, Walmart's online sales growth looked tame.
What's more, compared with Walmart's three prior quarters of 50%-plus online sales growth, it was downright disappointing."It is difficult to ignore the magnitude of the slowdown," RBC analyst Scot Ciccarelli said in a note following the announcement.
Investors haven't been ignoring this fact.
Walmart shares lost around 15% of their value in the immediate aftermath of the news, and are down 19% from their January peak.
The magnitude of the stock drop has been even more surprising, given that Walmart is considered a "Steady Eddie" stock that investors have historically gravitated to in times of rising market volatility. In the 2008 financial crisis crash, for instance, the retailer's stock rose 20% while the market fell 37% and Amazon shares lost 45%.
But Walmart's recent difficulty, amid the recent stock market slide, demonstrates just how difficult the task of taking on Amazon is.
What's Behind Walmart's E-Commerce Slowdown?
Part of Walmart's slowdown in online sales was expected since the retailer finished incorporating Jet.com, after purchasing it in 2016. "A smaller portion of the slowdown was unexpected as we experienced some operational challenges that negatively impacted growth," Walmart CEO Doug McMillon said on a conference call with investors.
Those operational challenges included overstocking warehouses with electronics for the holidays, leaving limited room for everyday items, like paper towels. The results had analysts reassuring investors that the omnichannel strategy will work, not just in Walmart, but also for other retailers, like Target.
"We believe the slowdown in WMT's e-comm sales growth was partially self-inflected [sic] and the combination of a good consumer environment, plus share gains could benefit [Target's] digital sales," wrote Oliver Chen of Cowen & Co.
What Other Challenges Does Walmart Face?
Despite the company's disappointing quarterly sales, Walmart officials reaffirmed their forecasts that the company's e-commerce sales for the full year will grow "approximately 40%."
The question isn't whether or not the stores have a purpose in adapting to online, but instead whether they provide enough protection. Online sales come with lower margins, proofed by the 0.6 percentage point drop in Walmart's profit margins this quarter.
As Morningstar analyst John Brick pointed out, Walmart's gross profit margins fell "due to the firm lowering prices to better compete and the extra variable costs associated with shipping and continued wages, technology, and efficiency investments on tap for 2018."
If these results say anything, though, it's just that Walmart still has a long way to go, like all retailers shifting from store-first to digital.
This points to an inherent advantage that Amazon, which is coming to omni-channel retailing from the e-commerce side, has over Walmart.
"From my experience, companies that start in the digital world and slowly and surely add offline have been more successful than companies that started in the offline world and added digital," Wharton marketing professor David Bell told Wharton Magazine. That's because the digital information advantage that Amazon has will help allow it to create a physical shopping experience that appeals to today's modern consumer, Bell added.
Meanwhile, it's unclear if Walmart can appeal to that same crowd.