Even Cheaper Groceries Are Coming to Walmart and Target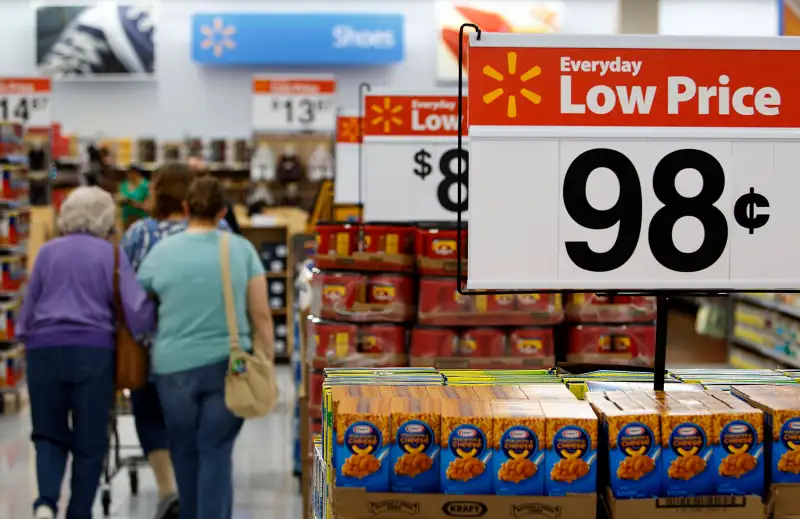 Bloomberg—Bloomberg via Getty Images
Walmart and Target try to win customer loyalty based on an "everyday low price" business model. And now it looks like the prices from both retailers are going even lower.
Walmart sells more groceries than any other supermarket in America, and the company is pushing a broad price-cutting initiative to ensure it stays on top of the competition. Reuters reported this week that Walmart has been slashing prices on staples like eggs and milk in stores throughout the Southeast and Midwest in order to compete better with low-price upstarts such as Aldi.
Aldi, which is owned by the same company as Trader Joe's, routinely gets top marks for low prices in consumer surveys. But price checks conducted by Reuters show that Walmart has undercut Aldi in many markets around the country. A basket of 15 common grocery store purchases (milk, bananas, peanut butter, chicken breasts, paper towels, etc.) cost 5% to 10% less in Walmart stores where price cuts have gone into effect, according to Reuters.
Groceries are incredibly important to Walmart because the category drives customer traffic. Consumers buy groceries once a week—or even more frequently—and when they come into stores to stock up, they're likely to browse other aisles and buy goods that are more profitable for retailers. Groceries are often credited as one of the big reasons Walmart isn't floundering in the larger battle to compete with Amazon—which still hasn't figured out a way to convince a critical mass of consumers that it's good to buy groceries online.
Target, on the other hand, has struggled mightily in its push to become a go-to destination for grocery shoppers. Consumers generally regard Target's grocery section as being mediocre on pricing and selection. And Target's failure to woo food shoppers means that store sales have suffered far beyond the grocery aisles.
On Tuesday, Target released earnings for the fourth quarter and full year of 2016. They aren't pretty. Comparable store sales during the fourth quarter—which include the all-important winter holidays—were down 1.5%, and profits dropped 43% compared to the same period the year before.
Target's stock was hammered in the aftermath of the dismal earnings report. Shares were down more than 13% on Tuesday, compared to a dip of around 1.5% for Walmart.
To try to win back sales going to Walmart and Amazon, among many other competitors, Target says it will embark on a major price-cutting initiative. "We will invest in lower gross margins to ensure we are clearly and competitively priced every day," Brian Cornell, chairman and CEO of Target, said in a statement. "While the transition to this new model will present headwinds to our sales and profit performance in the short term, we are confident that these changes will best-position Target for continued success over the long term."
So get ready: Walmart and Target are betting that they can lure customers in with the cheapest groceries in town.