Walt Disney World Agrees to Raise Its Minimum Wage to $15 By 2021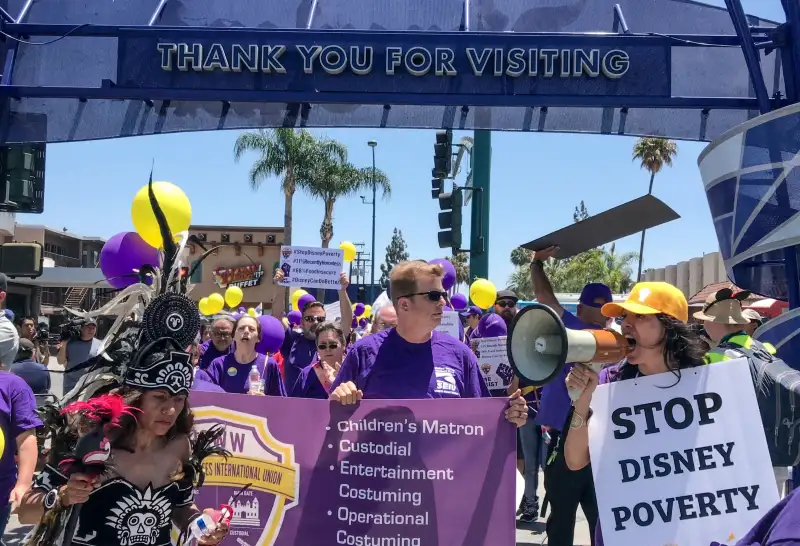 Jeff Gritchen—The Orange County Register—AP
After almost a year of protests and negotiations, Walt Disney World has reached an agreement with a group of unions to raise its minimum wage pay to $15 an hour by 2021.
The move will affect some 38,000 Disney service employees represented by the unions — most of whom make less than $11 an hour, Jeremy Haicken, president of the Local 737 union, tells Money.
The pay increases — part of a new contract that will be voted on at the beginning of September — will come in annual $1 increments, with minimum pay rising to $11 in December 2018, $12 in March 2019, $13 in September 2019, $14 in October 2020 and $15 in October 2021, according to a statement from the Service Trades Council Union.
Disney World had originally offered its employees a 2.5% salary raise and no bump for the starting minimum wage, which the unions rejected by a 93% margin. Another offer to raise employee wages by 50 cents was also dismissed as inadequate.
The theme park has been facing public pressure to increase wages amid worker protests since last year, both at the Magic Kingdom in Orlando, Fla., and at Disneyland in California. The salary negotiations came as Disney's revenue for its theme-park division increased by 6% in its third quarter, totaling $5.2 billion.
The contract is a significant win for unions, which are calling it a "historic" agreement.
"You don't read about union achievements like this everyday," Haicken said. "This wage settlement with Disney shows that the union movement is alive and is capable of achieving major gains for working people, even in the south."
But the fight for a living wage for Disney employees wasn't easy, according to union reps. Late last year, Disney announced it would give its employees one-time bonuses of $1,000 after government tax cuts were passed in January. But it excluded union workers from receiving the bonuses, saying they would not get a bonus during contract negotiations. The unions filed a complaint with the National Labor Relations Boards, which sided with Disney, but were ultimately able to secure the bonuses for their workers as part of the new contract.
The deal also includes retroactive pay of 50 cents an hour or 3 percent, "whichever is greater, for all hours worked back to Sept. 24, 2017," Disney said in a statement.
The higher wages are expected to significantly boost the region's economy. Approximately $1 billion in wages will flow into Central Florida's economy with the passage of the new contract, the Service Trades Council Union said.