How to Watch the NCAA March Madness Sweet 16 Games for Free Online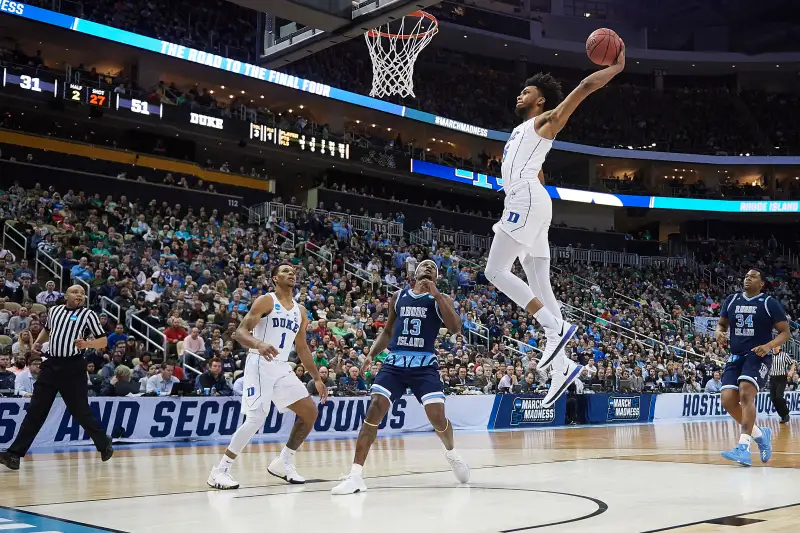 Icon Sportswire—Icon Sportswire via Getty Images
The 2018 NCAA Men's Division I Basketball Tournament has been full of stunning upsets that no one saw coming: After the first round of March Madness games, not a single person still had a perfect bracket.
The upside of everyone's NCAA brackets being busted is that Little Caesars is giving away free pizza to all customers on Monday, April 2. That was the March Madness deal promised if a No. 16 seed in the NCAA tournament made history by beating a No. 1 seed—which is exactly what happened when the University of Maryland, Baltimore County, beat the top-seeded University of Virginia last Friday.
Fans can expect more madness and excitement ahead now that we're heading into the Sweet 16. The NCAA Sweet 16 games tip off on Thursday, March 22, and Friday, March 23. The winners of those matchups play again on Saturday and Sunday for the right to go to the Final Four on the following weekend at the Alamodome in San Antonio, Texas. (The NCAA tournament ends on Monday, April 2; a full schedule of the remaining games is below.)
If you want to know how to watch remaining March Madness games live online for free, or how to watch March Madness on TV, we've got you covered.
How to Watch Sweet 16 Games Live on TV for Free
From now on, all March Madness games are being broadcast on either CBS or TBS. TBS is a pay channel, so to watch on TV you must have a cable or satellite TV package that includes TBS. On the other hand, CBS is a network, and you should be able to watch your local CBS station on TV either with a basic cable package or for free with a digital antenna.
How to Watch Sweet 16 Games Online for Free
There are many options for live-streaming remaining March Madness games. First off, the NCAA March Madness Live app has a new Fast Break feature allowing anyone to stream games for free—at least for a limited time. After a preview period—which could be long enough to catch an entire game of your choosing—you will be required to log in with a pay TV account number and password. Viewers can use the Fast Break feature on a browser in your desktop or on any device after downloading the NCAA March Madness Live app.
You can also use streaming services that include CBS and TBS to watch March Madness online. CBS live-streams all of its content via CBS All Access. The service costs $5.99 per month, and new subscribers can try it out for free during a one-week trial period.
Other, more comprehensive streaming services come with packages that include TBS, CBS, and dozens more channels. Among the options are DirecTV Now, Hulu Live, Playstation Vue, Sling TV, and YouTube TV. These services all include Turner-owned pay TV channels like TBS in their packages, and in most of the country subscribers can also stream local broadcast channels like CBS.
Streaming TV packages cost roughly $20 to $40 per month, but all have free trials. If you're a new subscriber who qualifies for a free trial, you can stream as much as you want for a week or so before being charged the regular monthly rate. Just remember to cancel before the free trial ends if you are not interested in becoming a paid subscriber.
So which games are on CBS, and which are on TBS? Here is the broadcast schedule for all the remaining games in the 2018 March Madness tournament, including the Sweet 16, Elite 8, and Final 4, courtesy of ncaa.com.
2018 Sweet 16 Game Schedule
THURSDAY, MARCH 22
Loyola-Chicago vs. Nevada: 7:07 p.m. ET on CBS
Texas A&M vs. Michigan: 7:37 p.m. ET on TBS
Kansas State vs. Kentucky: 9:37 p.m. ET on CBS
Florida State vs. Gonzaga: 9:59 p.m. ET on TBS
FRIDAY, MARCH 23
Clemson vs. Kansas: 7:07 p.m. ET on CBS
West Virginia vs. Villanova: 7:37 p.m. ET on TBS
Syracuse vs. Duke: 9:37 p.m. ET on CBS
Texas Tech vs. Purdue: 9:59 p.m. on TBS
2018 Elite 8 Game Schedule
SATURDAY, MARCH 24
Teams TBA: 6:09 p.m. ET on TBS
Teams TBA: 8:49 p.m. ET on TBS
SUNDAY, MARCH 25
Teams TBA: 2:20 p.m. ET on CBS
Teams TBA: 5:05 p.m. ET on CBS
2018 Final Four Game Schedule
SATURDAY, MARCH 31
Teams TBA: 6:09 p.m. ET on TBS
Teams TBA: 8:49 p.m. ET on TBS
2018 National Championship Game
MONDAY, APRIL 2
Teams TBA: 9:20 p.m. ET on TBS
We've included affiliate links in this article. Click here to learn what those are.