How to Watch the USA vs. France Women's World Cup Game Online for Free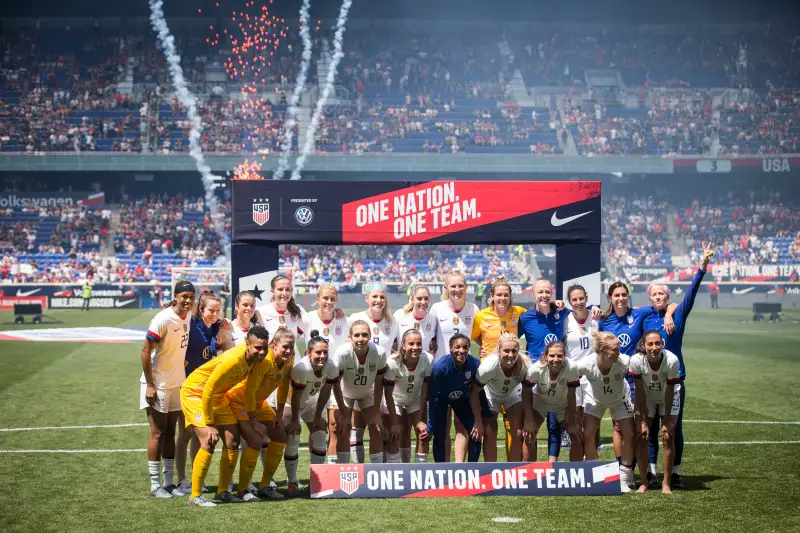 Ira L. Black - Corbis—Corbis via Getty Images
The 2019 women's World Cup kicked off on Friday, June 7, and after the top-ranked U.S. national team cruised undefeated in group play, and a tough 2-1 win against Spain in the round of 16, next up is USA vs. France on Friday, June 28.
Team U.S.A. won the World Cup four years ago in Canada, and America's team this year — featuring Alex Morgan, Julie Ertz, Megan Rapinoe, and other world-class soccer players — is again the favorite to win it all at the tournament, hosted in 2019 by France.
Here's everything you need to know to watch the U.S. women's national team in the World Cup 2019 — online or on TV, for free.
When Does the U.S. Women's Team Play in the World Cup?
If you're looking to watch the 2019 women's World Cup on TV, the games are being broadcast in English on a combination of local Fox stations (available free nearly everywhere) and the pay channel FS1. Spanish broadcasts of the World Cup 2019 are also available on Telemundo, NBC Universo, and/or Telemundo Deportes.
Here's the World Cup schedule for Team U.S.A., and what TV channel the U.S. national team is on:
Friday, June 28
• USA vs. France, 3 p.m. ET on Fox, NBC Universo, Telemundo Deportes
Here's the rest of the women's World Cup schedule in the round of 16, and beyond.
Many World Cup matches, including the championship game, are on Fox. To watch these women's World Cup matches, simply find your local Fox channel on your TV.
If you don't have cable, you can still watch USA play in the World Cup by connecting an HDTV antenna to your TV. You can buy a good digital TV antenna for $25 and up, and it will allow you to tune in local channels of free, over-the-air broadcast networks, including Fox, ABC, CBS, and NBC.
The exact list of channels you can watch for free with an antenna will vary based on the strength of the antenna, where you live, and where the antenna is placed in your home. In most of the country, a digital antenna is all you need to tune in all the major networks, including Fox, therefore allowing you to watch U.S.A. in the World Cup 2019 for free.
While today's USA vs. France World Cup game is on Fox, some other women's World Cup games have been broadcast on FS1. That's a pay channel that's included in most cable and satellite TV packages. If you want to watch FS1 on regular TV, you need to have cable or some equivalent — but there are also ways to live stream women's World Cup games for free.
How to Live Stream the USA vs. Spain World Cup Game
Live streams of USA games, and all 2019 women's World Cup matches, are available at FoxSportsGo.com and the Fox Sports Go app. To access these World Cup live streams, however, you must log in with a participating TV provider account number and password. In other words, you must have cable or another pay TV package.
There is also a Telemundo live stream of World Cup matches, though fans may have to log in with pay TV account information after a free preview of live games.
Another way to watch France vs. USA and other U.S. national team games online — for free, no less — is by subscribing to a live-streaming TV service that includes local Fox stations and FS1 in its bundle of channels. The live-streaming TV services FuboTV, Hulu Live, DirecTV Now, Playstation Vue, and YouTube TV all come with local Fox channels in most of the country, as well as FS1, so you watch every World Cup 2019 game if you like.
These live-streaming services normally cost around $40 to $50 per month for the base package, but they all have free trials lasting five to seven days for new subscribers. So you could register for a subscription and live stream the World Cup for free for a few days before deciding if you want to becoming a paying subscriber.
Another, cheaper live-streaming TV option is Sling TV, which is available for only $15 for the first month ($25 monthly afterwards). Local Fox channels are available online with Sling TV in some (but not all) parts of the country. If you want to watch World Cup games on FS1, sign up for the Sling Blue package, which comes with FS1.