What Does an Employment Background Check Show?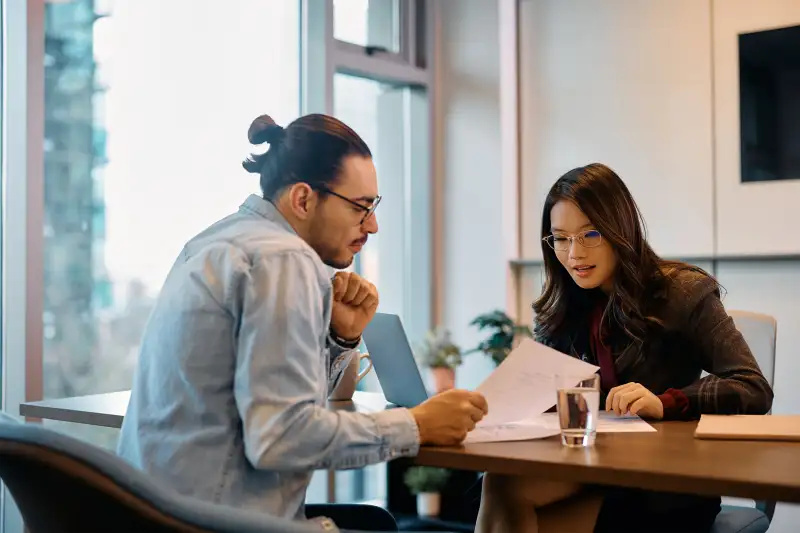 You apply for your dream job, nail the interview and get a conditional offer of employment. Then the employer asks you for your permission to run a background check.
Wondering what your new employer will learn about you from the background check and how they'll use the information? Read on to discover what's included in an employment background check and why it matters.
Table of contents
What is typically inspected in an employment background check?
Pre-employment background checks aren't all the same. Depending on the employer, the background check service and your state's regulations, background checks can contain different information and go back varying lengths of time. Here are the things that potential employers most commonly inspect when conducting a pre-employment background check.
Criminal records
An employee background check almost always looks at criminal history. The criminal background check typically shows misdemeanor and felony convictions within a specified time period, usually going back about seven years. Search results could also show arrests that didn't result in a conviction.
Many states have laws that limit the look-back period for pre-employment criminal background checks, however. These local laws could also limit the types of offenses that can be shown in your report.
If you've had convictions that have been expunged, they're unlikely to show up during most pre-employment background checks (although they could). Sealed records also shouldn't show up, unless you're applying to be a police officer or to get a gun license.
Some background check companies will alert the employer if you're convicted of a crime or a motor vehicle violation after you start working. This service isn't standard with employment background checks and is most commonly used in industries like transportation, financial services and healthcare. Employers must let you know if they'll continue to monitor your criminal records after you've been hired.
Employment history
Often, companies hire applicants based mainly on their professional experience, so it's critical that the employment history on your resume or job application is accurate. The background check company will likely contact your previous employers to confirm your reported work history. They might verify:
Your dates of employment
Job title
Responsibilities
Any other information you listed
Most background checks focus on the facts of your past employment, like dates and responsibilities, rather than trying to find out about your work performance. Some states have laws regarding what information employers can share during employment verifications. Many employers ask for professional references as well.
Education
If you list a degree on your resume, a potential employer may want to confirm that it's valid. Background check services often reach out to all colleges or institutions you listed to verify that you did attend and earn the degree you claim. They'll also verify the dates you attended. Some employers will want to confirm your GPA and any honors you received as well.
Credit history
Employers look at your credit history to get insight into how financially responsible you are. If you're applying for a position that involves handling money, it's very likely the hiring manager will want to inspect your credit history. Even if you're not applying to a financial role, an employer might still look at your credit history to get a general sense of your character, trustworthiness and how responsible you are based on whether you pay your bills on time or use a lot of credit. Some states have passed legislation regulating how employers can use applicants' credit history in the hiring process. Check your state's laws for more information.
When employers look at your credit history, it can contain information including:
Open lines of credit
Account balances
Late or missed payments
Defaults on loans or credit cards
Outstanding debts
Debts sent to collections
Bankruptcies
Tax liens
To find out what information is in your credit history, request a copy of your credit report. You can get a free copy of your credit report from each of the three major credit bureaus at www.annualcreditreport.com, a website authorized by the federal government.
Driving records
If you're applying for a position that involves driving, you can be pretty certain that the employer will check your driving records. Even if your job won't entail driving, a potential employer might look at your driving record to get a better understanding of your character. Your driving records could show the following information:
When and where your driver's license was issued
Your license classification (what types of vehicles you're permitted to drive)
Traffic violations like speeding tickets and convictions for reckless driving or driving with a suspended license
Penalties for violations, such as fines or suspension of driving license
Professional licenses and certifications
Employment screening services verify the licenses and certifications you list on your resume, especially if your profession requires special certification. These searches will almost certainly be conducted for professions such as certified public accountants and attorneys.
The background check service performing the search will usually contact the issuer directly to confirm that the license or certification was issued to you. It will also check the issue and expiration dates and ensure the license (or bar membership in the case of attorneys) is active and in good standing.
Social media
It's becoming common practice for background check companies and potential employers to screen social media accounts. When a background check service includes social media screening, it usually looks at your profiles on major social media platforms, including Facebook, Twitter, LinkedIn, Instagram and others.
Employers care about your social media activity because it can verify or contradict information you included on your resume. Some potential employers look at your social media activity to understand how you'll fit into the company culture. Background check companies may also use your social media accounts to look for red flags like:
Drug use
Violence
Illegal activity
Hate speech
Unprofessional conduct
Sexually explicit material
The screening service should provide the employer with a report that only contains job-relevant, legally permissible information found in your social media account.
However, sometimes employers also look at candidates' publicly available social media accounts directly. So it's a good idea to make sure your social media accounts only portray what you want future employers to see. You can also make your accounts private. Both employers and background check services can only view publicly available information on social media platforms.
Why does it matter what a background check shows?
Even if you're fully qualified for a position, the potential employer might not hire you if they find something negative in your background check. Knowing what the background check will look for and how far back it'll go can help you prepare. If you know that something negative from your past will likely show up in your background check, it gives you the opportunity to be upfront about it with potential employers.
Knowing what employers look for in pre-employment background checks also allows you to be proactive. There are many things you can do to limit how much a background check will impact your chances of being hired.
Check that there's nothing incriminating in your social media profiles and review your privacy settings so you control who can see your information.
Do what you can to keep your credit history and driving record clean.
Get a free copy of your credit report so you can dispute any inaccuracies before employers see them.
If you have a criminal record, look into the expungement process to find out if you're eligible to have convictions removed from your record.
If you want a better idea of what information employers will find when they conduct a background check on you, you can run a background check on yourself.
You can obtain a full report similar to what your employer would get by using one of the FCRA-compliant companies in the best background check sites. The information you find might differ slightly from what your employer might ultimately see, but you'll get a good idea of what info is available about you. Some states let you look up criminal and motor vehicle court records online. Looking at these public records is another way you can anticipate what a potential employer will learn while doing your background check.
What can you expect from a pre-employment background check?
In most states, employers can run background checks at any point during the hiring process, even before they make you a job offer. But most of the time, employers run a background check after making a conditional offer of employment. Before they can start conducting a background check, there are several actions they must take, as required by federal law.
Employers have to:
Notify you in writing that they'll be conducting a background check
Give you notice explaining how the information from the background check will be used
Get your written consent to perform the background check and run your credit
To perform the check, the employer may ask for information like your full name, any names you've used previously, your date of birth and Social Security number. The screening process usually takes between a few days and several weeks to complete. In general, the more comprehensive the background check, the longer it will take.
If the employer finds negative information in the background check it will use in a decision not to hire you, the company must give you:
A copy of the background report
With a copy of the report, you have the chance to explain or dispute anything negative that the company found.
Unfortunately, background checks aren't always 100% accurate. Background check problems do sometimes happen. They could contain outdated, incomplete or even completely inaccurate information. If you find that any of the information in the background check isn't accurate, you can dispute it with the background check service.
You may also be asked to complete a drug screening as part of the pre-employment process. Most employers use urine tests, but they could also request samples of hair, blood or saliva. Drug tests vary in what substances they screen for and how far back they can detect use.
Employment background check FAQ
What does an employment background check typically include?
Employment background checks typically include criminal records, employment history, education, credit history, driving records, professional licenses and certifications and social media.
Can employers see your work history?
Employers can, and usually will, verify that you've worked at the jobs you list on your resume. However, they won't typically find past jobs that you haven't listed on your resume unless you added them to your credit report or posted about them on social media.
What if something negative shows up on my background check?
If an employer finds something negative in your background check and plans to use the information as a reason not to hire you, the employer is required by law to provide you with a copy of the background check report. This gives you an opportunity to dispute the information or explain to the employer why it won't affect your ability to do the job. If the employer ultimately decides not to hire you based on the background check, the company must inform you that that's the reason for the decision.
How far back do background checks go?
Background checks most often go back seven to 10 years when looking at criminal records and credit history, but this can vary based on where you live. Other parts of the background check, like employment and educational history, can often go back indefinitely.
Both employers and background check services are required to follow both federal laws, like the Fair Credit Reporting Act (FCRA), and state laws regarding how far back into your history they can look, so check your state's regulations for a definite answer. You can learn more about your state's laws by checking its website, consulting your state's attorney general or checking with your local or state consumer protection agency.