What Will It Take To Pay Off My Credit Card?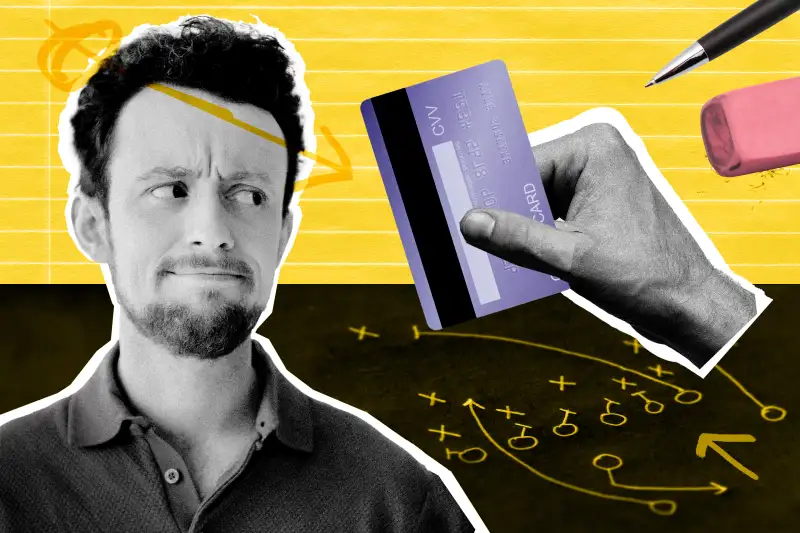 Eddie Lee / Money; Getty Images
Most Americans rely on credit cards to cover their daily expenses, especially in times of high inflation. In 2022, the total credit card debt increased by $38 billion between the second and third quarters. If you're one of the many Americans facing this kind of debt, you're probably wondering, "What will it take to pay off my credit card?"
The following guide will help you work through the challenges of paying off credit card debt, including finding the right payment plan and understanding your interest rate.
Keep reading to learn about when — and how — to pay off a credit card.
How to pay off your credit card debt
To help you figure out how to pay off your credit card, start by making a concrete plan. This will require you to determine exactly how much you owe, the card's current interest rate and the amount of your minimum monthly payments.
Determine how much you owe
Before tackling your credit card debt, you need to have a clear picture of the amount you need to pay off. You'll find this information on your credit card statements or your bank's website.
The statement will contain your account's information, such as your outstanding balance and charges over the past billing cycle. If you have multiple credit cards, the total amount you owe will be the sum of your credit card balances.
Find out your interest rates
The interest rate is the amount the bank charges you for borrowing if you can't settle your balance in full before the next billing cycle. Credit card companies charge an annual percentage rate (APR). Although APR is a yearly rate, lenders use it to calculate your monthly interest charges.
Note that most cards have different APRs for purchases, balance transfers and cash advances — and the latter is usually much higher than the one set for purchases.
It's important to have a clear picture of the APRs on all your cards because, as you'll see below, it could help you form an effective debt-elimination plan.
How do you calculate interest?
Understanding how the credit card lender applies the APR to your outstanding balance is important. Suppose you have more than one credit card. Knowing how much you're paying in interest on each of them will guide you in determining which ones you should pay off first.
Interest rates can be calculated on a monthly or daily basis. For the monthly rate, follow these steps:
Identify your current balance and the APR from your most recent credit card statement.
Divide the APR by 12 to find the monthly periodic rate.
Multiply the monthly rate by your current balance.
To calculate the daily interest on your credit card:
Identify the APR and the current balance from your credit card statement.
Calculate the daily periodic rate by dividing the APR by the number of days in a year (365).
Multiply the daily rate by your current balance.
For instance, suppose your credit card balance is $500 and the APR is 18%. The daily periodic rate will be 18% divided by 365, which is approximately 0.049%. Multiplying this rate by $500 will give you a daily interest of 25 cents. You can use this interest amount to calculate your monthly interest by multiplying it by 30.
Pay more than the minimum
A minimum payment is the lowest amount required by your credit card issuer each month. In order to avoid damaging your credit score, you'll need to pay at least this amount by or before the due date listed on your statement.
The minimum payment is often a percentage of your balance and interests owed; however, the exact calculation depends on your balance and card issuer. Additionally, because it's a percentage of what you owe, the minimum can change monthly.
Meeting the minimum payment requirement every billing cycle helps you avoid penalty APRs and late fees. However, making only the minimum payments means you'll pay more and for longer, as interest will accrue faster than you can pay down the debt.
If you want to be debt-free faster, you should pay more than the minimum set by your card issuer. Many experts recommend paying double the minimum, if you can afford it. If that's not feasible, even adding $10 or $20 to that required amount can help.
An online credit card payoff calculator could help you figure out how long it'll take to pay off the card with your chosen minimum payment. You can then adjust accordingly.
Methods to pay off credit card debt
While paying off your high-interest credit card debt may seem daunting, the following techniques have helped many make it more manageable:
Debt consolidation and personal loans
A personal loan refers to money you borrow from financial institutions that can be used for almost any purpose, from purchasing a vehicle to paying off debt. These types of loans have fixed monthly payments and a set repayment period. Most personal loans are unsecured, so you won't need collateral.
Personal loans typically feature much lower interest rates than credit cards, provided you have good to excellent credit. This could potentially save you thousands in interest charges over the life of a loan. However, note that if your credit is fair to poor, rates on personal loans could be comparable to those of a credit card.
There are also loans meant specifically to consolidate debt. These debt consolidation loans typically also offer lower interest rates than cards.
Balance transfer credit cards
A balance transfer is a method of debt consolidation whereby you can shift the unpaid credit card balances to another account with a lower interest rate. If you're struggling with high balances and accumulating interest rates, you can consolidate using balance transfer credit cards.
These cards offer a 0% APR introductory period, which can last anywhere from 12 to 21 months. During that time, you'll avoid expensive interest charges which could save you money while allowing you to pay off your debt faster. In addition, many balance transfer cards don't have an annual fee.
Tips to pay off credit card debt
No matter which method you choose, there are ways to make the credit card payoff process easier. Keep the following tips in mind:
Stick to a budget
If you want to pay off your credit card debt quickly, you need to create a budget that includes all of your expenses.
Make a budget that includes the following:
Basic necessities like groceries and utilities
Obligations like minimum credit card payments
Nice-to-have expenses like entertainment and eating out
Irregular expenses like car maintenance and vet bills
A budget will allow you to see exactly where your money is going every month. It will also help you see if there are any extras you could do without. If there are, put that money toward your monthly credit card payment to help you reduce your debt faster.
Keep in mind that the best credit cards will give you rewards that can actually help your budget, like cash back on groceries and points that can go toward travel and entertainment.
Debt avalanche method
This method focuses on first paying off the credit card with the highest interest rate while making minimum payments on all other accounts. Once you have paid off that first debt, you can focus on the card with the second-highest interest rate until that one is all paid off.
The main advantage of the debt avalanche method is that it reduces the cost of credit as you first pay off the credit cards with high interest rates. The approach will help you decrease your debt faster because the more your debt decreases, the more your interest fees will reduce.
Debt snowball method
Using this method, you'd focus on paying off the account with the smallest balance. Once you pay off that amount, you would add those payments to the next smallest debt until you clear your credit card balances.
The advantage of the debt snowball method is that it gives you momentum and a sense of accomplishment as you pay off each credit card balance one at a time. With this method, it can be much easier to maintain and stay motivated when tackling your credit card debt.
Summary of what it will take to pay off your credit card
Paying off your credit card debt can be daunting, but it's not impossible. With the right strategies and techniques, you can quickly reduce your debt and improve your financial situation.
This article has outlined some of the best methods and tips to make chipping away at your debt easier. These include maintaining a strict budget and considering a balance transfer. Pick the tips and strategies that work best for you to get back on top of your finances as soon as possible.